Pinterest hair insights: Discover the most pinned posts of 2017 (so far!)
Featuring some old faves and a couple of brand-new breakout styles...
Hands up if you're a Pinterest addict? Don't worry, us too. Spurred on by our combined love for All Things Hair (ha, get it?) and our borderline obsessive pinning habit, we reached out to Pinterest to find out which hairstyles have been making waves in the beauty world so far this year.
And while we weren't surprised to see some familiar styles making an appearance (beachy waves, we're looking at you!), there were some surprising emerging trends in the mix too! So, if you want to find out which hair looks have been getting the most love online in 2017, just keep scrolling!
These are the Pinterest hair trends you've been loving
Pastel hair
Just when we thought the pastel hair ship had sailed, it's back and bigger than ever- just in time for summer. With pastel hair up 40% since the beginning of the year, there's never been a better time to embrace your colourful side.
Whether it's candyfloss pink, mermaid blue or mint green that takes your fancy, don't forget to protect your with a colour protect hair care range like the TRESemmé Colour Revitalise Vibrance Protection Shampoo and Conditioner to keep your hue looking bright and beautiful. Credit: @hairbymelissa_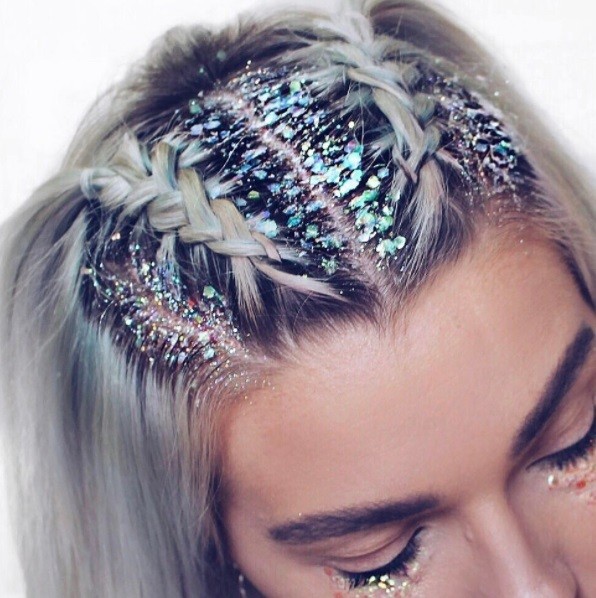 Festival hair
With Glastonbury, Hideout and Download fest all taking place last month, it's hardly surprising that searches for festival hair saw a staggering 180% increase in June alone!
From glitter roots to space buns, hair foiling to unicorn braids, festival hair has never been so creative and exciting and we can't wait to see which other looks crop up this summer. Credit: @lovefings
Bob haircuts
The humble bob haircut has shaken off its mumsy reputation this year, with Pinterest reporting a pretty mindblowing 390% increase since the beginning of 2017! With fashion pack stars like Mila Kunis, Karlie Kloss and Bella Hadid all opting for the chop this year, there's no shortage of inspiration available either.
And with so many variations on this trend, from the oh-so-chic Parisian 'French bob' to the shoulder-skimming lob style for those looking to maintain some length, we're strong believers that everyone should try a bob at least once! Credit: @reis_1024
Half-up buns
Regular ATH readers will know we're big fans of the hun (half-up, half-down bun), but with a 70% increase in searches since the beginning of the year, we're clearly not the only ones loving this chic yet casual style!
To find out how to recreate the off-duty model vibes for yourself, check out beauty vlogger Freddy My Love's super simple step-by-step tutorial. Credit: @elizabethrsawatzky
Natural hair
Naturalistas, it's your time to shine! With celebs like Zendaya sharing their natural curls on social media this year, there's been a knock-on effect over on Pinterest too, with a reported 85% increase in interest in natural hair.
If you're just starting out on your natural hair journey and need guiding through the transition period, check out our guide to caring for your curls. Credit: @liishaaaa
Hair wraps
Following on from the natural hair trend, protective hairstyles have subsequently seen a rise too. As well as the usual braids, hair wraps have seen a 50% increase since the start of the year and we couldn't be happier!
Both pretty and practical, you can mix and match these headscarves to your outfit while also taking care of your tresses. Oh, and did we mention that they're also the perfect way to cover up a bad hair day? It's no wonder so many of us are getting on board!
In need of styling inspo? We've got you covered. Just read our article to discover 3 ways to tie your hair with a silk scarf! Credit: @iamshinay
Beach waves
Okay okay, we all know beach waves aren't anything new but with a 40% rise in activity, it's clear that this well-loved style is just as coveted as ever.
While we wish we could rock the authentic fresh-out-of-the-sea sandy style forever, investing in a sea salt spray like the Toni&Guy Sea Salt Texturising Spray will help you to achieve the tousled look whatever the weather. Credit: @pilotmadeleine
Which trend is your fave? We hope you found this Pinterest trend report interesting and if you did, don't forget to sign up to our newsletter below to be kept up to date with all of the latest happenings in hair!
Prev Article
Next Article
Gallery
Need inspo for your next salon visit? These celeb bob haircuts will inspire you to get a chop
Celebrity bobbed hair with all the flair!
See article