Perrie Edwards' under the sea-inspired hair colour is giving us all the Little Mermaid vibes
Up where they walk, up where they run...
Out of all the members of Little Mix, Perrie Edwards is definitely the most daring of the bunch when it comes to her hair (with Jesy Nelson coming in close second). And this week, the Power singer is making waves once again with her hair, this time with a pretty-in-pink mermaid-inspired hue.
Sharing a video and a photo of her new rosy pink 'do on social media, it's a tough call, but this has to be one of our fave looks to date!
Perrie Edwards is rocking pretty in pink mermaid hair
The first glimpse we all got of Perrie's new hair was when the 24-year-old shared this video over on her Instagram page. With cascading wavy hair and multicoloured eye makeup, the video amassed a whopping 700k+ views in just 1 day.
However, the real results were revealed when Perrie shared the above photo, flaunting her tumbling pink waves in all their marshmallow-tinted glory. Adding waist-length extensions to her natural lob for extra length, we can see that she's dyed her blonde locks a very pale, pastel pink, which fades into a lighter blonde towards the ends.
Comments immediately started pouring in from fans, with people saying: "ahhh actual Mermaid hair" and "You have such beautiful hair omg I want that?" – just 2 examples of the thousands of comments she's received.
Editor's tip: Pining for pink? If Perrie's siren-inspired style has got you dreaming of pink candyfloss hair, we've got a word of advice. We can't stress the importance of switching up your wash and care routine to a specialist colour protect range (like the Dove Colour Care Shampoo & Conditioner) enough.
Using these will help to ensure that your newly dyed tresses stay looking fresh and bright for as long as possible, so that you can be a mermaid 24-7.
Long-time Mixers will know that Perrie is no stranger to pink hair. We reported back in August last year that she had dyed her hair a pretty pastel hue and before that, in 2013, she had a bright, 2-tone pink ombre look.
So, we doubt this'll be the last time we see her rocking the pink look… watch this space, people! Credit: @perrieedwards
To get some ideas on how you could have your own pink hairstyle, check out these pink celeb and runway-inspired styles to help you rock the look. And if you enjoyed this post, make sure you're signed up to our newsletter, below, so you'll never miss the latest trends.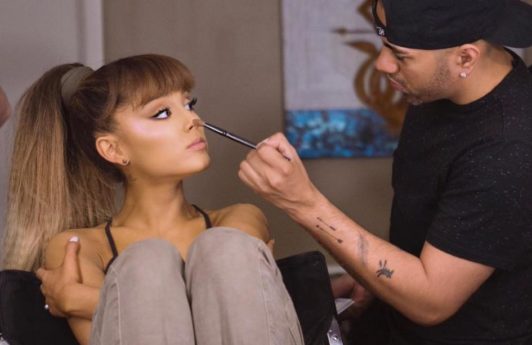 Article
Ariana Grande has crimped her ponytail and it's so '90s!
Ariana Grande has upgraded her ponytail.
See article