Nicki Minaj's super hair transformations and mane moments
Happy birthday to the most extravagant hair chameleon in the business! ? 
Step aside Kylie Jenner and Bella Throne as the real OG of bold and flamboyant hairstyles, Nicki Minaj, is 35 years old today. And to mark the occasion we are taking a look back at her most memorable hairstyles and by golly, there are plenty.
From her obsession with bold hair hues to her crazy capability to completely slay every hairstyle she tries (even the questionable ones), see our favourite Nicki Minaj hairstyles in our gallery above, or simply keep reading for all the details.
The ever-changing hairstyles of Nicki Minaj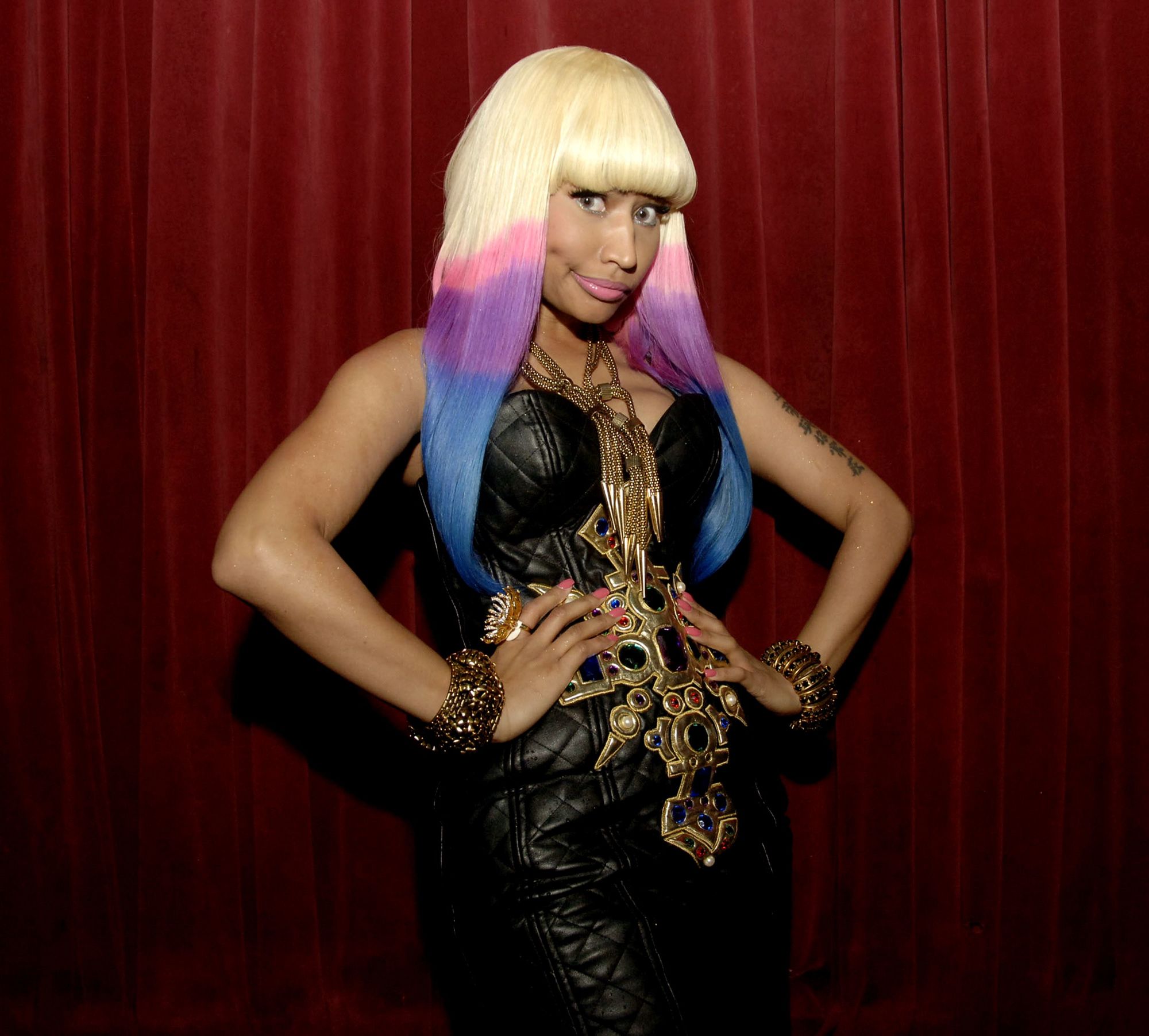 2010: Ombre fanatic
Bursting onto the music scene with her debut album Pink Friday, Nicki Minaj quite literally earned her stripes by becoming the poster girl for wacky hairstyles.
Wearing a long blonde wig with a mixture of pink, purple and blue hues, Nicki Minaj's rainbow ombre was finished with full curved bangs.
2012: Neon hues
Turning heads at the MTV Awards in 2012, Nicki Minaj wore her shoulder-length hair with massive flicked out curls and a side sweeping fringe, but as you may imagine, it was her hair hue that really stole our attention.
Her electric neon yellow shade was complemented with slices of baby pink throughout for a more three-dimensional effect.
Editor's tip: Before you rush off to the salon to get Nicki's neon hair (or any of her other hair hues), make sure you've invested in a wash and care system formulated specifically for dyed tresses, like the Dove Colour Care Shampoo and Conditioner.
2013: Bangs brigade
Gearing up for the release of her second album The Pinkprint meant it was time for a new look for Nicki.
Opting for a (slightly) more understated style, Nicki went for a platinum blonde shade on her waist-length tresses before adding a blunt eye-brow skimming fringe to tie the whole hairstyle together.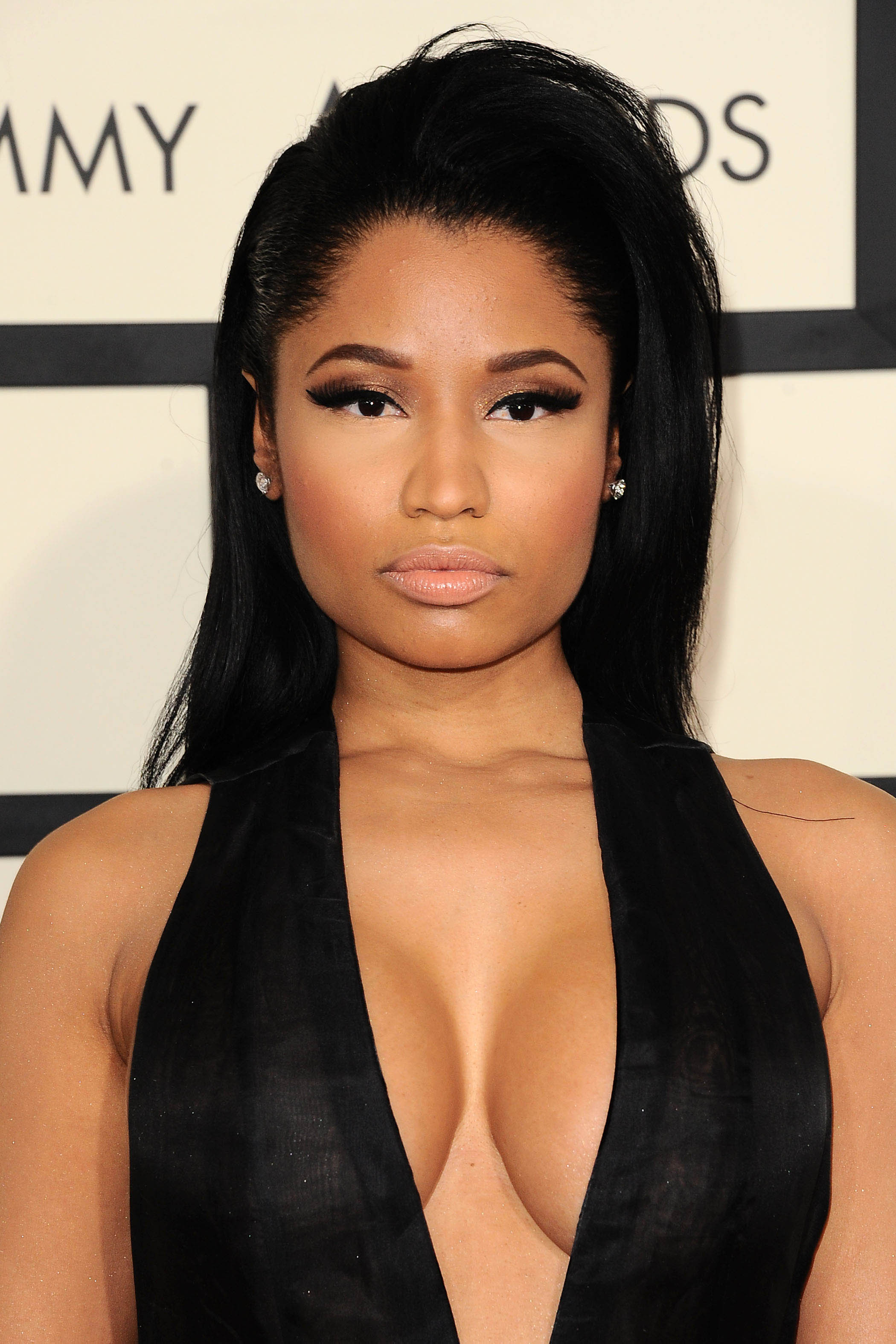 2015: Slick back
Ditching her outlandish hair colours for a glossy dark shade, Nicki attended the Grammy Awards with a rather demure style that made us have to do a double take. Smoothing back the side of her hair, Nicki swept her raven tresses over to one side giving volume and texture to her straight tresses.
Editor's tip: Add definition and texture to your layers with TONI&GUY High Definition Spray Wax. Spray through towel dried hair for flexible and reworkable control throughout the day.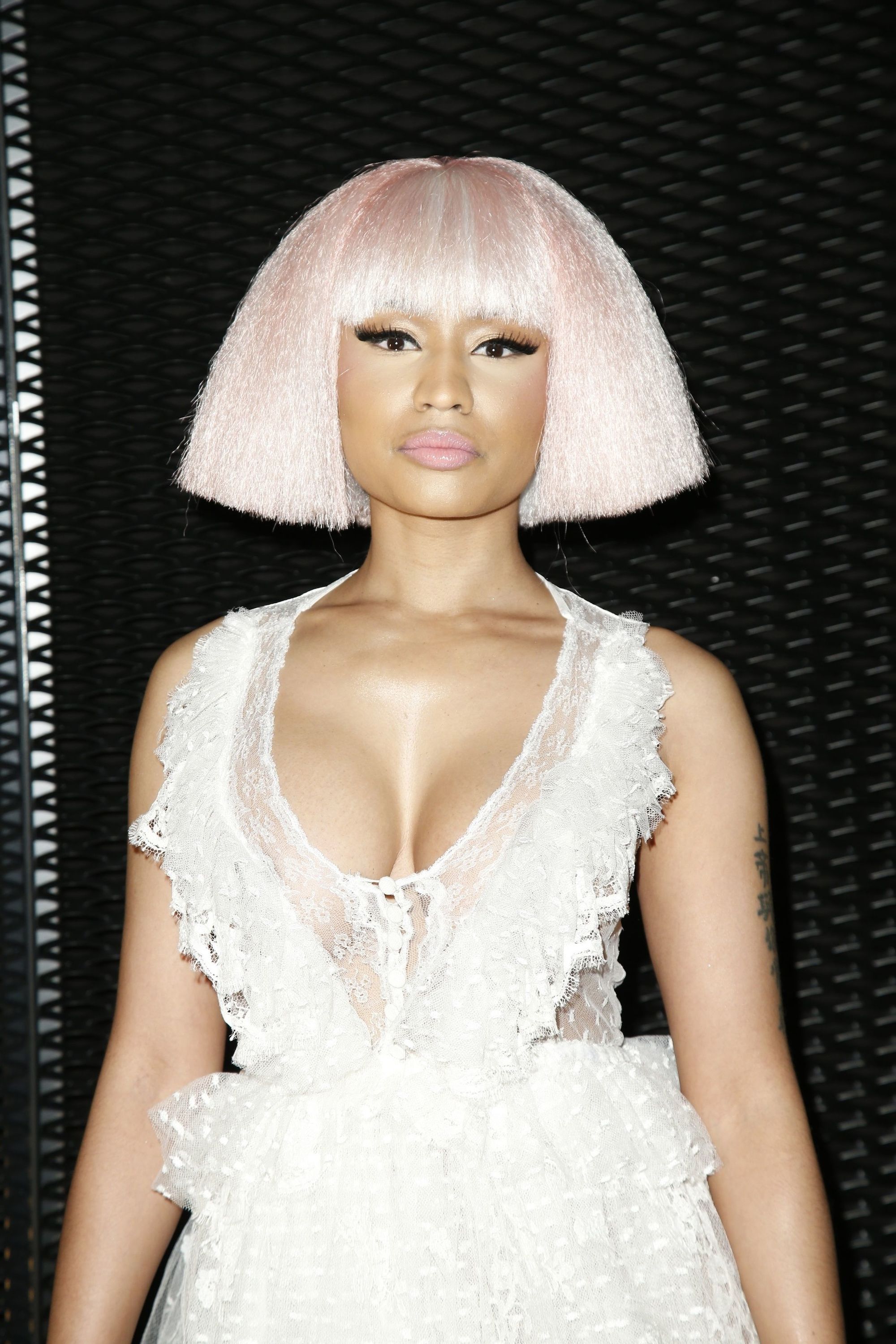 2015: Pastel lover
We all know that pastel hues have been spotted, well, pretty much everywhere over the last year. All out fave celebs and bloggers have been upgrading their hair colour with shades of blorange or unicorn hues but Nicki was pioneering the trend way back in 2015.
Her Sia-esque blunt bob and full bangs haircut were treated to the most mesmerising pastel pink hue that we are convinced may be her best hair look yet.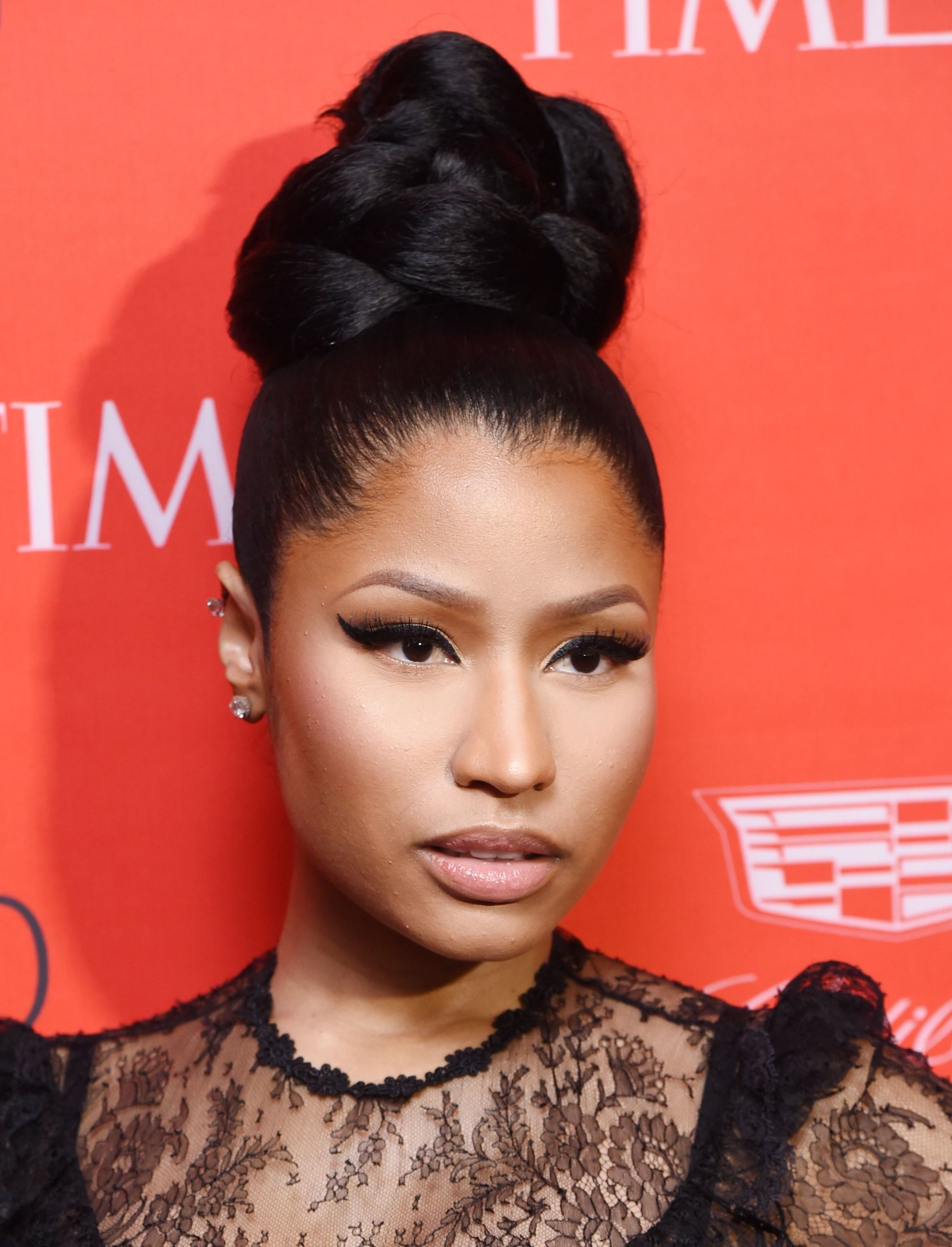 2016: Updo queen
We don't often see Nicki in updos but when she does, in our opinion, she looks incredible. Nicki wore her black hair smoothed back in a high braided bun for the Time 100 Gala in 2016 and we think this striped back hairstyle really highlights her stunning facial features.
Editor's tip: Get Nicki's mirror-like shine with VO5 Tame & Shine Spray. The ultra-light, non-sticky formulation helps to tame flyaways and adds shine – jackpot!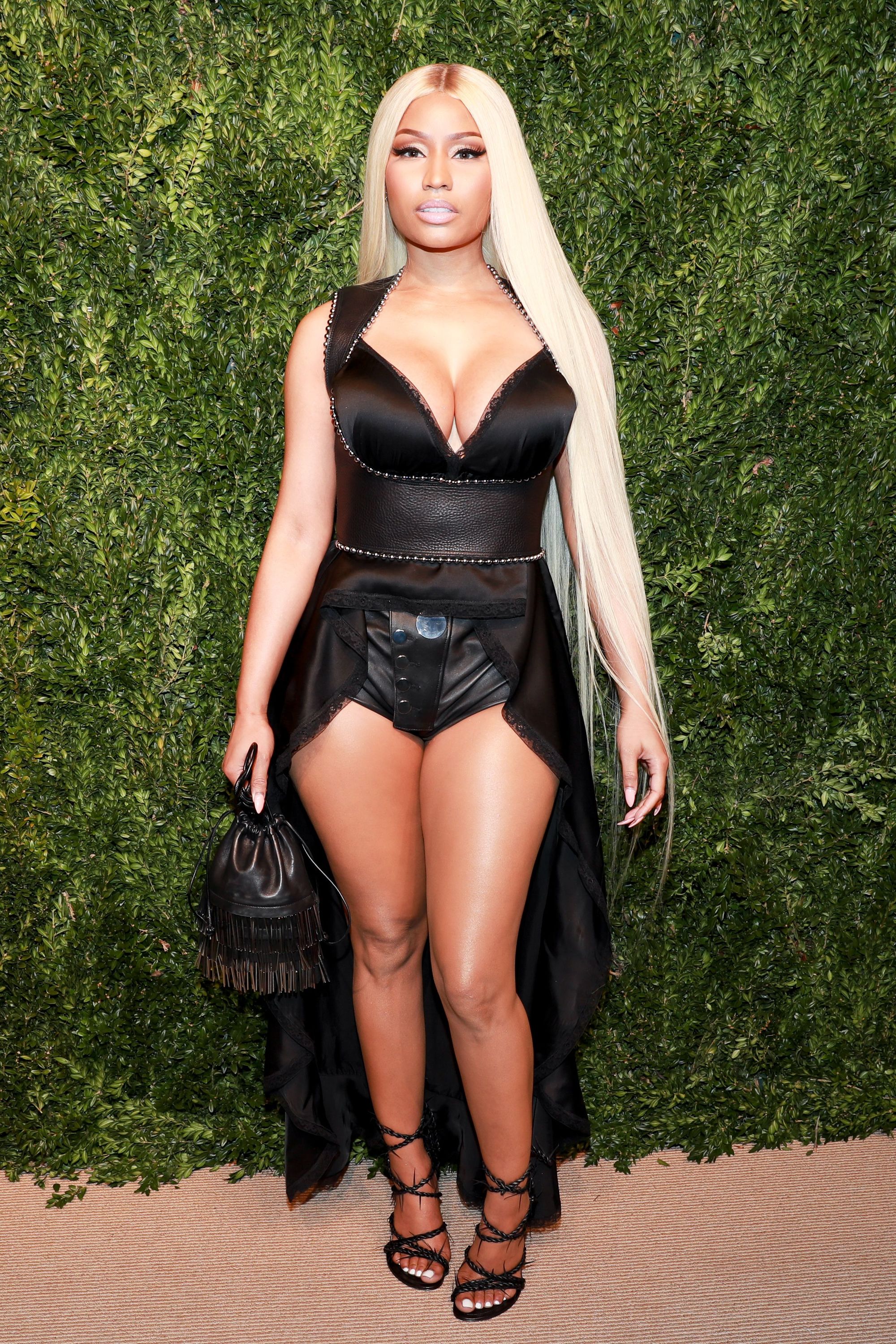 2017: Rapunzel tresses
With fans like Kim Kardashian to Demi Lovato, it's clear that the celebrity world has grabbed the Rapunzel hair trend by the horns. But in our books, quite frankly no one does it as well as Nicki Minaj.
There is no shortage of hair inspiration from The Harajuku Barbie, we love the jet black ankle-length tresses Nicki wore at Paris Fashion Week, as well as the dreamy two-tone Neapolitan ice cream hair she wore in the summer.
Suffer from FOMO? Then be sure to sign up to our newsletter below to get all the hottest hair gossip and celebrity styles direct to your mailbox. In the meantime why not head on over to our Hair Trends page to read up on all the latest hair news.
Article
Cast your votes on Meghan's royal wedding hairstyle!
Will it be her signature waves or an undone updo? Vote now!
See article