How to create a glam gilded glitter look in 5 steps for NYE
Glitter and NYE is a match made in heaven!
You Will Need
It's officially our favourite time of the year: party season! And with the end of 2017 fast approaching, we bet that you've started looking for some out-of-this-world New Year's Eve 'dos, right? Well, you've come to the right place, because we've taken the glitter roots trend and given it a serious upgrade. Introducing: the glamorous gilded glitter look!
Now, we can't think of a more appropriate time to rock a handful of glitter in our manes, than at a big NYE bash! So, if you're ready to rock'n'roll into 2018 with an uber stylish hairdo, scroll down and discover the 5 simple steps that'll have you truly sparkling.
Look stylish this NYE and rock the gilded glitter look
What really sets this hairdo apart from other party-ready looks, is that it takes next to no time to achieve (yes, really). But since we can see that you're not totally convinced, our editor's have come up with a step-by-step guide to prove you wrong – go on, try it and see!
How to get the look:
1. If you don't have naturally wavy hair, you're going to need to fake it! So start by prepping your strands with the TRESemmé Heat Defence Spray, to help safeguard them from any damage incurred by heated styling tools.
2. Next, take a comb and create a deep side parting. Then, working with 2-3 inch wide sections of hair at a time, curl your strands with a large barrel curling tong. Once you've curled your entire head, gently run your fingers through your mane to separate your curls, before spritzing some VO5 Wave Creation Hairspray, to help set them in place.
3. Then, sweep all of your tresses to the opposite side to your parting. On the side of your parting with the least hair, ensure that you have neatly combed your strands and tuck them behind your ear for a smooth finish.
4. Now for the fun part: squirt some VO5 Wet Look Styling Gel into your hair, and then pour some coloured glitter on top (in our opinion, the brighter, the better!). Mix the hair gel and glitter together with your fingers, until you've formed a sparkly paste!
5. Carefully apply the glitter to the side of your parting with the least hair, by smoothing your hand over your mane, from the roots to around ear height. If there are any sparse gaps, use your fingers to blend in the glitter.
Remember: you can use a much (or as little) glitter as you like – but if you ask us, the more, the merrier!
Loved this look, but still hunting for your more New Year's Eve inspiration? We've got your back, girl: just check out our Party Hairstyles page, for loads of expert tips and advice, glamorous mane inspiration, and tonnes how-to tutorials!
You Will Need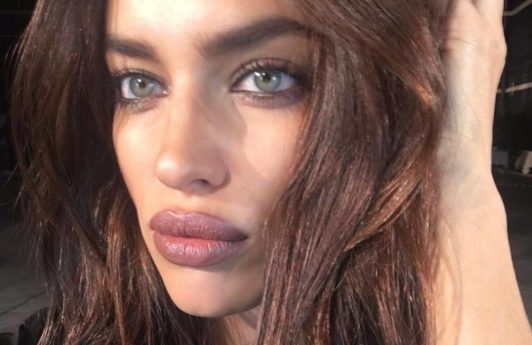 Article
Irina Shayk has us green with hair envy over her latest sultry look!
So long, brown locks!
See article