Kylie Jenner debuts new red hair and super cute cornrows!
Kylie Jenner debuts a new 'do to celebrate her 19th birthday.
We all knew that Kylie Jenner would do something big (hair-wise) for her 19th birthday, but none of us could have predicted that it would be this bold. Yesterday, the reality TV star debuted a new hairdo on Instagram and SnapChat to celebrate her birthday, rocking a brand new bright red hair colour, teamed with super cute (and achingly on-trend) cornrows in her social media posts.
We're not sure where Jenner got her #hairspiration from, but we're certain that it'll catch on like fire (pun totally intended). But what really makes Kylie Jenner's red hair pop is that it also taps into this season's obsession with beautiful braids. Now, that's what we call smart hair-styling!
Now trending: Kylie Jenner's red hair and cornrows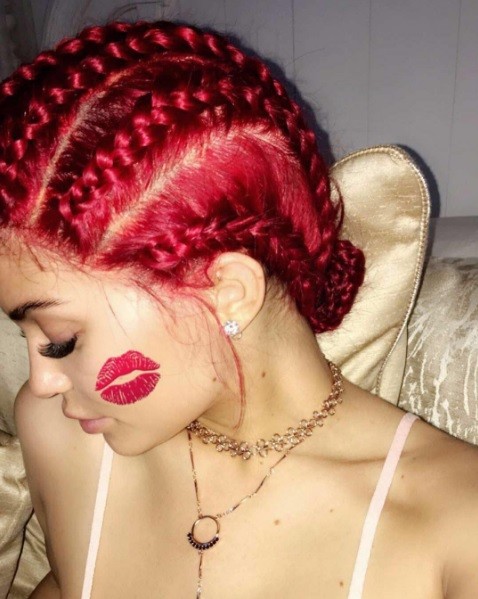 Wondering how to wear your hair for the next the summer party coming up in the diary? Well, it seems Kylie Jenner's red hair with cornrows is set to be an inspiration this season.
We've said it before and we'll say it again: a change in hair colour is a great way to refresh your mane without having to take the plunge with a new cut. Of course, Kylie's no stranger to bold hues. Green, blue, lilac – you name it, she's probably done it!
So with that in mind, we suggest you think carefully before sitting down in that salon chair. Credit: @kyliejenner
Top tips for recreating Kylie Jenner's red hair and cornrows
1. If you are planning to recreate Kylie Jenner's red hair look, don't forget to take special care of your locks post-dyeing. You can do this by trading your usual wash and care system for one that has specifically been formulated for coloured hair.
Try the TRESemmé Colour Revitalise Colour Vibrance Protection Shampoo and Conditioner, it has Advanced Colour Vibrancy technology, which helps keep colour vibrant.
2. Bring a new element to your fiery mane with some beautiful braids!
3. If you have fine hair, try spritzing your roots and mane with a dry shampoo. Not only will it absorb excess oil, but it'll also give your hair grip and texture, which will make braiding it much easier.
We love the TIGI Bed Head Oh Bee Hive! Dry Shampoo because it helps to absorb grease and oil without leaving a visible white residue (hooray!).
Prev Article
Next Article
Tutorial
Hairstyles for curly hair: How to create a slick centre part
Texture and volume? Count us in!
See article