Life on The D Cut: Youtube Creator Keara Graves on Dove's New Series, and Other "Queerantine" Hair Thoughts
Keara Graves shares deets on her newest role, her relationship with her hair and what she's been up to during her 'queerantine.'
You Will Need
This year, Pride is taking place indoors and at home, due to the current coronavirus pandemic and the need to remain socially distant. Despite this obstacle, Pride month has continued to be a celebration of the LGBTQ2S+ community and a call-to-action to bring LGBTQ2S+ voices to the forefront and to further enable positive changes and end discrimination.
Dove Hair is championing this movement with its newest entertainment series, The D Cut, which will be available for viewing on KindaTV YouTube on 25th July. The series is an initiative created by the brand as part of their ongoing efforts to bring more diversity, inclusivity, and community through hair, encouraging everyone to express their true selves.
The D Cut is a short digital series created in collaboration with Unilever Entertainment and Shaftesbury. Inspired by a true story, The D Cut is about a superstar hairstylist who fosters a strong community, one hairstyle at a time. The D Cut is for those who have continuously stood together and overcome obstacles — highlighting positive experiences of beauty through hair, as a means of self-expression and empowerment.
All Things Hair had the pleasure of chatting with queer YouTube star and influencer Keara Graves, who plays Max, a "sassy, genderqueer babe" in the series. Keara shared some of her experiences on set while filming the show and told us a little bit about her relationship with her hair, in the context of coming out and embracing her queer identity. Read on:
Keara Graves on Her Role in Dove's New Series, The D Cut, and Other Hair Thoughts
What about The D Cut made you interested in getting involved and becoming a part of the cast?
I got an audition for The D Cut from my agent Mike, as I told him I wanted to audition for more queer roles and LGBTQ2S+ projects. Initially, I auditioned for D's character, and instantly fell in love with the writing and theme of the series, and really wanted to be a part of it. I ended up getting cast as Max, a bold, sassy genderqueer babe, and I was over the moon! It was my first time playing a character who wasn't necessarily a cisgender female, which made me even more excited to represent people who appear to society as a cisgender female but use multiple pronouns to describe their gender.
The fact is, we shouldn't need to have a queer hair salon, because queer people should feel comfortable and welcome enough in any hair salon!

What insight has playing Max on the show given you on the queer hair and beauty space?
I've learned that any hair salon should be as inclusive as D's salon. The fact is, we shouldn't need to have a queer hair salon. Queer people should feel comfortable and welcome enough in any hair salon! The series sheds light on a very important issue—today's hair salons simply do not represent people of all styles, sexualities and gender identities. There's still a lot of gender stereotyping; LGBTQ2S+ people don't always feel supported at regular hair salons. They need to improve to be more inclusive and accepting.
What's your beauty routine like on set for The D Cut?
My character Max likes to express their boldness and pride through their hair, and not necessarily their makeup. The makeup artists did a wonderful job of keeping my face natural and dewy. The hairstylists would dye my hair blue every morning on set. Most of the time in processing was spent on the blue locks… duh!
How has your hair evolved since coming out?
Once I came out of the closet, I felt free to be authentically myself in every way—including how I wear my hair. I had super long hair my entire life, but it didn't feel like me anymore. After a couple of months of debating, I got a bob. A few people told me not to do it because I wouldn't look as "pretty" or as "feminine." I decided to follow my heart instead and I've never regretted it.
Do you have any suggestions on how the beauty industry can do better with inclusivity?
Although it has gotten much better in the past few years, I still think beauty industries need to be more representative of the Black community. Makeup companies need to make more foundation shades for darker skin tones. Every time I go to buy foundation, I notice there are like 12 shades for lighter complexions and 2 darker shades.
I also think there need to be more people of colour in beauty advertisements. It just doesn't represent the general population of Canada/America if they only use white-passing models.
I've also found that the representation of PoC models with textured hair is minimal in hair advertisements. It needs to change, but I believe it is in the midst of changing for the better. I think Dove Hair is at the forefront of this movement. They're constantly challenging the narrow societal norms of beauty and working to shatter beauty stereotypes.
I don't particularly love to label myself "femme," "stud," "lipstick lesbian," etc. because I find I alternate between the masculine and feminine sides of myself.

How does your queer identity inform your hairstyle and fashion choices?
When I first came out, I thought I had to change my appearance to feel a part of the community. I felt I had to dress more "masculine", wear baggier clothes, cut my hair into a buzzcut, etc. because that was mainly the only image of queer women I had seen in television, films and media. After a few attempts of trying to change my fashion choices to fit society's image of a queer woman, I realised I didn't feel comfortable or genuine. Since that realisation, I've remained true to myself and I wear whatever I feel comfortable and confident in. I don't particularly love to label myself "femme," "stud," "lipstick lesbian," etc. I find I alternate between the masculine and feminine sides of myself.
What's your Holy Grail hair product?
I generally don't wear a ton of product in my hair because I like to keep it natural. But something that enhances my hair texture is a beachy-wave spray. I'll spray it in after a shower, and it brings out all the waviness in my hair, especially in the summer when it's humid.
Do you have a fave Dove hair care product?
My favourite Dove hair product is Dove Daily Moisture Shampoo and Conditioner. They're simple, but lifesavers! Due to getting my hair dyed so many times, my hair got super dry and I needed something to revive it quickly. One of the hairstylists on set gave me the shampoo and conditioner. After a couple uses my hair was back to it's normal silky, healthy self!
We've seen some of your 'Queerantined' vids on YouTube—has social distancing led to any hair experimentations?
I've had to be really creative with hairstyling. Both my mom and partner needed haircuts, but the salons were not open. I gave them both haircuts, and realised I have a bit of a knack for cutting hair! My partner Lauren and I also did a temporary pink dye one day when we were bored. If we didn't have to be 'queerantined'—oops, I mean quarantined!—we would have never had these hair experimentations!
We had so much fun getting to know more about Keara Graves. We can't wait to see her as Max on The D Cut. Check out the trailer and don't forget to save this space for more updates on this awesome mini-series!
You Will Need
Prev Article
Next Article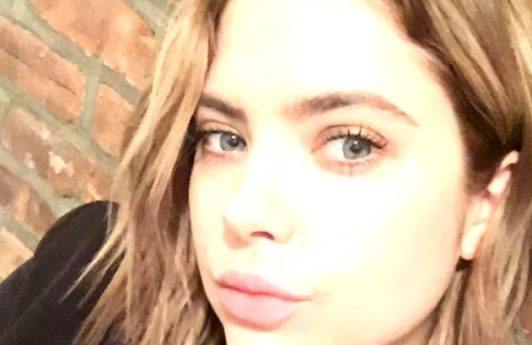 Article
Only Ashley Benson could debut a bronde hair colour and short haircut this cool
She can't step away from the scissors!
See article