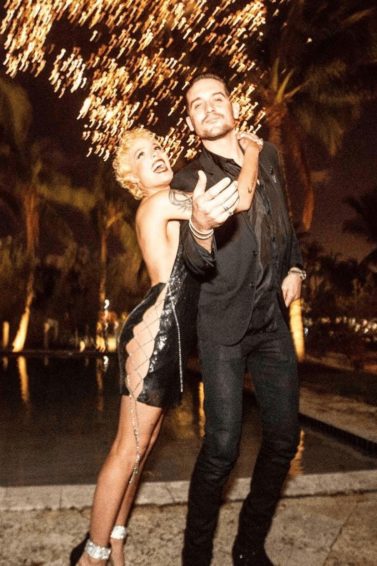 Halsey is our New Year, New Me inspiration!
Give a girl the right haircut, and she can rule the world.
In the music scene, Halsey is known for her wild-child aesthetic. She loves cropped cuts, bright colours and playing around with her style – so much so that we can hardly keep up! Yet while we adore the way the electro-pop singer usually fashions her tresses, her NYE look really was something to behold…
Now, for those of you still riding that wave of New-Year-New-Me euphoria, Halsey's new 'do is the inspiration you need to kickstart 2018. But for those still feeling a little worse for wear in the aftermath of 2017, consider this the pick-me-up you so desperately crave.
Halsey transformed herself into Marilyn Monroe for NYE
https://www.instagram.com/p/BdZH3Pmj8OS/?hl=en&taken-by=iamhalsey
If you thought you nailed your New Year's Eve outfit, we have some bad news for you: Halsey did it better. The 23-year-old star stepped out for the celebration in true glamour, channeling those old Hollywood vibes and doing her best impression of Marilyn Monroe.
In the days days prior to this transformation, Halsey gave us a sneak peak at her new bleached curls in a black and white boomerang on her Instagram page. But little did we know that she would further revamp her look to masquerade as the blonde bombshell actress herself!
https://www.instagram.com/p/BdS9x0NjpBK/?hl=en&taken-by=iamhalsey
Her new year style might come as a shock to some of you, as the star was rocking a set of bold box braids just over a week ago! But just like countless other celebrities, the call of a fresh look for 2018 was just too much. We feel ya, Halsey!
Editor's tip: Tempted to try out a bright and beautiful blonde look for the year ahead? Well if you're going to follow in Halsey's footsteps and get a bleached look (curls optional) then you need to invest in the TONI&GUY Illuminate Blonde Shampoo and Conditioner to ensure your hue stays looking its best!
Want to see what all the other A-listers are up to these days? Then head on over to our Hair Trends page, were you'll get the low down and all the goss from the celeb world!
Prev Article
Next Article
Article
Cast your votes on Meghan's royal wedding hairstyle!
Will it be her signature waves or an undone updo? Vote now!
See article