How to Create a Beautiful Half-Up, Half-Down Braid
You Will Need
Always dreamed of rocking a gorgeous half-up, half-down braid hairstyle? Well, now you can, with our simple tutorial on how to a get a half-up braid, below!
Scroll down to see how you can create a half-up French braid hairstyle. And since half braided looks are seriously hot-to-trot, we've also decided to include a few other half-up braid hairstyle variations, below.
How to do a simple half-up, half-down braid in 6 steps
How to create a half-up, half down French braid
Looking for a half-up braid hairstyle that's perfect for both daytime and evening outings? Well, this pretty half-up, half-down French braid might just be the answer to all your hair prayers — especially if you're a rookie braider!
How to get the look:
1. Start by creating a neat centre part with your finger or a comb, then take a section of hair on the left side, dividing it into 3 sections.
2. Now start weaving a French braid (by crossing the side strands over the middle, instead of under) and pick up more hair from the sides as you go, until you reach around the middle of the back of your crown.
From here, continue to weave a standard 3-strand plait all the way down to the ends. Secure your first plait with a clear elastic headband.
3. Repeat step 2 on the right side of your hair.
4. To finish off your pretty double French plaits, pancake them by gently pull apart each section of the braid with your thumb and pointer finger. This nifty trick will make your hair instantly appear fuller.
6 half-up braid hairstyles you should try
Now that you've learnt how to get a half-up, half-up braid, you've opened yourself up to a whole new world of hot hair styling possibilities! Need some inspo? See some of our favourite hairdos for half-up braid hairstyles, below.
1. Triple boho half-up, half-down braid
You've heard of boho hairstyles, but have you heard of the triple boho half-up braid? Well, let us introduce you!
Featuring a playful mix of hidden braids and a half-up ponytail, this unique braided hairstyle is sure to inject a free-spirited feminine vibe to your flowing locks! And doesn't it looks as cool as it sounds?
2. Mermaid braids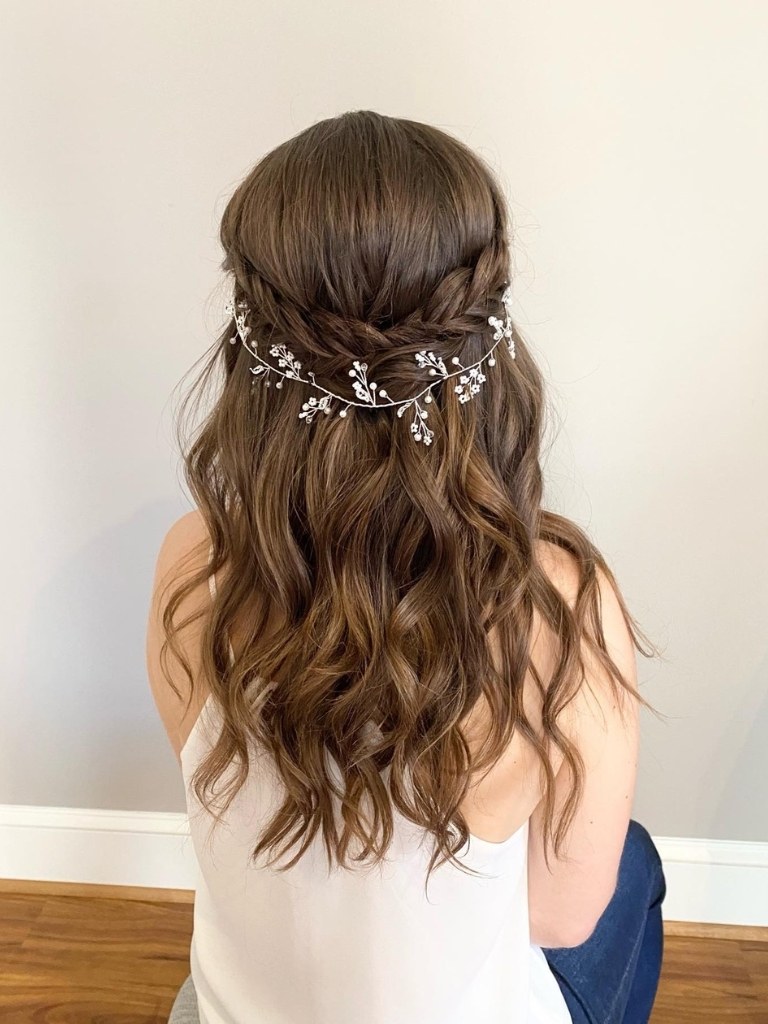 As we're sure you already know: mermaid hair has become the look to rock. So, it comes as no surprise that Ariel-worthy half-up braid hair exists! Don't believe us? One glance at the dreamy picture above is all you need!
Now, if you fancy nabbing this fresh-out-of-water look for yourself, follow these 4 steps! Easy peasy, eh?
3. Romantic braided half-up hairstyle
Looking for some #hairspiration for prom or a wedding you're attending? Look no further, as we think we may have the answer with this beautiful, romantic Dutch braided updo.
The pretty braid is a great way of tapping into the ever-popular half-up braid trend, while also keeping the look elegantly stylish.
4. Short half-up, half-down braid hairstyle
Think having short hair means you can't reap the half-up braid benefits? If you have a bob or a long bob, you'll be happy to know you can create an amazing array of half-up, half-down braid hairstyles.
From half-up braided crowns to braided half-up space buns, rocking half-up looks is about to become your forte!
5. Half-up, half-down French braid to the side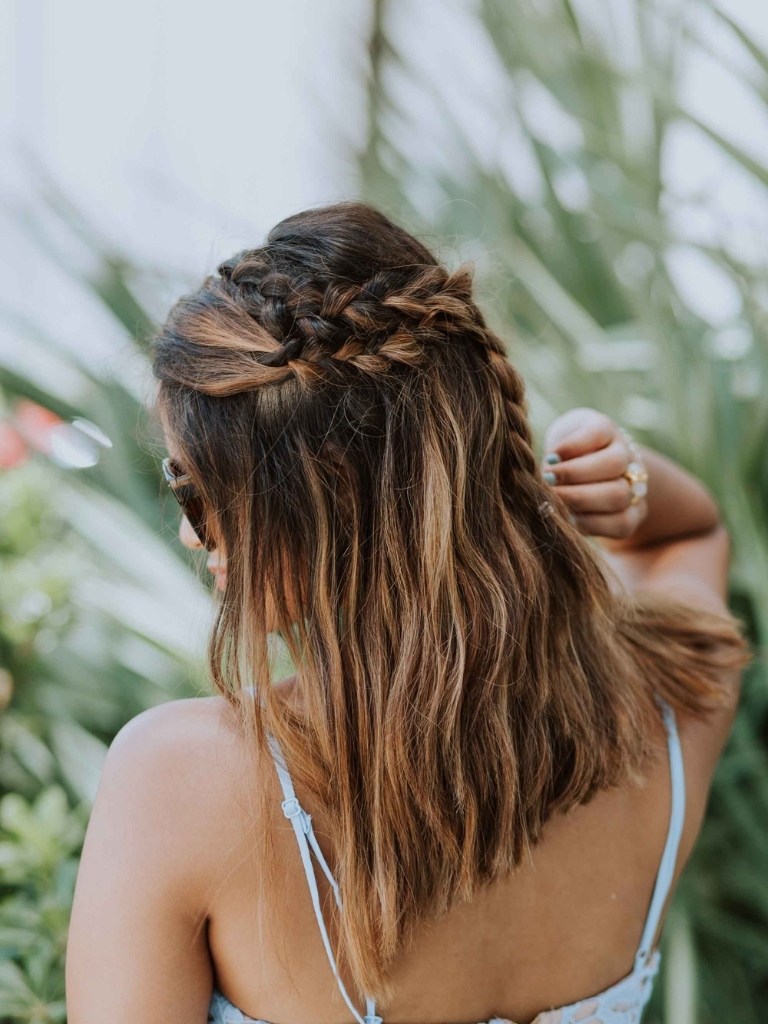 Want a stunning half-up, half-down French braid hairstyle that won't take ages to create? Sounds like you need to try this gorgeous side-swept braid!
This is a style that looks just as good by the pool as it does at a summer wedding, and should be paired with a set of beachy waves for maximum effect. #Slay!
6. Floral half-up, half-down braid
With summer hot on our heels, you'll need a look that'll brighten up your mane! But what to choose? Well, this braided half-up floral fishtail braid epitomises a cool, feminine festival attitude, plus it's pretty easy to style.
If you prefer to wear your hair without flowers, but still want a bloomin' hairstyle, you should try out our flower braid bun hair tutorial. It's girly, quirky and cool in equal amounts, so there's nothing not to love!
Simply can't get enough half-up braid hairstyles for your mane? Great! Then you'll love the all the pretty plaits on our Braids page. Check them out!
You Will Need
Prev Article
Next Article
Gallery
Alicia Vikander's mane moments: See the newlywed's prettiest hair highlights
No-one does red carpet beauty quite like Alicia.
See article