Hair by Sam McKnight: The 5 'dos we really love
Legendary locks, right this way...
Have you had a chance to see the Somerset House exhibition: Hair by Sam McKnight? Well, if you haven't, we suggest you head over to see it, right now! The exhibition showcases celebrity hairdresser Sam McKnight's most amazing hairstyles to date. And having worked with some big names, the exhibition features a number of global celebrities, such as Kate Moss, Giselle Bündchen, and Uma Thurman (to name just a few), as well as his work with other top fashion photographers (ahem, Patrick Demarchelier).
Luckily for you, we've pulled our favourite looks from the legendary hairstylist's repertoire, to bring you a collection of some rather incredible hairstyles. So, to see these gallery-worthy 'dos, and the celebrities rocking them, simply scroll down and prepare to be amazed!
Hair by Sam McKnight: 5 Hairstyles we love
1. Long hair, don't care!
Giselle is one of the world's top supermodels, and with Rapunzel-like hair like hers, we can certainly see why! Showing off her lengthy locks and dirty blonde hue in this amazing hair toss, her naturally tousled waves seem to have a life of their own. And we have to say, we're feeling some serious hair envy over here!
2. Flame red
It seems like red, ginger, and copper tones are making a serious comeback this season, especially with the rise of the pumpkin spiced hair trend! And Tilda Swinton doing her best impression of David Bowie (circa Ziggy Stardust), is case in point that red hair has always been one of the chicest shades around.
Psst! Red head lovers, don't forget it's National Love Your Red Hair Day on the 5th November – so remember to celebrate your natural hue in all its glory!
3. Perfectly undone
No one works an undone look quite like Kate Moss – and this #IWokeUpLikeThis hairstyle is the perfect example of 'stylised' messy hair. But what's the key to nailing a look that oozes ease and effortlessness, you ask? Creating tousled tresses using the texture from your  'second day' hair, obvs!
Try: The TRESemmé Perfectly (un)Done Ultra Brushable Hairspray, to help you create lived-in and relaxed locks, that Kate Moss and Bey would be proud of.
4. Vintage
This vintage-inspired hairstyle takes the classic bouffant to a whole new level! And we can't help but suspect that Sam McKnight drew inspiration from retro starlets, like Brigitte Bardot, when he was creating this awesome updo.
Feel like trying a similar hairstyle at home? Then arm yourself with some TRESemmé Freeze Hold Hairspray and check out our '60s Hair: How to do a Brigitte Bardot-inspired updo tutorial! Trust us, with this easy step-by-step guide, you'll be oozing retro vibes in no time.
5. Beautiful braids
Okay, we know that this hairstyle isn't for the faint hearted, but we just love the cornrow and crimped hair combo. In fact, Sam McKnight was well ahead of his time, as the autumn/winter 2016 catwalks were chock full of crimped hairstyles! And it's safe to say, that thanks to Karlie Kloss' boxer braids and Beyoncé's plaited pony, 2016 is unofficially the year of the braid.
Hair by Sam McKnight will be running from 2nd November – 12th March 2017 at Somerset House, Temple, London. This is one exhibition hair lovers can't afford to miss!
Prev Article
Next Article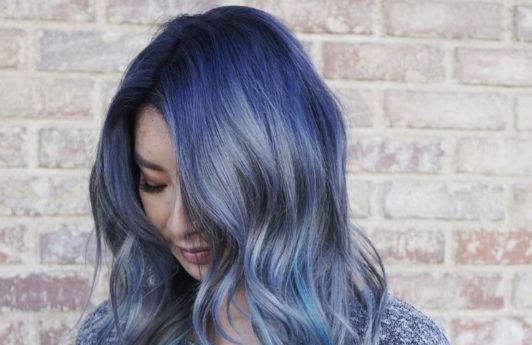 Gallery
Denim hair: What you need to know about this season's hottest trend
Denim hair is the Instagram-approved hue you need to be rocking, right now!
See article