The best Instagram hair colour trends to go viral in 2017
It's time to brush up on your hair #hashtags!
While we look to the runways and streetstylers for the latest hair trends, Instagram is undeniably our go-to source of inspiration. With some of the world's best creatives and bloggers sharing their latest hair experimentations, it's often the place where we first spot emerging trends before they become mainstream.
With everything from glitzy glitter balayage to delightfully Danish hygge hair hues filling up our feeds this year, our saved collections hair folders are full to the brim with imaginative new hairstyles.
Read on to see which hair trends were #trending over the past year and see how many of them you remember spotting.
These are the hair trends that blew up on Instagram this year
Glitterage
Arriving just in time for Christmas and the party season, glitterage is the glitziest hair trend on the beauty scene right now. Combining our love for glitter and all things sparkle with the well-loved balayage colouring technique, glitterage is achieved by pulling streaks of glitter through the lengths for a peekaboo hint of glitter.
Who would've thought our '90s glitter gel obsession would finally come back around, eh? Credit: @katpark
Hyyge hair
It's funny to think that last year we had never even heard of hygge and now it's infiltrated everything from interiors to food and, now, our hair.
All based around the Danish art of keeping warm and cosy during the dark winters, hygge hair takes inspiration from this by incorporating bright, autumnal hues. From golden blondes to fiery reds, they offer a complexion-boosting pop of colour to the vitamin D deprived. Credit: @martinssonking
Geode hair
Those of you who are up on your crystals will appreciate how stunning the insides of these rocks can look, often containing shimmering multi-tonal crystals and minerals.
By adding tones of blue and purple to the hair you can nod to this natural phenomenon and create a stunning, custom geode hair colour that's both superbly striking and completely unique to you. Credit: @oliviagardenint
Retro sweets hair
Who doesn't love a good pick 'n' mix? We're definitely partial to some bonbons, which is why the retro sweet shop-inspired hair trend that blew up on Instagram this year struck so well with us.
Whatever your favourite sweet, there's a colour trend to match – but our current fave is this fruit salad inspired blend! Now, we're off to get some 1p sweets… Credit: @sonnyleeh
Glitter undercut
Hair lovers will know that last year it was all about the glitter roots. But this year, festival goers took the glitter theme one step further with edgy glitter undercuts, showing us all just how creative they can be with their manes!
Created by applying rainbow glitter to intricate shaved designs, it makes for a look that's pretty wild yet can easily be concealed once the festival fun is over, making it more wearable than you'd think. Credit: @samlanehair
Confetti hair
How great would it be if you could take away the stress of planning our outfits for parties? Well, that's exactly what came to mind when we first caught wind of the confetti hair trend that was sweeping through the 'gram.
A fun mix of pastel hues, stylists apply colour in stripes and spots to create an optical illusion that'll outshine even the best outfit. Credit: @blondieshair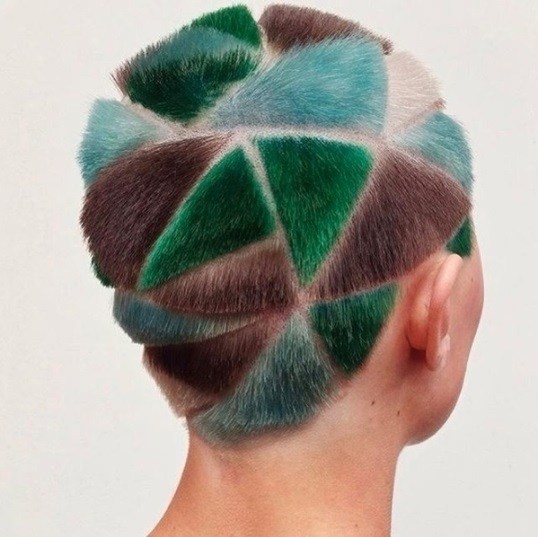 Colourful geo buzz cuts
You can always rely on Instagram to take a trending style (e.g. the buzz cut) and give it an artistic twist.
Multicoloured rainbow buzz cuts, in striking geometric designs, started to pop up on our feeds this year and we were surprisingly enamoured with them. Yet while we don't see this hitting the mainstream any time soon, you've got to applaud the artistry! Credit: @esteticamagazine
Want to stay ahead of the crowd? Signing up to our newsletter (below) is the best way to be kept in the loop with all of the latest Instagram crazes. Plus, with to-the-minute runway reports and celebrity transformations as they happen, you'll never miss out on breaking hair news again.
Article
Lily Collins wows on the red carpet with bright red hair
And here's how to get her sassy new look!
See article