Dolce & Gabbana's Spring 2017 headpieces are pretty spectacular
It's time to step up your hair accessory game.
Not everyone knows this, but in addition to their regular ready-to-wear lines, Dolce & Gabbana host their special Alta Moda couture show twice a year. Designed to showcase the fashion house's most elaborate, over-the-top designs, this season's couture show proved just as theatrical as ever, especially when it came to the hairstyles!
Models hit the runway sporting an array of elaborate headpieces including golden crowns, floral headbands and gothic veils. If you're yet to see the mesmerising hair looks, read on now!
Elaborate headpieces at Dolce & Gabbana's Alta Moda show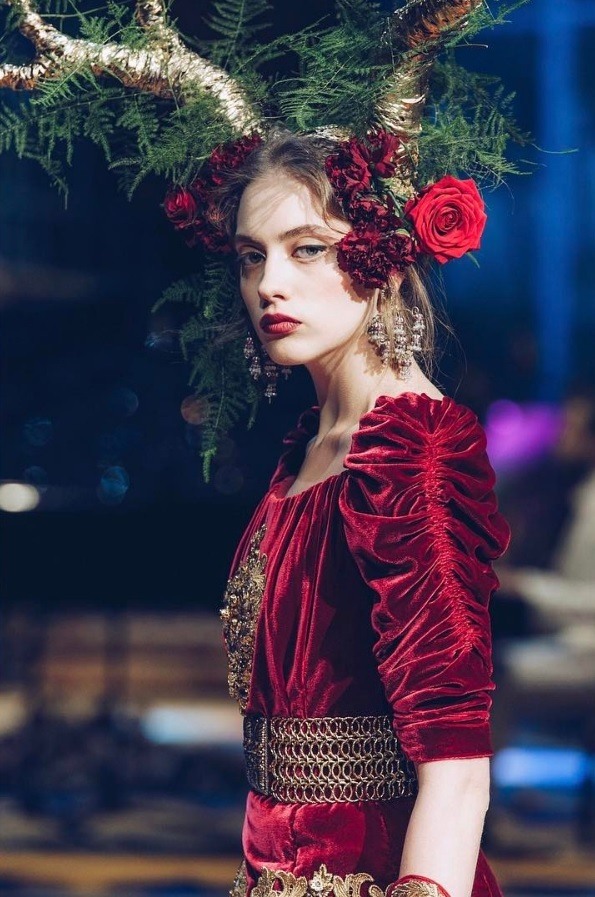 Obviously, for a collection as special as this, a regular runway was never going to cut it. Instead, this season's Dolce & Gabbana show took place in an opera theatre factory in Milan! Providing an elaborate backdrop of props, it mirrored the extravagant collection perfectly.
With so much brocade, velvet and embroidery featured in the ensembles, you might assume that the model's hairstyles would be left minimal – that definitely wasn't the case! In fact, a 'more is more' approach was present, with ornate, embellished headpieces being worn by each model.
These headdresses incorporated the colours and textures of the collection, so that the hair really became an extension of the garments themselves. Credit: @gersonlirio
Under the elaborate hair accessories, models has their hair styled into a variation of understated messy updos. This was partly to avoid drawing attention away from the showstopping designs, but also due to the fact that accessories could easily be attached to these practical hairstyles.
Nature was an ever-present theme in the show, not only through the array of floral designs, but also in the form of animals. Feathers were used in a number of the model's' hairstyles, as were gem-encrusted bird hats. Credit: @gersonlirio
As we've mentioned, many of the headpieces were designed to coordinate with the models' outfits. And what better way to match your hair to your dress than by actually recycling some of the material itself, and wearing it in your hair? Well, that's exactly what happened in the Dolce & Gabbana show with the above gothic rose-inspired look! Credit: @gersonlirio
Prev Article
Next Article
Article
Working It: How I Manage My Hair with My Hectic Fitness Schedule
We spoke to WGSN's Senior Beauty Editor (and part-time fitness instructor) Theresa Yee all about her best post-gym hair care tips and the importance of #SelfCareSunday.
See article