Mane moments: 10 times Ciara's hair came up with the goodies
We 1, 2 step through Ciara's hair history for your viewing pleasure! 
After bursting onto the music scene back in 2004 with her debut single Goodies (oh how time has flown!), Ciara has been releasing hit after hit. And with 6 studio albums – plus tours with Britney Spears, Rihanna and Gwen Stefani – already under her belt, she is proving herself as a musical force to be reckoned with.
Now, of course, it's not just her musical talent and dancing capabilities that we admire (don't pretend you never tried that tricky Matrix dance move), it's her array of endless hairstyles that really steal our attention.
So, if Ciara has been under your hair radar for some time, simply keep reading to get acquainted with the many hairstyles of the R&B princess in her hottest mane moments, below.
Mane moments: 10 flawless styles and reasons why we love Ciara's hair
1. Her dookie braids – need we say anymore
Ciara kick-started 2018 with yet another striking hairstyle. With her husband behind the lens, Ciara posted a series of perfectly shot images to her Instagram account – but it was her lengthy dookie braids that really had us staring in awe! Credit: @ciara
2. She even slays retro curls
Okay, we can't take any more, is there a style Ciara can't slay? From poker-straight tresses, protective hairstyles and even updos, Ciara can now add curls to her mane résumé.
Totally transforming her look over the festive period, Ciara channelled Jennifer Beals from the 1980's iconic movie Flashdance by wearing her dark tresses in tight curls – bangs and all. Credit: @ciara
Editor's tip: If you're thinking of curling your tresses just like Ciara, be sure to arm yourself with the VO5 Heat Protect Serum, as this will not only will this protect hair from heat, but will help smooth frizz, too!
3. She constantly switches up her style
Throwing it back to the '60s, Ciara added dramatic length to her raven tresses which she styled in a sky-high pony.
Ensuring her lengthy tresses didn't look flat, Ciara add tonnes of va-va-volume to the lengths of her hair by curling the ends. Thanks for the tip! Credit: @ciara
4. She mastered the messy bun
Whether it's for a red carpet appearance or casually lounging around in your robe (as you do), Ciara loves to style her tresses in an updo – and her go-to style is utterly envy-inducing.
Wearing her lengthy raven tresses in an undone messy bun, Ciara then leaves loose strands to fall from her hairline, which gives a soft and romantic feel to her look. Credit: @ciara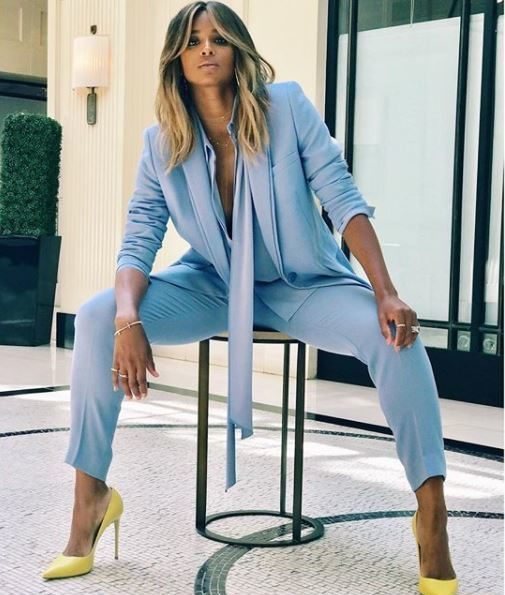 5. She is a colour chameleon
When we think of the many looks of Ciara, one thing is for sure: she is a total colour chameleon.
Never one to stray too far away from her dark tresses, here Ciara opts for a dirty blonde finish throughout the lengths of her hair, but always keeps her dark roots for the most beautiful balayage finish. Credit: @ciara
Editor's tip: Re-create Ciara's tousled waves with the TRESemmé Perfectly (Un)Done Wave Creating Sea Foam. Work it through your tresses (before blow-drying) to enhance each strand for wonderfully textured waves.
6. She makes the simple ponytail look good
Oh, how we wished our everyday ponytail looked as chic as this!
Wearing her golden brown balayage tresses in a high ponytail, Ciara chose the most on-trend addition of 2017 – Bardot bangs. Perfectly framing her face, the lengthy fringe gives this style a flawless finish. Credit: @ciara
7. She nails the boho chic look
From poker straight strands to a halo of curls, there is no guessing which hairstyle Ciara will try next. However, it's her effortless tousled waves that always steals the show for us and Ciara is clearly a lover of the style, as she returns to the boho-esque look time and time again!
8. She's a protective style lover
With the rise in protective hairstyles growing ever more stronger, it is no wonder Ciara decided to give the look a whirl. Styling her tresses in a mixture of brown and blonde faux locks, the star posted a series of Instagram snaps with them in cute space buns and this half-up, half-down messy bun style. Credit: @ciara
9. She is a trend setter with this shag haircut
With her model-worthy features, Ciara has the advantage of being able to pull off practically any hairstyle and still look beautiful. And this was never more apparent than when she stepped out with this shag haircut.
Joining the likes of Eddie Campbell and Kylie Jenner, Ciara gave the shag haircut her seal of approval by styling her dark tresses with choppy bangs and a shoulder-skimming wavy cut.
10. Her romantic braids are breath-taking
We told you she was the queen of updos, didn't we? Wearing her long dark tresses with contrasting blonde highlights, Ciara styled her mane in the most show-stopping halo braid updo.
But this isn't any halo braid, we might add, as it's a fishtail halo braid, which makes this even more special. Ciara, you never cease to amaze us! Credit: @ciara
Editor's tip: Keep your braid in place with a generous spritz of the TRESemmé Perfectly (Un)Done Ultra Brushable Hairspray. Not only will this create an undone style, but it easily brushes out and doesn't leave any stiffness on your hair – jackpot!
If you love seeing your fave celebs hair transformations, then you need to head on over to our Hair Trends page. From Jennifer Lopez to Beyonce, our mane moments series is where you need to be!
Prev Article
Next Article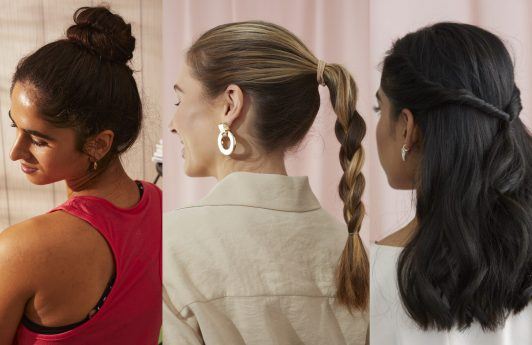 Article
7 Easy Hairstyles You Can Add to Your At-Home Hair Wardrobe
This Korean-inspired hair trend is going to make your working from hair game strong!
See article