Thanksgiving hairstyles: All the celebrity looks we would be thankful for
There's a lot to be thankful for when your hair looks this good.
While we don't officially celebrate Thanksgiving over here in the UK, it is, undoubtedly, one of the biggest holidays of the year for our Stateside friends. Across the ocean, Thanksgiving marks the start of the winter holiday season and traditionally consists of families coming together over a roast dinner (and the occasional obligatory food selfie, duh!).
However, here at All Things Hair, we're throwing a little twist on the celebration, by serving up our very own round-up of the best celebrity Thanksgiving hairstyles (instead of a roast turkey)!
So, scroll down to discover the celebs kicking off the holidays in style, plus the hairstyles that we, for one, would be very thankful for…
Celebrity Thanksgiving hairstyles round-up 2017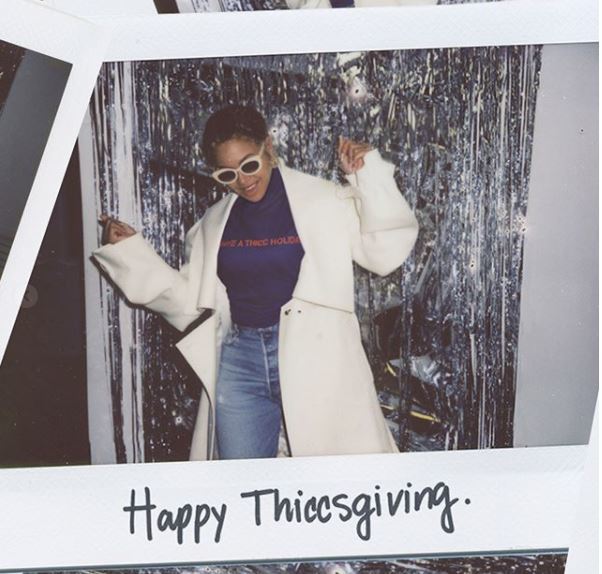 Beyoncé Knowles-Carter
If you're a follower of Beyoncé's socials already (and if you're not following her, umm why the hell not?) you will know she loves a good impromptu photoshoot .
Celebrating 2017 Thanksgiving with a series of fab pics, Beyoncé styled her golden brown Rapunzel-length tresses (the same style she wore for bestie Serena Williams' wedding, FYI) in a centre-parted low bun. Credit: @beyonce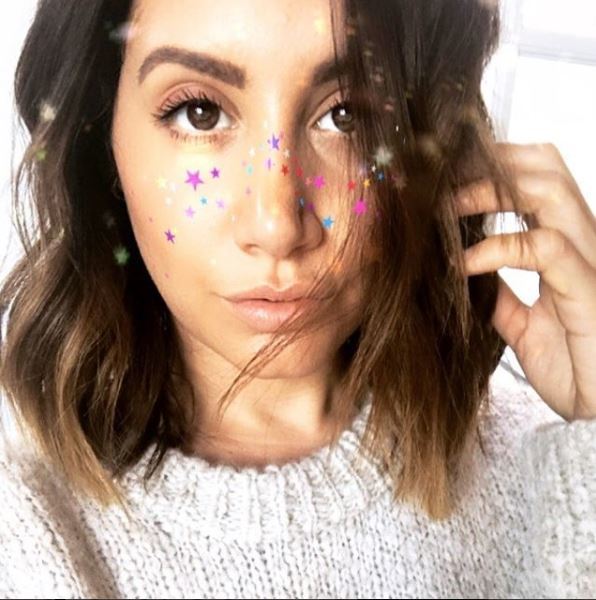 Ashley Tisdale
Showing off her new chopped style in a picture-perfect selfie, Ashley Tisdale not only added loose waves to her brown balayage tresses but a fun glitter filter to her pic, too!
Now it wasn't only her gorgeous-looking tresses that caused us envy, it was also her hilariously relatable caption: "Turkey coma #happythanksgiving".  We don't know about you, but we're starting our counting down the days until our Christmas feast! Credit: @ashleytisdale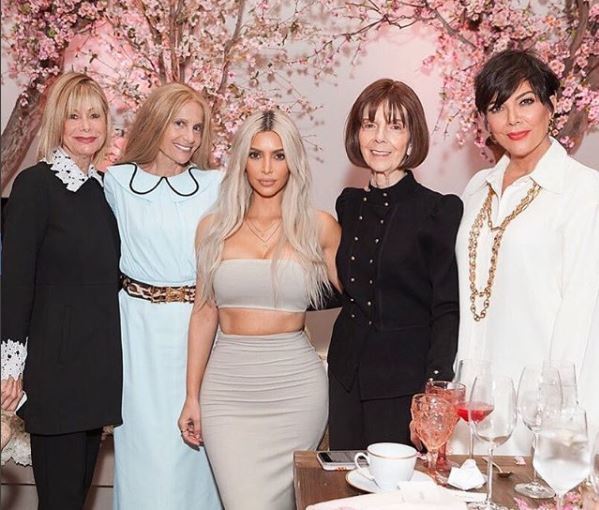 Kim Kardashian
Kim Kardashian spent Thanksgiving with her family, posting this beautiful pic alongside her mum Kris Jenner and Grandma 'MJ'. Styling her waist-length tresses in her new fave platinum blonde hue, Kim finished off her look with loose, sultry waves. Credit: @kimkardashian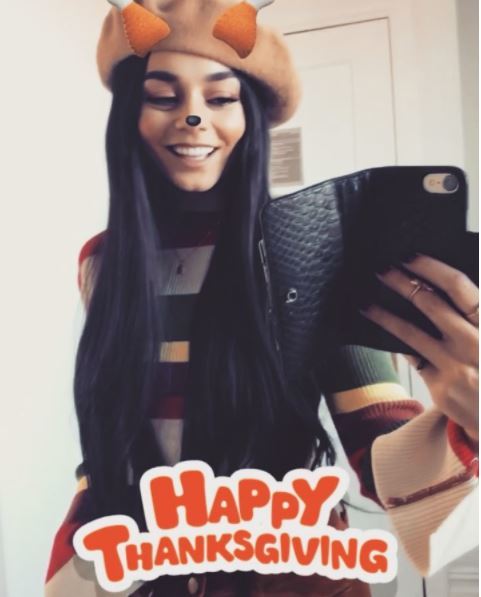 Vanessa Hudgens
Vanessa Hudgens added length to her locks (once again) as she celebrated Thanksgiving this year. Vanessa added a cute filter to her Instagram video but that didn't distract us from her new Rapunzel-length tresses.
Captioning her Instagram post "Happy thanksgiving loves. Hope you all have a beautiful day filled with love and laughter  ❤️??". Vanessa topped her dark raven tresses with an on-trend beret and finished the look with a very soft wave through the lengths. Credit: @vanessahudgens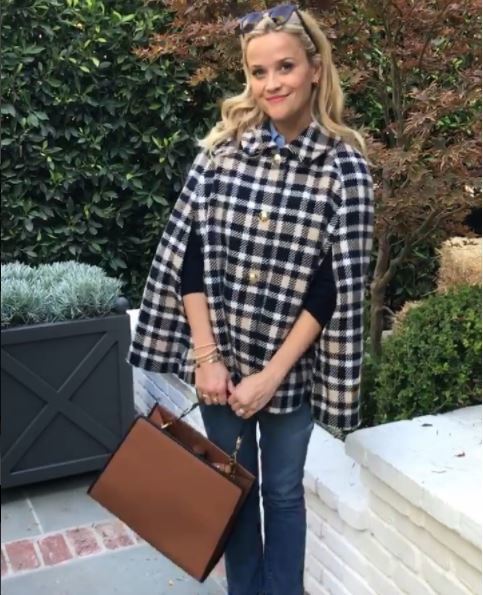 Reese Witherspoon
From Reese's 2016 Thanksgiving 'the hostess with the mostess' look to her 2017 "My "Is it time to eat yet" dance", we can never get enough of Reese's fab hairstyles.
Wearing her highlighted blonde hair with tumbling waves, Reese added a pair of sunglasses to keep her tresses off her face. Credit: @reesewitherspoon 
Taylor Hill
Stepping straight off the Victoria's Secret catwalk in Shanghai to a holiday in Dubai, Taylor Hill has been jet-setting across the globe over the last few days. Clearly worried about missing Thanksgiving, Taylor posted a video of her boarding a plane along with the caption "Trying to make it in time for thanksgiving dinner ??" on her Instagram account.
Now after all those hours on a plane you can be forgiven for thinking that Taylor could look a little worse for wear, but this is a Victoria's Secret model we are talking about.
Styling her long brown tresses in a messy high bun Taylor uploaded a second image (with her adorable dog), captioning her post with: "Touchdown into winter ❄️". Phew, as nobody wants to miss Thanksgiving dinner, do they? Credit: @taylorhill
Celebrity Thanksgiving hairstyles round up 2016
If you happened to me MIA for last year's Thanksgiving also, and missed out on the best A-list looks, take a peek below for 2016's Thankgiving round up and some seriously hot hairstyles!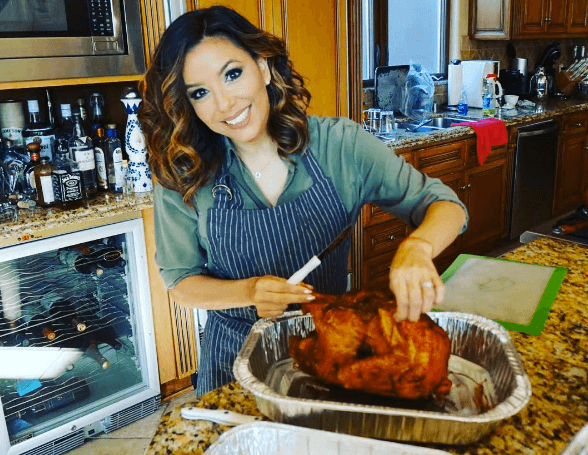 Eva Longoria
The star of hit TV series Desperate Housewives sure does know how to rock a great Thanksgiving hairstyle (as well as cook a tasty roast, it looks like!).
Eva Longoria posted the above picture to her Instagram, showcasing her her stunning balayage bob, as well as her expert cheffing skills (well, she was an on-screen housewife for 8 years, after all!). Credit: @evalongoria
Bella Hadid
While she was whipping up a non-traditional Thanksgiving dinner of mac 'n' cheese for her friends, model Bella Hadid threw on a short, choppy blonde wig, which came complete with a full set of bangs.
We almost didn't recognise the star, who's normally seen out and about with darker locks, but we're not gonna lie: we sure love her temporary blonde bob! Credit: @bellahadid
Emma Roberts
Keeping things nice and simple, actress Emma Roberts styled her medium-length, blonde locks into a low-key, yet chic side-parted ponytail. Needless to say, we're pretty envious that she can make even a humble pony look this good! Credit: @emmaroberts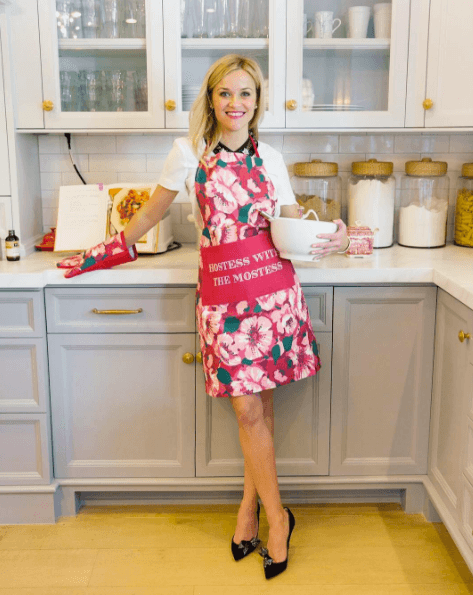 Reese Witherspoon.
Reese Witherspoon always gives us major styling inspo, and this Thanksgiving wasn't any different! Dressed in a patterned floral apron with a matching oven mitt, the star was as stylish as she was practical, while she whipped up a holiday treat in the kitchen.
And don't even get us started on her soft, tumbling blonde waves! She really is 'hostess with the mostess' this season. Credit: @reesewitherspoon
Jennifer Lopez
Mega-babe J-Lo just gets better and better with age, doesn't she? Well, we certainly think so – and this hot Thanksgiving selfie just proves it.
For the annual holiday, Jennifer styled her layered tresses into soft, relaxed waves. And can we please just take a second to appreciate her gorgeous brown balayage hair colour? #majorhairenvy Credit: @jlo
Kylie Jenner
We're sure you've already heard the news that TV personality Kylie Jenner recently ditched her blonde tresses in favour of a darker shade, and now we've finally found out the reason why… For Thanksgiving, of course!
Taking her mane dedication to a whole new level, Kylie treated us to a Thanksgiving hair transformation, and we have to say, we love her new, sultry hair hue to bits. Credit: @kyliejenner
Loved these celebrity Thanksgiving hairstyles? Us too! So if you're now looking for inspiration on how to style your hair for the next big holiday (which is Christmas, by the way!), then why not check out our Formal Hairstyles and Party Hairstyles pages? You're sure to find a 'do to flaunt at every seasonal event that's coming your way.
Prev Article
Next Article
Article
7 Sleep Tips To Help You Unwind
Forget counting sheep, these tips will set you up for the best night's sleep ever.
See article