As Blac Chyna debuts another bold look, we take a look back at her mane moments
New day, new hair for Blac Chyna.
Leona
|
September 21, 2017
Blac Chyna has become one of our favourite hair chameleons here at All Things Hair HQ. There isn't a style this star hasn't tried and, to be frank, we can barely keep up with her many changing looks.
From bold hues to her newly debuted daring braids, we have rounded up all of Blac Chyna's most memorable mane moments from 2017 so far.
Mane moments: Blac Chyna's changing looks
Long blonde box braids
Because who doesn't love ankle-length hair? Blac Chyna went for this Rapunzel-length, box braid hairstyle recently for a fun '90s-inspired themed photo shoot and we have never been so envious of a look before!
Pastel green bob
As you will soon come to notice, Blac Chyna not only loves to switch between longer and shorter styles, but she loves a hair colour change more than anyone else (even Kylie Jenner!). Our favourite to date? This pastel green hue, which is only one of the many shades the TV personality has been spotted wearing. Credit: @blacchyna
Editor's tip: If you're thinking of trying one of 2017's hottest hair colours, we suggest switching your wash and care system to one formulated especially with coloured tresses in mind.
We suggest trying the Dove Colour Care Shampoo and Conditioner for keeping your hair colour vibrant, leaving your strands feeling silky and more manageable, too.
Chic black bob
Taking her look back to a more understated style, Blac Chyna went for an incredibly chic, black choppy bob, which was no less stylish and worthy of the hair chameleon.
By adding waves and full bangs, Blac Chyna's look goes from ordinary to extraordinary in an instant, not to mention giving her a sultry finish to her overall style. Credit: @blacchyna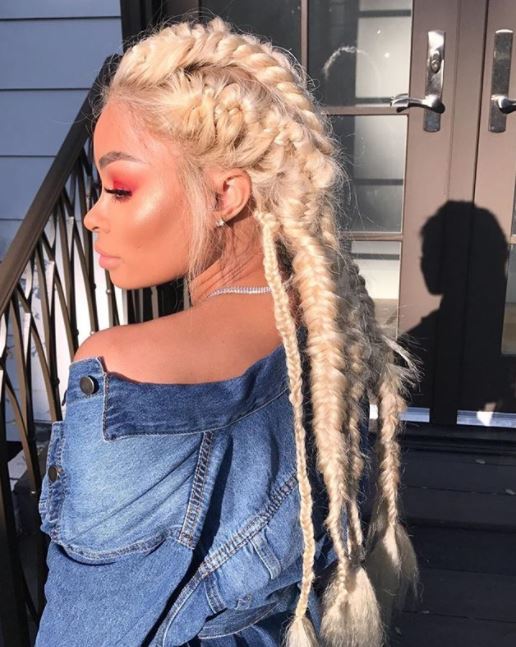 Platinum blonde braids
With a mixture of fishtail and 3-strand plaits, Blac Chyna's platinum blonde braids are given us serious Daenerys Targaryen vibes — but don't get used to this hue for long… Credit: @blacchyna
Golden brown waves
Blac Chyna went for a more natural hue with this golden brown colour. In this Instagram selfie, Blac Chyna's new hair colour perfectly compliments her neutral-toned make-up and we absolutely love her large curls. Totally romantic, no? Credit: @blacchyna
Editor's tip: Seal your Hollywood curls in place with a generous spray of the VO5 Dramatic Volume Creation Hairspray. This hairspray is lightweight with ultra brushable technology and will help lift your hair from the roots — what's not to love?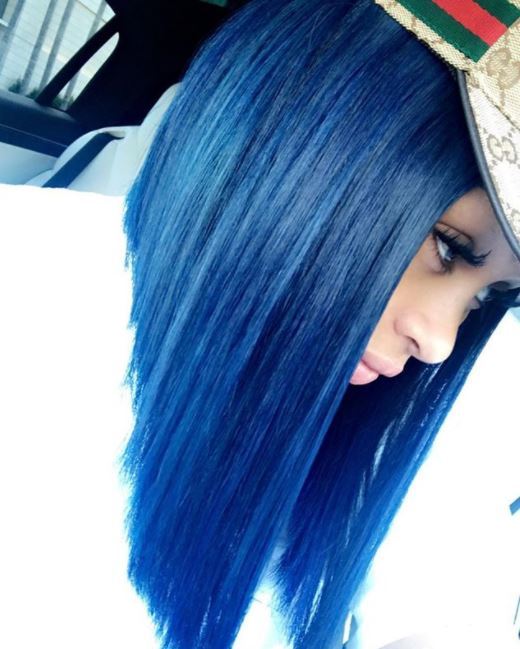 Blue asymmetrical bob
While many of us wouldn't have tried as many hairstyles as Blac Chyna over our entire lifetime, the star is definitely living in the moment — and more power to her, we say!
This blue hue on her asymmetrical bob is one of her boldest looks of 2017 (yet!), going for an ultra directional finish with severe graduation from the back to the front. Credit: @blacchyna
Unicorn hair
If you are anything like us, and can't decide which hair trend to try next, take inspiration from Blac Chyna and merge the hottest looks together for a truly breathtaking finish.
This combination of pastel hair colours gives a pretty unicorn finish, while the loose waves have an undeniable mermaid vibe about them. This is definitely a strong contender for our fave Blac Chyna look ever. Credit: @blacchyna
Editor's tip: For Blac Chyna's super gloss finish, we suggest using the TONI&GUY High Shine Drops. Not only will your hair shine with a dazzling finish, but this little bottle is great for smoothing flyaways — jackpot!
Are you forever experimenting with your tresses like Blac Chyna? Then you should hop on over to our Hair Trends page, which packed full of celebrity inspo and catwalk creations — some of which you might just want to try out for yourself!
Article
Lily Collins wows on the red carpet with bright red hair
And here's how to get her sassy new look!
See article