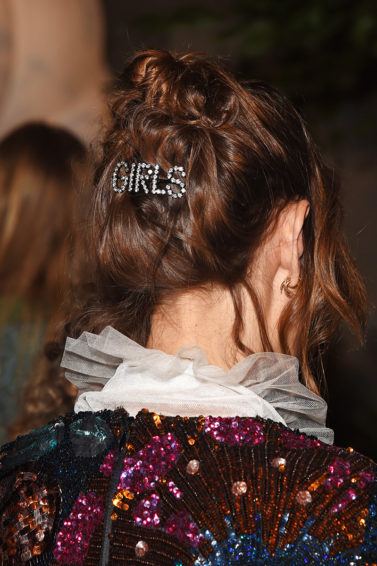 Meet the Alexa Chung hair accessory everyone at LFW was talking about…
Is this the coolest hair accessory you've ever seen?
Alexa Chung is our go-to girl when it comes to keeping up to date with the latest beauty and fashion trends, so it hasn't come as much of a surprise that she's now got everyone talking about the next big thing: hair clips! The British 'It' girl attended the Burberry spring/summer 2017 show, and took her usual seat on the FROW, while also wowing the crowd with her uber cool hair embellishment. Want to know where to get the Alexa Chung hair accessory everyone's going crazy about? Read on and find out, below!
The Alexa Chung hair accessory everyone's going crazy for
On Monday, mega-babe Alexa Chung rocked an effortlessly chic, messy bun to attend the shows at London Fashion Week. And while from the front this may look like your casual, laid-back bun, the back told an entirely different story. Trust us, this was no ordinary bun – oh no. This bun was accompanied by a fierce, diamante-embellished hair clip emblazoned with the words 'GIRLS'. Because girls run the world, right? And, also, isn't just the coolest thing, like, ever? Well, we certainly want one.
And if you do, too, then you'll have to look to Ashley Williams, whose SS17 show Alexa attended a few days prior. It was there where we spotted one of the models sporting the same jewel-encrusted clip – and, indeed, it was where the fashion-forward presenter and all-round cool girl got her envy-inducing hair accessory from. Surely, this is proof that this barrette looks just as good off the runway as it does on it. And what's the betting that kitsch '90s-style hair clips will soon be popping up all over the high street within the next few months. Or if you want the real thing, get ready to join the Ashley Williams wait list, pronto.
Prev Article
Next Article
Tutorial
Unicorn Magic: Try Our Unicorn-inspired Halloween Hair Tutorial
Halloween hair has never looked so pretty! 
See article