How to Thin Hair and Reduce Thickness: 6 Easy At-Home Tips
Many women with thick hair feel like they struggle with styling and are constantly wondering how to thin thick hair. If you're looking to learn how to thin your hair, we can assure you there are many options available that can tweak your locks and make them appear less full. From updating your hair care arsenal with products, to keeping your hair tamed, to replacing scissors with thinning shears, check out our top tips to learn how to make thick hair thinner at home.
1. Use a Shampoo for Thick Hair
For many of those who complain about thick hair being unruly and unmanageable, the root of it can be down to frizz. When the hair shaft swells up it makes the hair appear much thicker and fuller than it actually is. Using a smoothing shampoo and conditioner like TRESemmé Keratin Smooth Shampoo  will help to detangle and tame flyaways, for a sleeker, more polished mane.
Also, don't skip out using on hair masks! These treatments, whilst treating damage, coat the hair and make your hair easier to style. With time, your hair will be healthier, and it's a great hack on how to make your hair thinner.
2. Don't Forget Your Styling Products, too!
Update your styling arsenal with anti-frizz products, but steer clear from anything that claims it will give your hair "volume" or "life". For thick, frizz-prone hair, we recommend serums which coat the hair to prevent humidity from entering.
Smooth the TRESemmé Keratin Smooth Shine Oil onto your hair after styling, to keep your thick hair in check. And, if you're looking for a smoothing serum to protect your strands from heat damage, try the TRESemmé Defence Spray.
3. Try a Straightening Treatment
An easy and quick way to make your hair thinner is to alter the way you style it. This can either be done with the use of a straightening treatment or by adding layers to your hair.
A straightening treatment, whether temporary or permanent, helps minimise the volume of thick hair. Opt for a keratin treatment if you're indecisive about doing anything permanent, especially if you have curly hair texture and won't ever think about parting ways. Keratin treatments last around three months and don't change your texture. Score! Plus, they make your hair smoother, thinner, and easy-to-manage.
If you aren't able to get a treatment done, you can always straighten your hair at home to make it smoother. For the best results, make sure to use a smoothing heat protect spray and follow up with a serum.
4. Use the Haircut Method
Don't panic! We don't mean to cut your hair off entirely. Ask your stylist to thin your hair with thinning shears. This will cut down the amount of volume in your hair, but you won't lose the shape of your hairstyle.
Alternatively, you can also get a long layered cut to balance out the volume of your hair. Lastly, if you're just over the thickness of your hair, and just want a new look altogether, cut it. Get a short crop, like a pixie, but go for an edgier appeal. An edgy pixie has a spiky finish which can be obtained with the use of thinning shears and it gives the hair a stylish texture. If a pixie is too short, try a shag as this layered cut removes volume and makes your thick hair appear finer.
5. DIY It: Invest in Thinning Scissors
Nope, not just a regular pair of scissors from your local beauty shop, an actual pair of quality thinning shears. Thinning scissors are specially designed with a blade on one side and a comb-like blade on the other. Some of your options include finishing hair thinning scissors, chunking hair thinning scissors, and texturising hair thinning scissors just to name a few. If you're looking to simply thin your thick hair, consider investing in chunking hair thinning scissors to remove larger amounts of hair, without it affecting the length.
6. Use a Blow Dry Cream
For those with thick hair, do you ever feel like your hair gets more poofy and frizzy throughout the day after blow-drying it? A blow-dry cream is a great option to help with this because it helps smooth hair, adds grip to your strands, and protects your hair from heat.
Prev Article
Next Article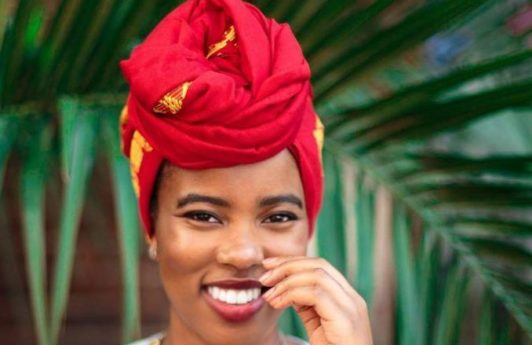 Article
Working It: The Day I Went Natural
We speak to a junior doctor about how she came to came to accept her natural hair.
See article