How to Take Care of Type 4A Hair In 9 Easy Different Ways
Type 4A hair is a curly hair type that is smaller in width than 3C hair, with tighter, kinky curls that have a distinctive S-shape when stretched out. Type 4A hair is often fine and has a soft texture. As with most natural hair types, 4A hair is prone to dryness and damage, so it needs all the moisture it can get to keep it healthy and strong.
If you've just discovered you have type 4A hair and want to know how to care of it, keep scrolling to see all the healthy hair habits you should follow now, for the best 4A curls ever.
9 Maintenance Tips for Type 4A Hair
Maintenance of 4A hair revolves around keeping your curls moisturised and avoiding damage. Follow these expert tips to learn how to get healthy, natural curls.
Use The Right Shampoo
Caring for 4A hair begins in the shower! Since type 4A hair is naturally dry and a texture that's prone to damage if not moisturised well, make sure your shampoo is super moisturising to pamper your curls.
We suggest you try SheaMoisture Jamaican Black Caster Oil Strengthen & Restore Shampoo. This sulphate-free, co-washing system gently cleanses while still maintaining moisture.
For days you need a deeper clean, rely upon the TRESemmé Replenish & Cleanse 2-in-1 Shampoo + Conditioner. It will help remove build-up and add body and shine to your mane.
Once this hair type gets wet it becomes really fragile. When shampooing, focus on your scalp and roots only, and let the shampoo foam to gently wash through the middle to ends of your hair as you rinse it out. After cleaning, follow up with a moisturising conditioner to rehydrate and soften your curls.
Deep Condition Weekly
We always recommend that dry, curly hair types should condition (or deep condition) bi-weekly to get fabulous coils. Masks help replenish the moisture that your hair needs to have springy curls, minus the frizz. To maintain and nourish your curls with moisture after shampooing, treat your hair by using SheaMoisture Jamaican Black Castor Oil Strengthen & Restore Hair Treatment Masque.
.
Perfect Your Wash Day Routine
Once you've got the perfect wash and care products for your type 4A hair, make sure to only wash it two to three times per week, depending on how you style it. If you've got an oily scalp, you can increase the amount to suit your hair needs.
Plop Your Curls
If you aren't plopping your 4A hair after you wash it, you're missing a trick. Hair plopping is a technique that involves wrapping your wet hair tightly in a cotton T-shirt to dry your hair, as it is gentler on curls and doesn't disturb their amazing shape.
New to plopping? Watch our hair crush Ava Welsing-Kitcher talk us through her hair plopping routine from start to finish, below.
Always Keep Your Hair Moisturised
4A hair may need to be moisturised every day or every other day. You can use oil if your hair is particularly dry. Raw coconut oil works well for adding moisture while you shape your curls because of its ability to penetrate the hair shaft, unlike most oils. If you need just a bit of moisture to refresh your curls, consider using serums for natural hair. You can apply as little or as much as you need to get your curls springy and frizz-free.
Alternatively, opt for leave-in conditioners like the SheaMoisture Miracle Hair Styler Leave-In Treatment. You can use this whenever your hair needs moisture.
If you're still struggling to moisturise your natural hair, follow the trusty L.O.C method. The idea behind this method is that you apply products in the exact order as the acronym, the liquid, oil and then a cream.
Avoid Heat
Try to avoid using heat on your mane and air dry your type 4A hair, where possible. If you are going to use heat, use a heat protectant to protect your strands from heat damage.
Pre-Sleep Care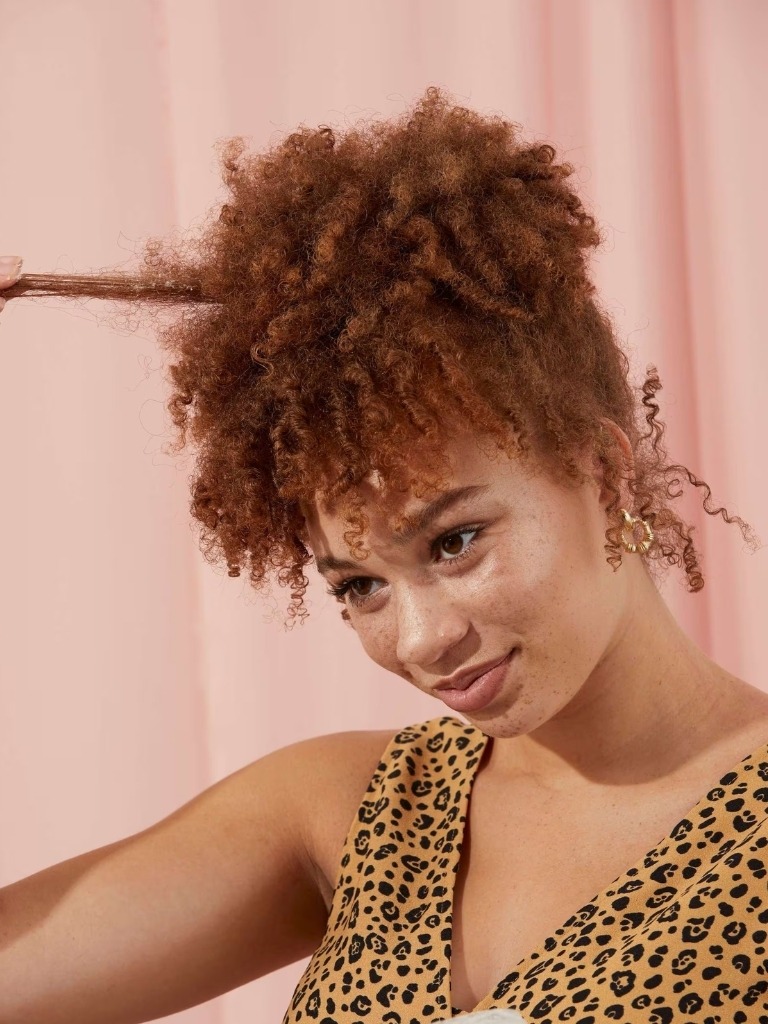 To avoid frizz and breakage, sleep with your hair in a silk scarf or use a silk pillowcase. Cotton can pull and tug on your curls making more frizz! Silk and satin glide over your hair so not a lot of extra frizz can happen. You may find it helpful to protect your curls by sleeping with your hair up in a pineapple updo.
Wear Protective or Low Manipulation Hairstyles
When you need to have a break from your 4A hair, you can try protective and low manipulation hairstyles.  They offer style versatility while keeping your natural tresses protected from manipulation. Bonus!
Be Gentle
Type 4A hair is very fragile and prone to tangling, so make sure to handle it gently. Whether you're detangling your natural hair type or fashioning it into your fave braid hairstyle, always take care.
Prev Article
Next Article
Tutorial
The precise parting hair tutorial that ladies with short hair will totally love!
Don't want to splurge on that drastic cut and colour? Try a quick hair change by playing with the placement of your parting!
See article