Kelly Clarkson's famous chunky highlights are having a revival right now and we're actually into it
The love/hate look is back for 2018 and we're already converted.
We don't know about you, but we've been riding high on the '90s throwback wave lately. From schoolgirl scrunchies to zig-zag crimping, we've seen a handful of iconic hair trends coming back around. And the latest – chunky highlights – might just be the most controversial yet!
Back in the day, stars like Geri Halliwell and Kelly Clarkson were total hair goals with their stripy, chunky highlights, but if you're thinking "no, never again", hold up and let us clarify. It's 2018, we've all learnt from our mistakes (hopefully), and this time around it's less about the zebra stripes and more a multi-dimensional colour…
7 ways to wear chunky highlights in 2018
1. Add face-framing highlights
We love face-framing highlights for their ability to instantly open up the face and draw attention to your best features. Plus, they show that you don't always need to go all in with a full head of highlights to get the look! You know what they say: sometimes less is more. Credit: @danielladif
2. Create an ombre effect
If the thought of chunky highlights gives you shivers, why not make it less scary by combining the look with a less intimidating technique, like ombre?
While you'll still be rocking two contrasting shades, the transition from one colour to another will make it more of a sutble graduation. Credit: @beautybygenafaith
3. Experiment with ash tones
Ash blondes, ash browns, it's all about the ash tones right now. Tick two trends off in one by taking a leaf out of this Instagrammer's book with ashy chunky highlights in silvery grey hues. Credit: @silasthestylist
Editor's tip: New to colour? Caring for your hue at home is important but it's not hard to do.
Our main recommendation would be to switch to a colour protect wash and care range, like the TRESemmé Colour Revitalise Vibrance Protection Shampoo and Conditioner. This will help to keep your chosen chunky highlights looking vivid and vibrant for as long as possible.
4. Make the most of brunette bases
Love being dark but want to be excited by your colour again? Add dimension to deep chestnut and chocolate browns with golden or honey highlights and it'll give your hair a refreshing, youthful vibe. Credit: @eleganciasalon
5. Rethink red
We all naturally have a mix of lighter and darker tones in our hair, so if you're thinking about going red that's something to bear in mind.
This Instagrammer is looking fire with her mix of dark red, copper and strawberry blonde strands. And even though on paper it may sound like an overdose of colour, in reality, it just works! Credit: @katiecolorist
6. Channel your inner mermaid
We may not be able to rely on the actual sun to lighten our hair, but we're not going to let that come between us and our mermaid hair dreams, are we?
Chunky highlights like these are also great if you're wanting to start the change from dark hair to light. Rather than going from dark brunette to blonde in one go (and risking seriously damaging your hair in the process), you can do it in stages with highlights instead. Credit: @frontroomsuite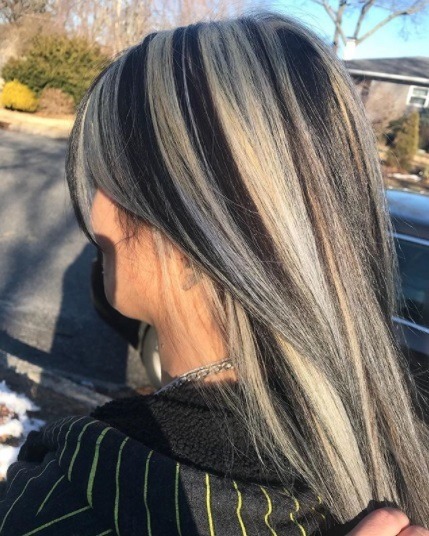 7. Up the contrast
If you're after true chunky highlights this is about as '90s as you can get in 2018. The Cruella de Vil vibes might not be for everyone, but if you're not afraid of drawing attention to your mane, high-contrast styles like this one will have people literally craning their necks just to catch a glimpse. Credit: @jj_stylist
Prev Article
Next Article
Article
Your guide to getting blonde highlights
Tempted by sunny highlights to match warm weather season? Discover our tips on what to know before you get them.
See article