How to make hair look thicker: 5 essential styling tips
Answering the age-old question of how to make hair look thicker. 
If you have thin hair, we know you've probably tried every trick in the book in hopes of creating thick-looking, luscious locks. Frustrating? Yes. But, there is light at the end of the tunnel, as we've put together this handy styling guide to teach you how to make hair look thicker.
From simple styling hacks to our essential volumising products, we've got all bases covered with our guide to how to make your hair look thicker.
How to make hair look thicker instantly: Our best tips
1. Cleanse and condition with volumising products
Been Googling "how to make my hair look thicker?" Well, why not set your hair up for the best possible start by using a volumising shampoo and conditioner like the TRESemmé Collagen+ Fullness Shampoo and Conditioner?
This duo is infused with collagen and glycerine to visually plump up the appearance of your tresses, fresh out of the shower. It's a mane miracle!
2. Switch your parting
Changing up your parting is probably the easiest thing you can do if you're wondering how to make your hair look thicker. If you usually wear it parted to one side, try flipping it onto the other side – by switching sides it'll instantly give you more lift.
It's recommended that you switch up your parting every so often so that your hair doesn't get used to sitting flat on any one side.
3. Don't forget about dry shampoo
Instead of using dry shampoo only when you need to freshen up your roots, make the most of its root-boosting properties by using it as a styling product, too. Even if your hair is freshly-washed, the additional grip and texture it gives strands provides lasting volume without the heavy feel of too much product.
Another little trick is to spray your roots with a dry shampoo before you go to bed. By spraying an dry shampoo like the TONI&GUY Instant Refresh Dry Shampoo into your roots before you sleep, it'll soak up excess oil overnight – so by morning, your mane will look less greasy and noticeably fuller without having to do any heavy-lifting!
For more info, you can find our favourite dry shampoos for fine hair.
4. Backcombing will be your friend
Want to know how to make hair look thicker instantly? A little backcombing at the roots (gently, you don't want to damage your hair!) helps give the illusion of more luscious locks by plumping up the hair at your crown. Use with a thickening spray or plumping powder for maximum volume and height.
Master the art of teasing your hair with our handy how-to.
5. Wave your hair
Straight, fine hair is especially prone to looking flat but don't despair. Adding a few soft curls or waves is a great way to give your look more life and dimension and it doesn't have to take hours either.
Curls add width to your hair, making it look instantly thicker, as well as giving your locks plenty of bounce and body.
Don't have a curling wand? Try our method for curling with straighteners instead to create the same results.
Prev Article
Next Article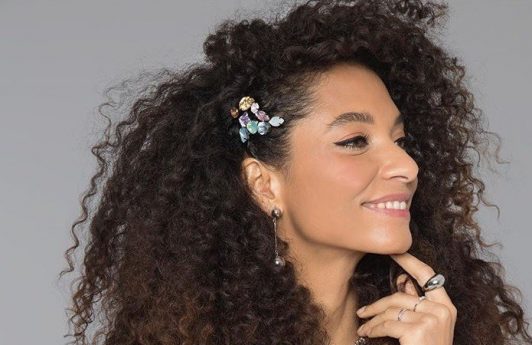 Gallery
12 Fabulous Ways to Style Natural Hair for Christmas and Beyond
For curl queens looking to up their festive mane game, we've got you covered.
See article