Hassle-free hairstyles for long thick hair you'll love
Got thick, long hair? We've got the perfect styles for you!
As many girls will know, having long, flowing, thick hair can be both a blessing and a curse: it looks gorgeous, but boy is it hard to style and manage on a daily basis! That's why we're here to introduce you to some stunning, hassle-free hairstyles for long thick hair that are not only simple to achieve, but also easy to maintain. Interested? Of course you are! Keep reading to discover 5 amazing 'dos perfect for your hair type.
5 Easy hairstyles for long thick hair
The volumised ponytail
Every girl with thick hair knows that a ponytail can be a pain: you finally get your hair into a nice, smooth pony, and then your hairband snaps! Bummer. But that shouldn't put you off! Because, just look at how chic fashion blogger Sarah Ashcroft's hairstyle is, even with her super thick, long hair. Tip: don't forget to invest in some stretchy, strong hairbands! Credit: @sarahhashcroft
Boxer braids
Perfect for lengthy, thick hair, boxer braids are every lazy girl's dream, as they can last for days if you braid them tight enough! All you'll need to do in the morning is roll out of bed and smooth down any flyaways with some TIGI Catwalk Firm Hold Hairspray (£14.95*). Credit: @angela_piskorska
The half-up, half-down topknot
Hairstyles for long thick hair don't have to be difficult or time-consuming. The half-up, half-down top knot is one of those 'dos that look like you've put in a lot of effort, when in reality, you've just thrown some of your hair up into a bun. With the help of a few trusty bobby pins, this look is pretty much guaranteed to stay in place all day. Plus, it will help keep stray hairs off your face! Credit: @kirstenzellers
The loose Dutch braid ponytail
Introducing the loose 'Dutch braid ponytail': a classy, sophisticated cross between a beautiful plait and a ponytail. The best part about this unusual hairstyle? It is perfect for super long, thick hair! To start, create a Dutch braid down the centre of your hair, and stop when you get to the nape of your neck. Then secure with a stretchy hairband to create a pony, and gently loosen out your braid by lightly tugging on it with your fingers. For a pretty final touch, take a 1-2 inch-wide section of hair from underneath your ponytail and wrap it around your hairband until it's completely covered, securing the end underneath your pony with a bobby pin. Credit: @maiden.and.pride
Loose waves
If you prefer having your hair down, why not opt for a classic yet glamorous wavy 'do? First, spray some TRESemmé Keratin Smooth Heat Protection Shine Spray (£5.50*) to help protect your tresses from heat damage. Then lightly curl your hair using a curling iron. (Remember: don't leave the iron on your hair for too long, as the key to this look is effortless-looking, loose waves.) Finally, set your gorgeous waves with some TIGI Catwalk Firm Hold Hairspray to help hold them in place. You should get a good few days of wear out of this style! Credit: @lydiaemillen
After more 'dos? Check out the best braided hairstyles for thick hair.
*RRPs are Unilever suggested retail prices only, it is at the discretion of the individual retailers to set the actual price.
Prev Article
Next Article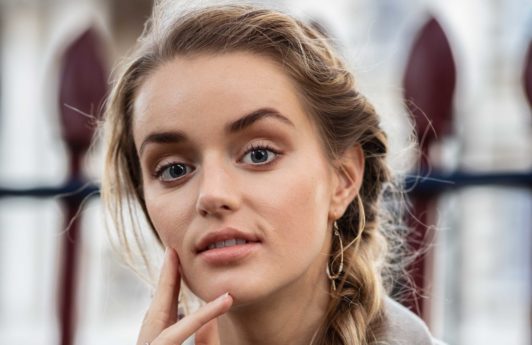 Gallery
How to style long hair – 4 hairstyles you can actually do
Feeling uninspired with your strands and constantly looking for new ways for how to style long hair? Consider your search over!
See article