The most flattering hairstyles for a square face
Want some fresh hair inspiration to flatter your angular features? Head this way...
As we all know, different hairstyles flatter different face types, which is why it's important to take your facial features and shapes into consideration when thinking of getting a new cut or style. For example, while subtle layers and long, sweeping side fringes work well to sharpen up a round face, the best hairstyles for a square face – some of which include soft, cascading waves and full, rounded bangs – will work to soften its angular lines and strong jaw.
Not sure where to begin when it comes to finding the right cut for your well-defined bone structure? Fear not: we've rounded up some of the best hairstyles for a square face right here to get you started. So, keep scrolling and get inspired before you head out to the salon next time!
Soft angled bob
With one of this year's major hair trends being to take it uber short, angled bobs are becoming increasingly popular among women of all ages. The good news is, this is a cut that will work a treat on square faces.
No matter whether you opt for a more directional cut that's longer at the front and shorter at the back (FYI, for you square-faced ladies, this works best worn with a side parting), or a more classic style that's shorter at the front and slightly longer at the back, your angular features will benefit from this hairstyle. Just don't forget to ask your stylist to work in very subtle but distinguished layers to help soften up your jawline for best effect.
Graduated layers
Graduated layers are not only perfect for adding depth, movement and shape to your cut, but they'll also help to soften the strong jawline and angular features of a square face, simply by framing it and making those harsher angles less visible. But don't worry, this doesn't mean you constantly have to hide behind your tresses! For best results, simply ask your stylist to cut in the shortest layers just below your chin, as this will help to complement your features and soften it without obscuring too much of your face.
Voluminous lob
You may have noticed that this year's all about the lob – and luckily for you square-faced ladies, this cut works a treat. The trick to getting the most out of your long bob? Volume and texture. A lob that boasts a bit of movement and plenty of volume will instantly create the illusion of softer lines. Just think about how loose, face-framing waves have a sort of diffusing effect.
And did we mention this is the ultimate summer-ready hairstyle? So if you were thinking of trying it out, now would be the perfect time!
Rounded, eye-skimming bangs 
A lot of women with a square face shape avoid fringes at all costs as there's a common misconception that they accentuate strong jawlines. Well, that's not entirely true. In fact, a fuller, more rounded fringe can work wonders in helping to soften up those harsh, angular lines. If full bangs feel too intimidating, try something a little more piecey that just about skim the eyes and are slightly longer at the sides than in the middle for the most flattering look.
Side parting and waves
Did you know that a great way to adapt a haircut to suit your face shape is to experiment with your parting? So when you're thinking of the most flattering hairstyles for a square face, try it with a side parting! This nifty trick works well with just about any existing hairstyle – be it a bob, a shoulder-length cut or long, flowing layers – as it'll help shift the focus away from the symmetrical and angular shape of your complexion.
Tip: If you have long hair, we suggest creating some soft, undulating waves to help round out and soften the harsh angles of your face, while also accentuating those amazing cheekbones at the same time.
Looking for more hairstyles for a square face? Check these ones out and find some inspiration!
Prev Article
Next Article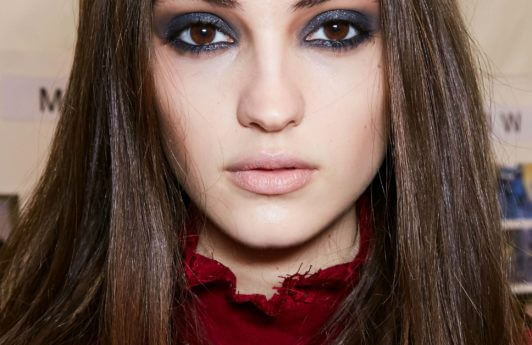 Gallery
5 Long layered haircuts that suit just about everyone
Step this way for your New-Year-New-You look!
See article