Say hello to tangerine hair: The citrus-inspired hair trend taking over your Insta feed
Give your locks a fruity twist with Instagram's latest hair obsession! ?
The lead up to summer is the perfect time to get experimental with your hair colour; whether that's simply adding a few highlights to your existing hue or going for something drastically different. And if drastically different is what you're after, we've got just the thing! Let us introduce you to Instagram's latest hair obsession: tangerine hair.
Nope, you didn't read that wrong, this season's newest hair hue is inspired by none other than everyone's favourite summer citrus fruits!
Now you might be thinking: what's the difference between tangerine hair and the pastel blorange trend we've seen before? Well, not only is it a much brighter, blazing take on orange hair, but unlike blorange, it's not just blondies who can rock this look.
#TangerineHair is trending! See our favourite looks below…
Tangerine balayage
Working with a multitude of different colouring techniques, this stunning tangerine balayage really caught our attention! With a subtle graduation from fiery red at the roots to lighter peach at the tips, this look has #hairgoals written all over it. Credit: @hairbykristingrip
Vibrant orange
Want to really make a statement with your 'do? Neon hair has been trending ever since Coachella, so why not tackle two trends in one and go for a brighter-than-bright neon-orange shade?
This eye-popping look is bound to get you noticed, so if you're looking for a shade that's going to turn heads, this is definitely the style for you. Credit: @ladyloren
Two-tone tangerine
Looking for something more unique? Instead of sticking to one colour, we think you should get experimental and rock a two-tone colour combo for your next dye job!
We love this Instagrammer's contrasting colour scheme, proving to us all that you don't always need flowing strands to work a striking style! Credit: @mel_yennee
Hot highlights
Let's be real: everyone wants hair that's fab not flat, right? Well, with a set of tangerine highlight, you'll never have to worry about drab-looking hair ever again!
Highlights are the perfect way to add a multi-dimensional edge to your look, using varying tones to bring tonnes of depths. Oh, and they'll help to make regrowth less obvious, too – bonus! Credit: @modelcitizensalon
Muted citrus
Now let us just clarify, that this colourful trend isn't only about bold and 'out-there' shades. While tangerine hair is most often sported in daring tones, know that it can look equally dazzling when rocked in a more understated, muted orange.
By adding a temporary tangerine tint to your locks you'll be able to work this summery shade for as long as you like, without the commitment of a total tress transformation! Credit: @shinesalonclt
Editor's tips: Are you tempted to try tangerine? If you are, we recommend investing in the TRESemmé Colour Revitalise Shampoo and Conditioner, to help preserve your colour for longer.
What do you think of the tangerine trend? For more creative and colourful hair inspiration, click on over to our Hair Colours page ASAP!
Prev Article
Next Article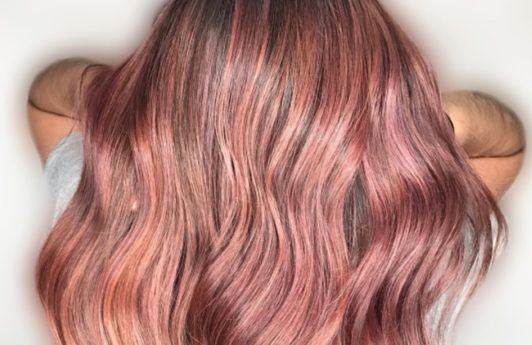 Gallery
Pink champagne hair is the prettiest colour trend we're fawning over!
Why just drink it when you can be it? ?
See article