The 20 most-talked about summer hair colours of 2019
News just in: these are the summer hair colours to know...
Ready to welcome in the warmer weather with a brand new hue but not sure which summer hair colours are in this season? Whether it's a subtle update on your natural shade or a whole new look you're after, these are the summer hair colour ideas to covet right now.
1. Hazelnut brown
Looking for a way to lighten up brunette hair? Hazelnut brown shades, with warm tones and lighter balayage, are perfect for giving dark hair a summery update. Credit: @anjuli.brian
Next read: Best brown balayage hair ideas
2. Vanilla blonde hair
This creamy vanilla blonde hue features a blend of buttery blonde and golden tones, creating the effect of a naturally sun-kissed shade that's just gorgeous. Credit: @natashapoly
3. Light copper
Always wanted to try red hair? A blonder take on classic copper, light copper highlights look equally flattering on faux and natural redheads. Credit: @cassiskovic
4. Silver blonde hair
Game of Thrones may be coming to an end (sob) but you'll be happy to know that Khaleesi-inspired silver blonde hair is still one of the summer's most coveted looks. Credit: @happilygrey
Editor's tip: Not currently using a purple shampoo in your routine? We recommend washing your hair once a week with the Dove Silver Care Shampoo and Conditioner to neutralise any unwanted brassiness and keep your blonde icy cool.
Read more on why purple shampoos are so important for blondes.
5. Ash blonde
Another understated shade you can try this summer is ash blonde. It's summer-ready but actually, it'll help make you look glowing in the winter, too, so it's a good all-rounder. Credit: @tammyhembrow
6. Sun-kissed
Want a way to make dark strands radiate summer vibes? In that case, like this Instagrammer, you should try getting sun-kissed highlights put in.
Whether you choose to get ombre or go down the palm painting route depends on the result you want, but one thing's for sure: you'll look like a Cali-babe 24/7.  Credit: @christinesilvermancolor
7. Rose gold
When it comes to summer hair colour ideas, rose gold always finds its way to the top. Take inspiration from this Instagrammer's shimmering rosy tones, focusing the colour through the front and the ends for a grown-up ombre take on the trend. Credit: @lorietherrien
8. Light brown highlights
New to colour or worried about doing anything too drastic? Subtle highlights around the face can really flatter your features and brighten up your overall hue, with minimal effort or upkeep required.
9. Candy floss pink
Thinking about getting pink hair? We bet that this sweet, universally-flattering candy floss shade is inspiring you to take the plunge. Credit: @moodhairinc
10. Smoked peach
There's never enough sun during the day here in the UK, but you can be sure to brighten up your hair with this smoked peach ombre. Plus, it's the perfect option to try if you're afraid to dye your entire head of hair. Credit: @kimwasabi
11. Rose brown
We've already shown how great rose gold hair can look on blonde hair but now this previously blondes-only trend is being extended to brunettes — and we're seriously excited.
Coined as rose brown, this subtle shade marries a brunette base colour with rosy pink woven seamlessly throughout. Credit: @kyleekinns
Editor's tip: Want to give one of these summer hair colours a try? Then you'll need to switch up your usual wash and care system for one specifically formulated for dyed hair.
We love the TRESemmé Colour Shineplex Shampoo and Conditioner which will help to maintain your hue's vibrancy between dyeing, plus keep your hair looking and feeling healthy.
12. Golden brown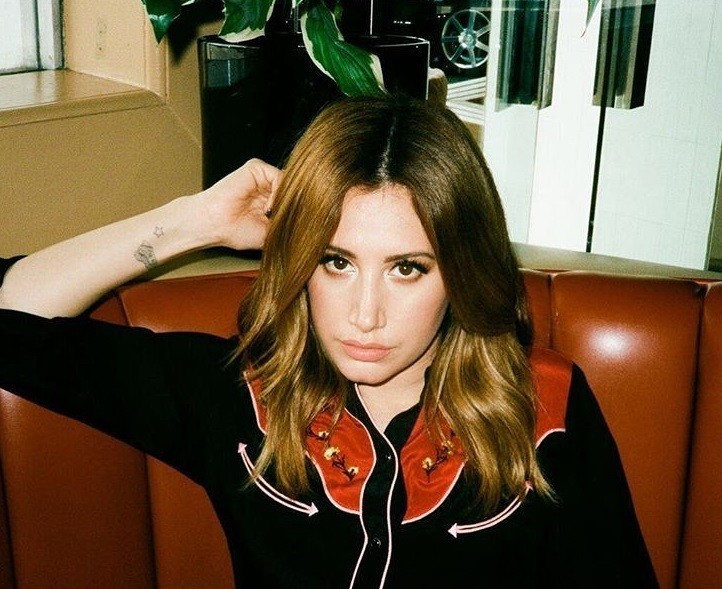 Can't shake off your love for golden and brown hair hues? Well, you'll be happy to know that golden brown hair does exist and it's a dreamy combo.
With these warm, honey-toned highlights, you'll be able to give even the mousiest strands a sunny new lease on life. Credit: @ashleytisdale
13. Chocolate brown
Thought rich brunettes were just for autumn/winter? A departure from the usual summer hair colours, this sophisticated chocolate brown shade immediately looks holiday-ready with the addition of a printed headscarf. Credit: @wolfiecindy
14. Strawberry peach
What says 'holiday hair' better than a cocktail-inspired blend of fruity strawberry and peach tones? Good enough to eat, this peachy pink bob also shows you don't need to have flowing locks to make an impact with colour. Credit: @eve.frsr
Up next: Short ombre hair ideas.
15. Cayenne spice
Spicy shades of red like this cayenne-tinted auburn, are about as bold as you can go while still looking natural. Feeling hot hot hot? Credit: @nikkilee901
Editor's tip: Give your coloured tresses a shine boost with the camellia oil enriched TRESemmé Colour Shineplex Serum, which is perfect for smoothing and adding glossiness.
16. Denim
There won't be a cloud in sight with this pastel blue denim hue. We especially love the multiple shades of blue and lilac running through, which adds an extra dimension. Credit:@sandrarileytang
17. Mermaid green
Always wanted to live out your mermaid dreams? A minty, pastel green like the shade on this beach babe will allow to channel your inner Ariel and make your holiday selfies the envy of all your friends. Credit: @artisanhairandspa
18. Lavender grey
Brown-haired beauties rejoice! Lavender grey hair is another understated (and oh-so-Instagrammable) way to play with colour and enhance your natural hue this summer.
It's softer and less drastic than getting an all over dye, but still offers up a big style change that'll keep your locks looking unique. Credit: @evalam_
19. Rainbow roots
Colour addict at heart but not sure your boss feels the same way? Opting for hidden rainbow roots like these means you can easily conceal them during office hours and then show them off when you want to by sweeping your strands up into a bun!
20. Gemstone hair
Instagram has been awash with crystal-inspired beauty lately, with rose quartz and jade rollers filling up our feeds. And now there's yet another way to tap into the trend – gemstone inspired hair colours!
This ethereal amethyst inspired hue is what summer hair colour dreams are made of and the different darker and lighter purple tones blend together beautifully. Credit: @tiffanymhair
Easy Summer hairstyles – Check it out!
Prev Article
Next Article
Article
Blonde hair? Here's Why You Need to Use a Purple Shampoo
Brassiness be gone! Discover the wonders of purple shampoo today.
See article