Pink hair ideas: Styles & shades to help you rock the look
'Think pink' seems to be the key phrase in the hair world right now. See how you can rock the look with our round-up of the best celeb looks now. 
"Pink is my new obsession. Pink, it's not even a question…" was how Aerosmith's 1997 hit record began. Coincidentally, it just about sums up how we feel about this sizzling hair colour trend right now. And while it won't be everyone's cup of tea, we think there's definitely more to pink hair than meets the eye. The fact that it's already tickled the fancies of such a wide range of A-list personalities – Katy Perry, Kate Hudson and Dame Helen Mirren included – is proof in itself that this statement shade can be just as versatile as any other.
You know what, we're even willing to bet that at some point in your lives – whether that was 10 years, or two weeks ago – the thought of going pink has crossed your minds, however brief that moment may have been. So what are you waiting for? Surely, now's a good a time as any to live life through rose-tinted lens (by which we mean tresses, of course).
Still need convincing? Then our gallery of pink hair ideas – packed with the coolest colours and styles – should just about do it. Seriously, take the pink plunge. We promise it won't be boring!
Pink hair: Shades to try
Platinum blonde with rose gold undertones
A great option for those currently rocking various shades of platinum blonde, but want to add a more whimsical depth to their existing colour, this example of rose gold undertones captures the delicate effect of balayage perfectly.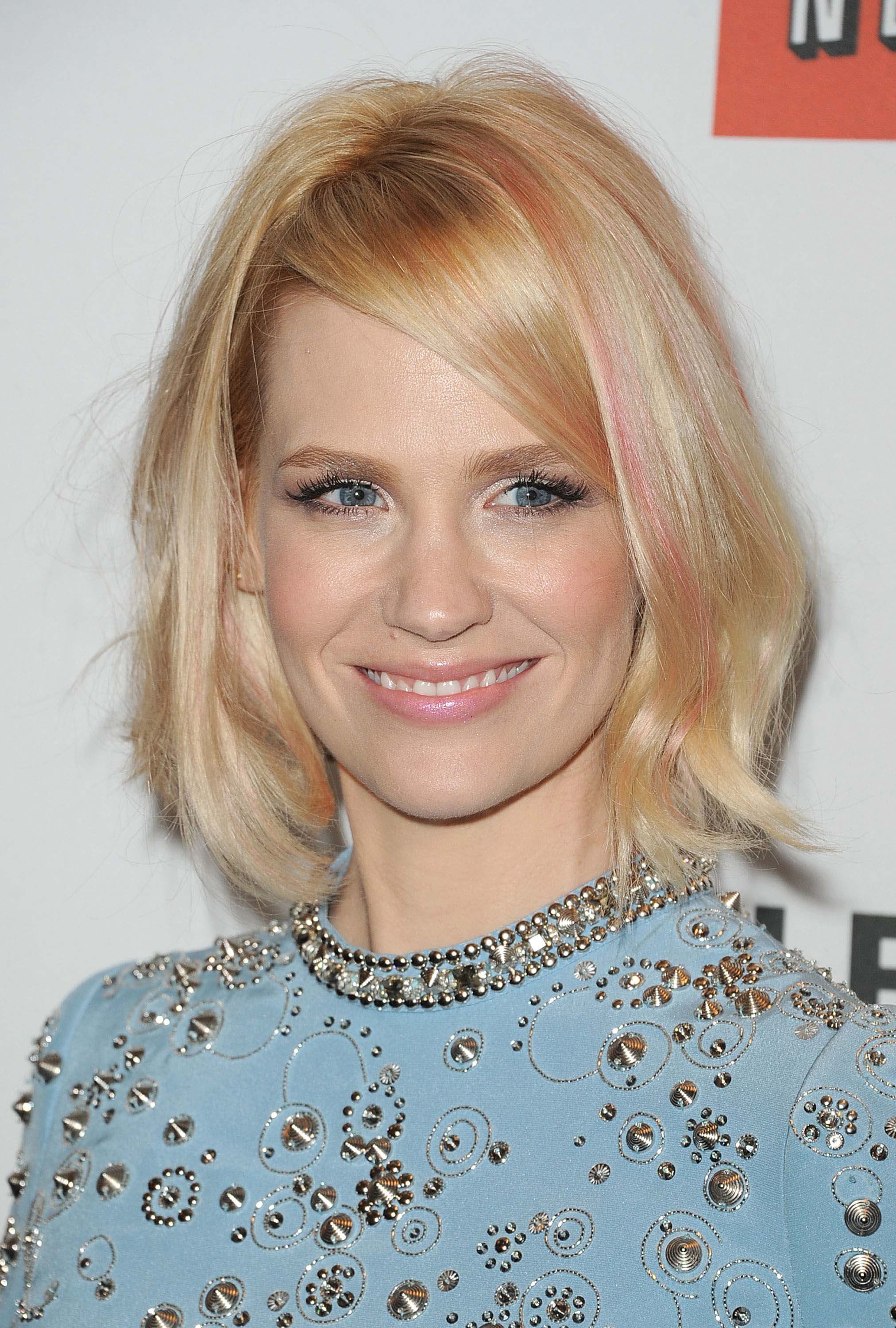 Striking hot pink highlights
Love brighter, neon-esque shades of pink but not quite sure about going for a solid hue? January Jones' subtle yet striking hot pink streaks complement her existing golden platinum bob perfectly. If you have fair skin, it'll have the added benefits of brightening up your complexion, while also adding a touch of playfulness without being jarring.
Dip-dyed shocking pink tips
A statement-making look that doesn't require you to commit to full-length fuchsia locks? We're in! Thanks Iggy Azalea, for the dip-dye idea.
Glamorous rose gold
Residing at the more elegant end of the pastel spectrum, this pretty rose gold tone was also one favoured by Rumer Willis back in 2014. It works especially well on blondes or lighter-shaded redheads, and thanks to its soft metallic sheen, which keeps things sophisticated rather than saccharine, it suits most hair lengths, too.
Super sleek locks in pink lemonade
We loved how Rita Ora offset her sugary shade with a super sleek lob for a glamorous red carpet outing. The perfect way to shake things up while still maintaining a grown-up sense of after-dark glam.
Fuchsia infusion
Fear not, dark-haired girls: you can get in on the rosé trend too. With her dip-dye fuchsia streaks, popstar Demi Lovato shows us just how sophisticated pink can look on even the deepest brunettes.
Grungy bubblegum pink
Who said pink can't be edgy? Model Charlotte Free and Kendall Jenner (back in her pink hair days) are proof that even the coolest girls on the block can rock this sweet candy shade and make it look grungy. The trick to achieving this look? Keep those dark roots and make the VO5 Give Me Texture Dry Texturising Spray (£3.99*) your new best friend, pronto.
Candyfloss pink
If you have long, straight locks and aren't one to shy away from a bit of candy inspiration, then this sweet yet chic solid colour option is for you. Having stolen the show at Louis Vuitton's spring/summer 2016 catwalk presentation, model Fernanda Ly has proved this look certainly has head-turning powers. So the question is: are you ready to take on the limelight?
Pink on grey
As proved by Dame Helen Mirren, there's no age limit on pink. Actually, it works to complement grey hair brilliantly. Just remember to keep the cut short for maximum elegance. P.S. Top marks for breaking the mould, Dame Helen!
Hollywood hot pink
She may have gone through countless rose-tinted transformations since then, but Katy Perry's violet-infused bright pink bob (which she sported back in 2011) remains one of our personal favourites. Worn on the red carpet with ultra glam Hollywood curls, it was the perfect combination of youthful playfulness and grown-up elegance.
Statement-making pink rainbow
An unapologetically bold choice for those who love living life through rainbow-tinted lenses. Starting from coral at the top, and gradually melting into a more intense neon pink and then turquoise at the bottom, this subtle ombre technique works a dream on longer bobs and mid-length styles. Too short, and there's no room for the colour progression, too long and you risk going into unicorn hair territory (which may, of course, be what you want!).
Tip: To help maintain your rainbow hair's colour vibrancy, opt for a shampoo and conditioner duo that's formulated especially for coloured hair, like the TRESemmé Colour Revitalise Shampoo and Conditioner (500ml, £3.69 each*).
*RRPs are Unilever suggested retail prices only, it is at the discretion of the individual retailers to set the actual price.
Prev Article
Next Article
Gallery
Gwen Stefani's mane moments will No Doubt leave you in awe
From Don't Speak to Hollaback Girl, Gwen Stefani is the ultimate queen of avant-garde hairstyles! ?
See article