These amazingly cool hair designs look just like optical illusions!
These optical illusion hair designs will totally make your hair a work of art!
Have you always wanted to have hair that will mesmerise all who gaze upon it? Well, now's your chance, because we've stumbled across a new hair trend on Instagram, and it's utterly hypnotic! Don't believe us? Then you need to see these cool, optical illusion-inspired hair designs that are taking the beauty world by storm!
Instagrammer Roxie Jane Hunt (AKA @howtohairgirl) is the brains behind this creative colour trend and she's truly mastered the art of dyeing. To see how she uses different hues to take hair to artistic new heights, keep on reading.
These optical illusion hair designs are taking over Instagram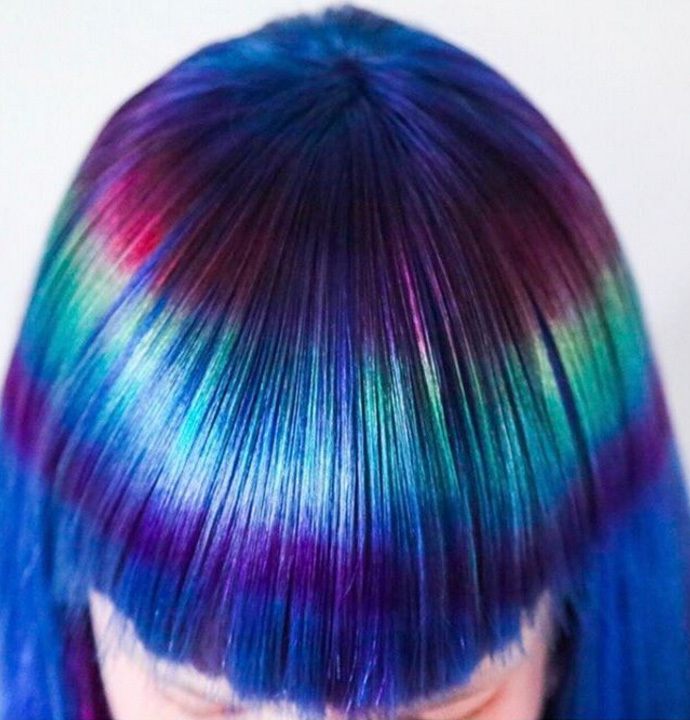 Roxie began her experimental #freeyourhaircolour series by sharing the pretty picture above, to her Instagram account. As you can see, she has carefully overlapped rainbow hues onto model's bangs, making for a prismatic, optical effect!
We can't help but swoon for such artist use of hair colours, which would be ideal for bright neon raves and colourful music festivals. Credit: @howtohairgirl
For her next mane masterpiece, Roxie amazingly painted on a glaring green eye onto her model's hair. We know that this look isn't for everyone, you can't deny that it looks utterly incredible!
While we wouldn't be brave enough to rock an optical look to work, we reckon this would be a great hairstyle to wear to a Halloween party! Guess we'll be putting in our requests now. Credit: @howtohairgirl
Want an out-of-this-world dye job? Then look no further. Against the backdrop of purple and blue hues (that resemble the night sky!), the planets Roxie has painted appear to be in motion, due to the natural movement of the hair. Now if that's not what you call talent, then we don't know what is!
As you can see from the pictures above, Roxie's hair designs are daring, detailed and full of creative flair. So if you're looking for a playful way to inject colour into your mane this season, you know what to do! Credit: @howtohairgirl
Editor's tip: If you're tempted to try this trend, remember to switch to a wash and care set specifically designed for dyed locks. We love the TRESemmé Colour Revitalise Colour Vibrance Protection Shampoo and Conditioner to help maintain your colour's vibrancy.
Have seeing these amazing hair designs left you lusting for more #hairspiration? Then skip on over to our Hair Colours page, to discover the hottest trends around, like the gorgeous graffiti hair trend!
Prev Article
Next Article
Article
Lady Gaga's new peach hair colour looks as tasty as it sounds!
She's done it again! This time with a rather fruity addition...
See article