Grey hair trend for naturals: Instagram #hairspiration
Naturalistas show us how to work grey with style!
As you may have noticed, the grey hair trend has been slowly taking hold of the social media world, with a number of style icons rocking this unassuming hair hue in loads of different ways! However, as of late, it has become glaringly apparent that this hair colour trend has a new audience: the natural hair community.
We've been seeing naturalistas embrace grey hair left, right and centre, with ladies choosing to go grey gracefully, as well as opting to dye their tresses this muted colour. Don't believe us? Well, we've put together a gallery of our favourite grey-haired gals from Insta, to help sway you. Enjoy!
Grey hair trend: Instagram inspiration
Curly (grey) hair, don't care!
If you're already seeing grey hair peek through at the roots of your fabulous mane, don't try and cover it up, welcome them with open arms and dye your locks the same grey hue! Just take the above naturalista for example: we love her light, silvery-coloured afro, firmly proving to everyone that you can go grey gracefully. Work it! Credit: @naturalsilversista
Pewter pixie with an edge
Are you rocking a pretty pixie cut this season? Then why not give it a little update with a cool, pewter-inspired hue? Play around with a patterned undercut and a curly high-top, and you're new hair colour will help to give your look a bolder, more textural contrast. Credit: @itstoian
Editor's tip: Try using the TRESemmé Colour Revitalise Colour Vibrance Protection Shampoo and Conditioner, as this clever shampoo and conditioner duo will help keep your colour looking vibrant.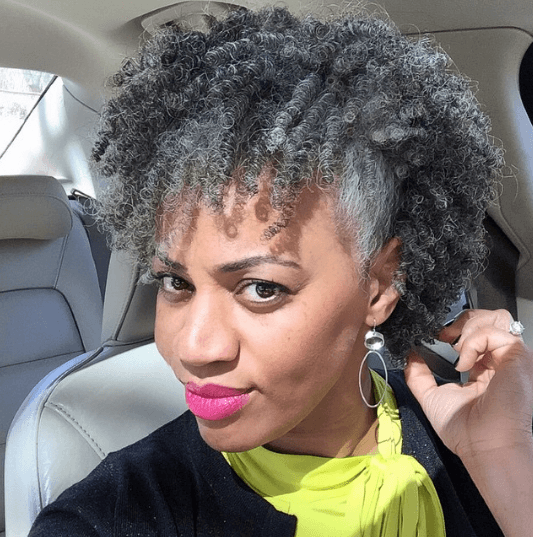 Mid grey fauxhawk
If you already love your grey hair in all its glory, and want a way to proudly show it off to the world, try styling your mane in a cool and edgy fauxhawk hairstyle, like this lovely lady! Bold and beautiful, this simple updo will help you reveal all the multiple tones that your grey hair has to offer. Credit: @fijipearl.
Psst! Love the fauxhawk? Then don't forget to check out this article filled with our favourite fauxhawk braids from Instagram!
Silver TWA
The grey hair trend and a TWA? This look is almost too hot for us to handle! Just remember to keep your greying teeny weenie afro looking on point by opting for cool, silver tones. But that's not all – this is also a great hair colour alternative if you're normally working with bleach blonde hues in your signature look! Credit: @stylesbylisa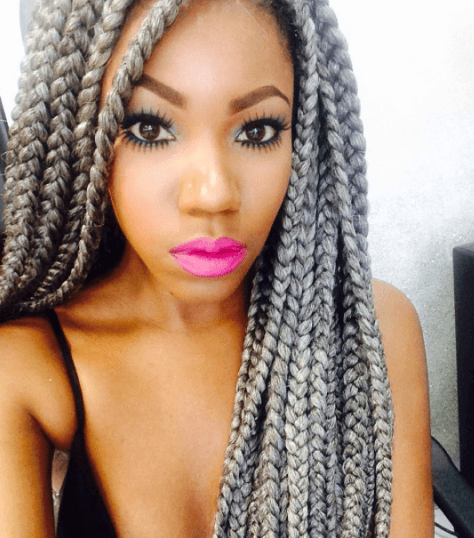 Salt and pepper box braids
With winter creeping closer day by day, naturalistas everywhere will be looking for pretty protective hairstyles to shield their manes from the cold. So, why not keep your tresses safe and sound by installing some box braids? And if you have super short hair, don't worry, you can still get both grey hair and beautiful braids by opting for coloured extensions! Pretty smart, right? Credit: @allyxxcatt
Have these silver-haired ladies given you colouring fever? Then to cure what ails you, don't forget to head over to our Hair Colours and Natural Hair Care pages for more style-inspiring reads!
Prev Article
Next Article