5 Easy hairstyles for medium hair to try now
Quick and easy 'dos to up your mane game!
Let's face it, medium hair is possible the most flattering and versatile of all hair lengths, mostly because it's the ideal length to wear your hair both up and down, in an array of stunning styles! Yet, when it comes to finding easy hairstyles for medium hair, it can be difficult to know where to begin.
But the good news is, the All Things Hair team is on hand to help you find the perfect look for your medium-length hair – after all, we can't let the long-haired ladies have all the fun! So, scroll down and take a look at the 5 super-easy hairstyles to inspire your next look.
Easy hairstyles for medium hair: 5 'Dos we love!
The flower braid
Don't let it's deceptively intricate appearance fool you, this cute and quirky hairstyle is not only incredibly pretty, but it's also quick and easy to achieve! And we're going to share with you just how to do it. Credit: @emmabolttrends
To get the look:
Start by taking a one-inch wide section of hair from each side of your head, just above your ears. Twist both sections back to the centre of your head, and secure with a clear hairband.
Now, using the combined hair sections, braid your strands until you reach the end, and secure it with another hairband.
Next, wrap the braid around its own base to form a flower shape, and use bobby pins to secure it in place.
Finally, spritz your loose tresses with the VO5 Give Me Texture Salt Spray, to give the look a more relaxed and laid-back finish.
The super-easy chignon
Need to look a little more 'put-together' for an upcoming event? Then this stylish chignon hairstyle is perfect for more formal occasions, from weddings to winter soirees, or even an important work meeting. It's the look's simplicity that makes it so versatile!  Credit: @whatsbraiding
To get the look:
Start by sectioning off 2 pieces of hair from either side of your head, approximately one and a half inches wide. Leave these sections loose for now.
Next, take the rest of your hair and pull it back into a low ponytail, securing it with a clear hairband at the base, and one around the end of the ponytail.
Now, roll the bottom of the ponytail up to the base to create a bun shape, securing it with bobby pins.
Take each of the loose sections from step 1 and wrap them across the back of your head, pinning them into the opposite side of the bun.
Finish with a generous spritz of the TRESemmé Runway Get Sleek Creation Hairspray, to hold everything in place and you're good to go!
The Frohawk
If you've got medium-length, natural tresses, then the Frohawk offers a quick, easy, and edgy option for giving your everyday style a little boost! Full of personality and bounce, this 'do is perfect for keeping your curls out of your face, while giving off loads of sultry vibes. Credit: @mariahbagby
To get the look:
Firstly, use sectioning clips to split your hair into 4 even sections down the centre of your head.
Once you're happy with how you've divided the hair up, replace each clip with a hairband for a more permanent hold.
Coat your hands with the Dove Advanced Hair Series Pure Care Dry Oil Nourishing Treatment, to help soften and add shine to your curly mane.
Finally, use your fingertips to fluff up each section of hair, until it looks like one continuous Mohawk, and pin any stray hairs back with bobby pins!
The Triple Bun
Since the double bun look has been an incredibly hot trend for 2016, why not up the ante a little and opt for this 3-bun adaptation, instead? After all, the more the merrier, right? Credit: @tania.sseixas
To get the look:
Start by separating your hair into 3 evenly-sized, low ponytails at the nape of your neck, securing each one with a hairband.
Now, add another hairband to the ends of each pony, approximately 2-inches up from the tips.
Starting with the ponytail in the centre, twist your hair around the base to creating a bun shape, pinning it in place with bobby pins.
Repeat this process on both the right and left ponytails, until you've created all 3 of your buns. Give your finished 'do a spritz of the TRESemmé Ultimate Hold Hairspray, to tame any flyaways!
The French hawk
Yes, another Mohawk-inspired style has made our list! But what sets this fauxhawk apart from the rest, is that it gives your medium-length locks an ultra-cool and feminine twist. So, read on and give this look a go! Credit: @carlabarraqui
To get the look:
Start by separating a 2-inch wide section of hair from the centre of your head, beginning at your hairline and ending at your crown.
Then, separate this section of hair into 3 smaller sections, and start to French braid your strands, remembering to pick up extra pieces of hair as you braid.
Once your have finished braiding the entire section of hair, secure it in place with a hairband, and pin the end into the back of your head.
Finally, spritz your hair with the VO5 Give Me Texture Salt Spray, to help add body and movement.
Are you forever on the lookout for simple styles to rock in your mid-length mane? Then you need the help of our Easy & Quick Hairstyles and our Medium Hairstyles pages, for tonnes of amazing expert tips and tricks, to make the most out of your lovely locks!
Prev Article
Next Article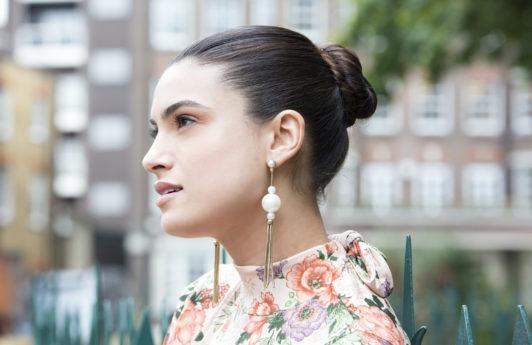 Tutorial
Ballerina Buns 101: Learn how to master this timeless, elegant updo
Even if you're not destined to star in Swan Lake, you can still look the part...
See article