11 Best Dreadlock Styles for Women in 2020
Thought dreadlocks could only be rocked one way? Well, a quick look around our gallery and you'll be happily proven wrong!
With a flurry of A-list stars like Zendaya, Rihanna and Zoe Kravitz bringing faux locs back into the public eye, there's never been a more exciting time to experiment with dreadlocks. From short and sweet bob-length locs to flowing waist-length varieties, you'd be surprised just how many ways there are to rock the look.
And if you're worried about struggling to style them, you shouldn't be! From buns to braids, ponytails to pigtails, there are all kinds of ways to work your dreads. And to prove it, we've hunted through Instagram to find the crème de la crème of dreadlock hairstyles, which will open your eyes to all the stunning possibilities!
1. Cornrows
If you're on the hunt for a style that'll save you precious time in the mornings, this is it. By braiding your dreadlocks into cornrows (from your scalp right down to the ends), your hair will stay in place for days, so you won't have to worry about reworking it. Phew! Credit: @melduartepoesia
2. Bantu knots
Bantu knots are already a naturalista favourite, but did you know you can rock bantu knot dreads, too? Created in exactly the same way as usual, simply divide your hair into sections and twist each section around itself. Once you've formed your individual mini bun or 'knot', secure with a hair tie… Et voila! Credit: @natslocs
3. Dreadlock bangs
We all know that bangs are a fun way to change up your look, but did you also know that they work a treat in dreadlocks? Yes really! Particularly great for those with oval or rectangular face shapes, it's a guaranteed way to update your look in an instant. Credit: @aurielpastel
4. Pigtails
In case you hadn't noticed, pigtails aren't just for the playground anymore. This childhood favourite has seen a revival in recent months, with celebrities like Kim Kardashian West and Karlie Kloss both sporting the style. So, follow suit with chic low pigtails like these! Credit: @lejonhjerta
5. Half-up, half-down
Can't decide if you want to leave your hair down or wear it in an updo? We know the struggle. But with this half-up, half-down hairstyle you don't have to decide!
Pretty and versatile, it's great for a multitude of scenarios; be it a casual weekend, a day in the office, or more formal occasions. This is definitely a style to have up your sleeve! Credit: @thefemaleweezy
6. High ponytail
Ponytails might seem like an obvious option, but let us tell you why we think they're worthy of a mention. Quick and easy to do, this versatile hairstyle is virtually foolproof, making it the ideal on-the-go quick-fix. And guess what? You don't even need a mirror to do it!
Yet if you're feeling uninspired by traditional high ponytails, switch things up and try a side style, instead, like this Instagram beauty! Credit: @sanuramusic
7. The hun
The hun (AKA the half-up bun) has a huge A-list fanbase, including Ariana Grande, Hilary Duff and Candice Swanepoel. So if it's good enough for them, it's certainly good enough for us!
All you need to do is take the top layer of your hair, tie it into a ponytail and wrap it around itself to create a loose bun on top of your head. And it's as easy as that! Credit: @nubienymph
8. Rapunzel locs
Super long hair (we're talking serious Rapunzel-inspired styles) have become an unexpected trend of 2017, thanks to stars like Nicki Minaj and Shay Mitchell.
Showing that this celeb favourite works just as well in everyday life, we're loving this stylish pair's never-ending manes. Just try not to trip over your strands! Credit: @houseofwadada
9. Sweeping fringe
Already rocking dreadlocks? Have you thought about working a sweeping fringe into your look? This little hair hack will make a huge difference, softening your features and tying your whole look together. So when in doubt, get a fringe! Credit: @ofhoneyandspirit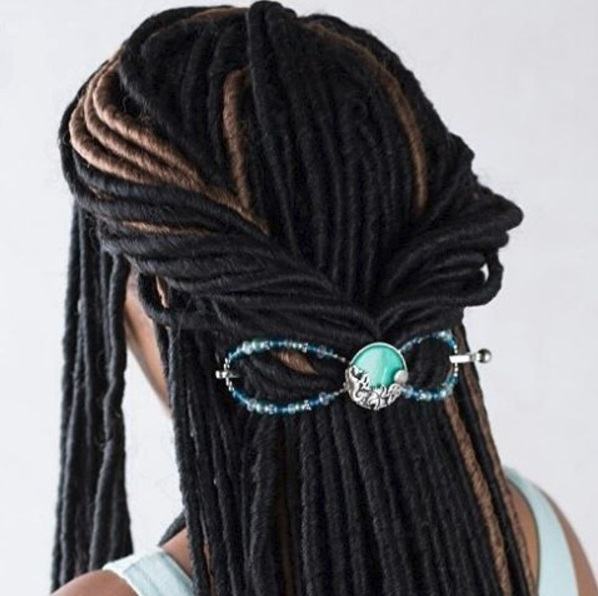 10. Twisted half-up
Got a wedding coming up? This dainty and delightful half-up hairstyle featured a little twist, and is the perfect style for bridesmaids and wedding guests alike. Just add whatever accessories you like and you'll dazzle the whole night away. Credit: @lillarose_blessedmommy
11. Coloured dreads
Feel like you've exhausted your styling options? Looking for something a bit more exciting? Let us introduce you to multicoloured dreadlocks!
We seriously heart this Instagrammer's mermaid-inspired teal hue, yet with so many hair colour trends coming through this season (hygge hair, purple hair and neon hair, to name just a few!), it's time to go crazy with you shade! Credit: @wiggit_dotcodotuk
Have any of these styles caught your fancy? If you do decide to try any of them out, don't forget to snap a selfie and pop it over to us on Twitter @AllThingsHairUK! We'd love to see!
Prev Article
Next Article
Article
Teyana Taylor channels Halle Berry vibes with her latest cut – see it now!
Halle Berry is that you?!
See article
Attempt to assign property "alt" on null