6 mane-taming hairstyles for frizzy hair to save you stressing in the mornings
Got frizzy, curly hair? Or even frizzy, straight strands? Make your morning routine a breeze with these fabulous easy hairstyles for frizzy hair.
Beth
|
September 19, 2017
Is frizzy hair getting you down? We all have bad hair days from time to time, but if you find yourself struggling with your mane more often than not, it's probably worth giving one of these hairstyles for frizzy hair a try.
Whether you're looking for low-key styles to get you through the working week without having a breakdown or you need updo inspiration for a special occasion, look no further. These looks are sure to take the stress out of your morning routine and help you tackle the frizz in style — go on, see them for yourself!
6 looks to try if you have frizzy curly hair
1. Low twisted ponytail
First, let's take it back to basics with one of the simplest easy hairstyles for frizzy hair: the low twisted ponytail. This delicate detail will give your everyday pony a little extra je ne sais quoi, while also keeping frizzy curly hair under control.
All you need to do is brush your hair into a low ponytail, leaving 2 sections of hair free on either side. Then wrap each of these sections around the base of your ponytail, pin in place with a couple of bobby pins et voila: pretty hair without the panic. Credit: @silversixpenceinhershoe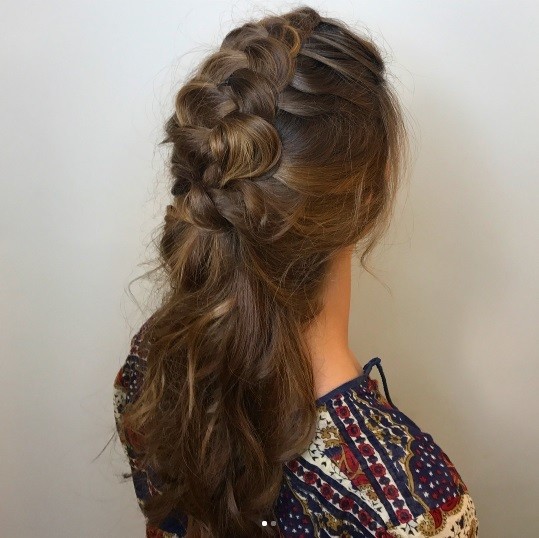 2. Mohawk braid
If a statement-making style is what you're after, this mohawk braid is the 'do for you!
A voluminous Dutch braid will always look impressive, while simultaneously keeping even the wildest strands neat and tidy (woohoo!). Just be prepared for floods of people asking you how you did it! Credit: @blume.py
Editor's tip: If you struggle to braid your hair, try prepping your hair with a few spritzes of the TONI&GUY Sea Salt Texturising Spray. This will give your strands a grittier texture, making it easier for your hair to hold onto the style and stopping it falling out.

3. Braided updo
Whether you've got a friend's wedding or a prom on the horizon (or you just like to wear your hair up and out of your way), there are plenty of updo hairstyles for curly frizzy hair that you can try.
You might see your frizziness as a hindrance, but actually, when it comes to creating romantic-looking updos like this one, it helps to provide extra texture and give the look a more whimsical, fairytale finish. Credit: @goldenlockshairstyling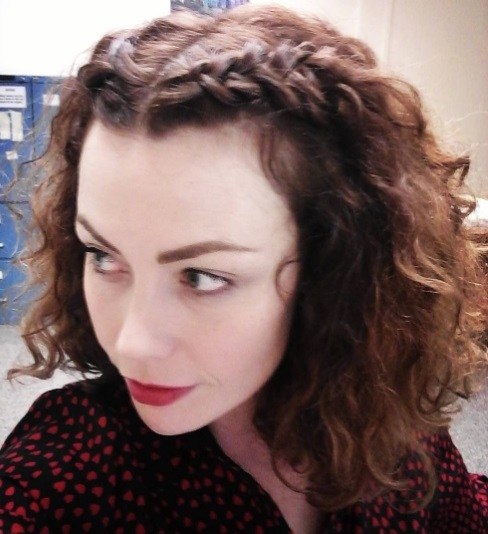 4. Half-up braids
Embracing your natural texture might seem scary at first, particularly if you usually straighten it out, but a half-up, half-down style is a great way to ease yourself in gently.
Pull the front sections of hair back from around your face with a braided detail, then just let your frizzy curly hair do it's thing underneath. Credit: @lavender_fizz
5. Messy bun
Another hairstyle which will make you feel grateful for your natural frizz is the messy bun.
Messy buns are by nature intended to look a little dishevelled and any natural waves or movement will just add to the look! After all, you've never heard of a messy bun that's too messy, have you? Credit: @ohhitzrago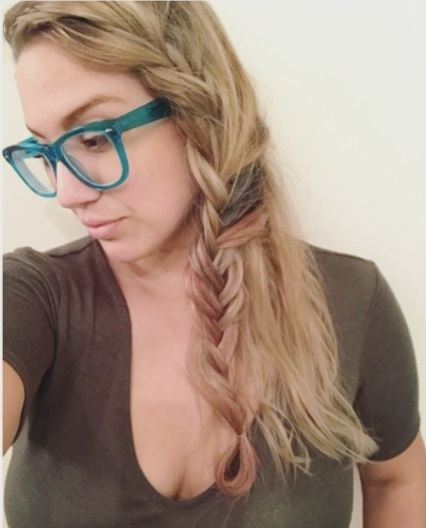 6. Boho braid
Channel your inner Coachella style with a bohemian half-braid, like this Instagrammer. Starting at the front of your hair, weave in your bangs and continue braiding until your reach the end of your hair, leaving the back of your hair free and flowing.
Now all you need is a flowing dress and some face gems, and you'll be giving Vanessa Hudgens a run for her money! Credit: @hair_x_holly
Okay, now that you know how to style your frizzy hair, find out how you can help to control it in the long-term with the best 5 shampoos for frizzy hair, here.
Prev Article
Next Article
Tutorial
1970s: Paige Joanna's groovy half-up, half-down curls
Get the best of both worlds with this sweet '70s hairstyle!
See article