What you should know before dyeing your blonde hair brown
Let us guide you on your brown hair journey! 
Now that the temperature has dropped and the leaves are falling off the trees, it's only natural that many of us would want to try a warming hair colour in our manes. And if you've been considering opting for a luscious new hue for your look, and are thinking about dyeing your blonde hair brown, you've come to the right place!
With so many of our favourite celebs and style icons switching over to the dark side, there's never been a better time to become a beautiful brunette. But going from blonde to brown is a major change, and one that you should be fully prepared to make. So, before taking the plunge, look over our list of the essential things you should know before stepping foot in the salon!
Before dyeing your blonde hair brown…
Your complexion counts
When dyeing blonde hair brown, it's important to choose a new shade that will complement your complexion. If you have pale or rosy skin, for example, you should stay away from warmer tones, and instead opt for darker shades of mahogany. But don't worry if you have no clue which hue is right for you, because we've got you covered, with these shades of brown to suit every skin tone! You're welcome.
There are more shades of brown than you could ever imagine
Let's be honest, have you ever tried to describe a shade of brown and have someone understand exactly what you mean? It just doesn't work. This is simply because there are so many colour combination and techniques out there, all of which can drastically alter the outcome of your dyed brown mane! So, to save yourself from the nightmare of a botched salon visit, always take pictures to show your stylist, as this will help them to visualise your desired shade.
Prep your hair
If you've decided to go over to the dark side, it's important that you prep your hair in the lead up to your appointment, to ensure that it's in the best possible condition. And we really can't stress enough just how important conditioning is, as this will help your hair to better accept your chosen colour.
But that's not all, you should also avoid using heat on your tresses as much as possible, and extent the time between shampooing for as long as you can. Trust us, it will really make all the difference to the final results!
Maintenance
We're not going to lie, when you go from blonde to brown, the upkeep can be tough (yet so worth it, of course!). But luckily, if you're only going a few shades darker than your natural colour, then the maintenance should be quite minimal. However, on the flip side, if you're embracing a more dramatic change, expect to see your roots peek through as your mane grows out!
So, if you're not going for that 'grown-out' look like Pia Mia, then be prepared to freshen up your colour every 4-5 weeks, to keep it looking its brunette best.
Remember your eyebrows!!
Have you got naturally bright blonde hair? Then the likelihood is, that your eyebrows will end up being considerably lighter than your dyed brown mane. And if you're darkening your strands more than a shade or 2, then be sure to also darken your brows, to bring them more inline with your new 'do.
Don't forget, you'll need to update your makeup bag
It's not just your brows that might need updating to match your new look, your go-to makeup looks will also need mixing up a bit – just another great excuse to go makeup shopping (yay)! So, think lashings of mascara and warm, vivid tones around the eyes, and bold lip colours in shades of plum, burgundy, and vibrant red. Simple pick and choose the hues that will complement and enhance your new brown hair, and you'll have a high impact look that can't be beat!
Editor's tip: Can't wait to start dyeing your blonde hair brown? Then make sure you invest in a wash and care duo to make your soon-to-be brunette hair looks its best –  we suggest trying the Toni&Guy Cleanse Shampoo For Brunette Hair and the Toni&Guy Nourish Conditioner For Brunette Hair.
Don't have blonde hair, but still want to get in on the brunette fun? Then rest assured that there's loads of stunning #hairspiration, no matter what your natural hue, over on our Brown Hair page – from subtle shades to dramatic trends, this styling hub has it all!
Prev Article
Next Article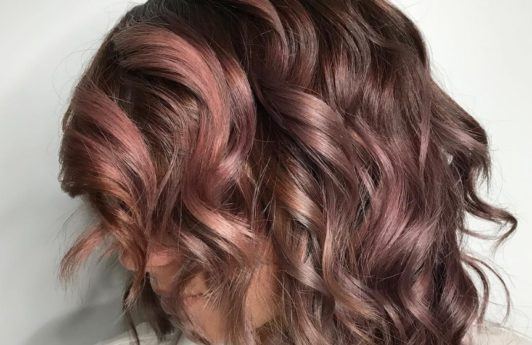 Article
Chocolate mauve hair: Autumn's new colour trend
Mauve hair is having a mauvement!
See article