8 delightful dark brown hair looks that'll make you want to go brunette
Whoever said brunettes are boring clearly didn't take these dazzling dark brown hair colour ideas into account...
You've thought about it for days, debated it and even asked your friends for their approval. And after all this you're still stuck on which dark brown hair look you should be rocking – just what is a girl to do? Now don't get yourself into a tizzy, because we're here to help with our round up of the most luscious hair colour ideas for dark brown hair!
We've looked to the red carpet and found you all the stylish, non-boring dark brown hair ideas you need to convince you to refresh your 'do. The question is: are you ready to take the plunge?
8 dazzling dark brown hair colour ideas to make you feel like a red carpet star
1.  Natural dark brown hair
Stay super on-trend and look totally natural at the same time with this sultry dark brown hair colour, that's Sara Sampaio's signature shade.
This ultra flattering shade won't overpower your features, but will definitely take your mane game up a few notches.
2. Dark brown hair with toffee sombre
After a transitional dark brown shade that looks warm enough to keep the cold at bay yet cool enough for summer? Then prepare to fall in love with Angela Sarafyan's melted-toffee hue!
Think of this sophisticated, eye-catching shade as bronde's grown-up sister and then you'll understand why it's so chic. But the best thing about it? If you're looking for hair colour ideas for dark brown hair, this tasty colour will work for you, too (yay!).
Editor's tip: Want to know how to make your dark brown hair shimmer? Just apply a few drops of the TIGI S Factor True Lasting Colour Oil through your lengths and watch as your locks begin to gleam!
3. Sun-kissed highlights
Desperate to attain a dark brown hair colour that screams summer vibes? Then consider getting sun-kissed highlights (a la Lily Aldridge), done!
Whether you choose to get ombre or go down the palm painting route is all up to you, but one things for sure: you'll look like a Cali-babe in no time.
4. Caramel highlights
Looking for dark brown hair colour ideas that won't clash with your skin tone? Then take inspiration from Halle Berry's radiant, summery hairstyle.
The trick to achieving this dashing A-list look? Keep your roots dark brown and get streaks of caramel throughout the strands of your hair, to add some depth and dimension to an otherwise solid hair colour.
5. Dark brown hair with purple ombre
Whoever said dark brown locks are boring, clearly didn't take this eye-catching dark brown ombre into account!
Featuring playful purple tips, this pretty colour combo is guaranteed to make you standout from the crowd at your next festival. See? Dark brown hair colour ideas don't have to be plain. Thanks for the tip, Lilah Parsons!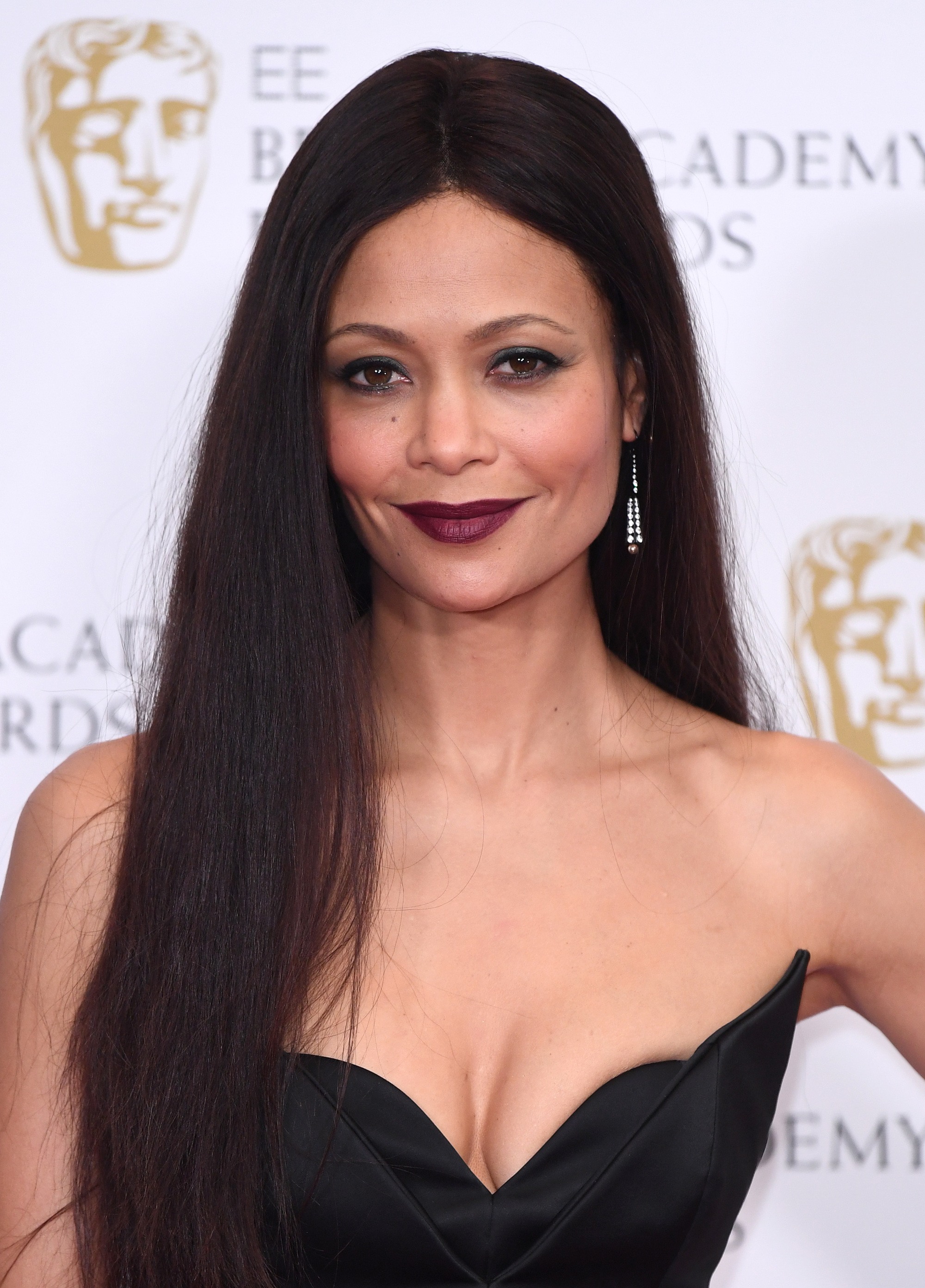 6. Cherry undertones
Combine the right shades of dark chocolate and cherry undertones to create a deep hue that's all kinds of sexy, just like Thandie Newton has done.
We're sure you'll agree: this sultry and universally flattering shade draws attention to her gorgeous facial features — especially her eyes. Dreamy, right?
7. Dark brown curls with burnt copper ends
When it comes to fail-safe hair colour ideas for dark brown hair, you really can't go wrong with going down the copper route. Why? It's ultra-flattering and works a treat on all hair types.
Opting for this subtle mane change will add warmth to dull winter complexions, enhance the look of your mane and make you look on-point everyday. Need proof? Just take a look at Skylar Diggins-Smith for example!
8. Licorice brown hair
Not one for highlights? Get glossy tresses in deep, uniform shades like espresso, licorice or mahogany. As Sofia Carson demonstrates, this edgy colour works a treat on those with paler complexions and totally exudes vintage vibes.
With this show-stopping shade, you'll definitely be reeling in comments on how classic and seductive your new hair colour looks. We're sold!
Editor's tip: If you're tempted get a dark brown hair colour, remember to use a wash and care system specifically formulated for dyed brunette hair. We're currently fawning over the Toni&Guy Radiant Brunette Shampoo and Conditioner, as it helps hair look frizz-free, all while helping maintain your hue's vibrancy.
Having second thoughts about getting dark brown hair? No worries! Just head on over to our Hair Colours page, where we'll help you figure out which hair hues will works best for your mane.
Gallery
Dark hair with highlights: 8 Of the best A-list examples
Get ready to steal their celebrity secrets!
See article