The easiest way to create a braided crown hairstyle
Learn how to do a braided crown, simply follow our easy-peasy crown braid tutorial, below!
Don't get us wrong: we absolutely love braids of every size and shape. But sometimes the inspiration pool can run a little dry, leaving us in desperate need of a mane refresh! However, instead of trawling through social media for inspo, we've done the legwork for you and come up with a stunning plaited hairstyle in the form of a braided crown.
For those of you living under a rock the last few seasons, crown braids have climbed the ranks to become one of our all time favourite styles. Not only are they quick and easy to whip up, but they also work a treat for just about all hair types, too – you can even work a crown braid with box braids! Now, keep scrolling to weave your own crown and become a hair queen for a day…
Braided crown tutorial: How to get the look
Crown braid hairstyles might seem rather complicated to do, but as long as you can create a standard Dutch or French plait, you can easily rock this style!
How to get the look:
1. Using a comb, create a deep side parting. Then take a 2-3 inch wide section of hair from the side with the most hair, splitting it into 3 smaller sub sections.
2. You can either choose to weave a Dutch or French braid for this look. Whichever you decide upon, remember to pick up extra hair as you weave, incorporating it into your braid.
3. Continue the braid along your hairline, around the nape of your neck, until you reach your other ear.
4. Once you get to your ear stop your Dutch or French plait and continue with a traditional 3-strand braid until the end. Secure in place with a hairband.
5. Now wrap your completed braid around your head until it meets the other end. Pin it in place with some bobby pins and lock the look with a spritz of the VO5 Ultimate Hold Hairspray. Congratulations, you've learnt how to do a crown braid in 5 simple steps!
Okay, like we said earlier, it's totally possible to work crown box braids and we're going to show you how! Not only will this give your mane an extra bold dimension, but it'll help keep it firmly out of your face, too.
How to make a crown braid with box braids
1. Before weaving your braided crown hairstyle, spritz your box braids with a leave-in conditioner. We love the TIGI S-Factor Papaya Leave-in Spray which will also leave your mane smelling divine!
2. Create a side part and then section off the front 1/3 of your hair, from the bang area to just before the crown.
3. Take a handful of box braids and split them into 3 equal sections. Begin French-braiding hair from the parting downwards towards the ear, following your hairline. Once you've past the ear, switch to a regular 3-strand plait and loop the hair around the back of your head.
4. Take the braided side and gather it together with the rest of the hair on your opposite unbraided section.
5. Twist the two big sections together (similar to if you were tying a shoelace), and leave the ends loose. For extra security simply use a few bobby pins to hold the look in place and give your mane another mist of the TIGI S-Factor Papaya Leave-in Spray!
Ta-da! Stunning crown box braids suitable for every naturalista under the sun – pretty amazing, right?
Prev Article
Next Article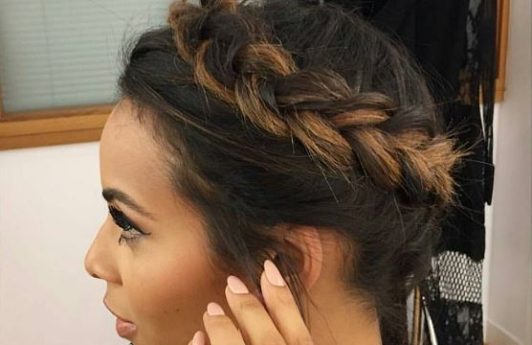 Article
Rochelle Humes rocks a halo braid and it's super cute!
This braid is seriously party-worthy.
See article