19 Dutch braid hairstyles you can wear year-round
Dutch braid hairstyles for all occasions. 
We've become quite experimental with Dutch braid hairstyles lately. Why? Well, because once you can do a basic Dutch braid you open up a whole new world of hair styling options, perfect for all seasons and occasions.
Ahead, you'll find 19 exciting Dutch braid variations to help inject some excitement back into your hair regime.
19 Dutch braid hairstyles for all seasons
1. Glitter braids
If the last time you wore glitter in your hair was the year 6 disco days, it's time to give the sparkly stuff a second chance. Glitter Dutch braid hairstyles are an obvious festival choice, but they're also great for glamming up your look for parties and holidays, too. Credit: @charlheaneyibizahair
Next read: 6 top tips for removing festival glitter from your hair
Editor's tip: Worried about glitter going everywhere? With the VO5 Fixing Spray For Glitter all you need to do is spray the fixing gel after sprinkling on your glitter and it won't budge.
2. Upside down braid
Your pony just got a glow-up. Simple up top with all the detail underneath, this upside down Dutch braid ponytail takes a classic hairstyle and gives it a modern twist. Credit: @unitysalonslc
3. Unicorn braid
Have short hair? A lot of Dutch braid hairstyles are more suited to those with longer locks, but here's a 'do that all hair lengths can get on board with: the unicorn braid. Credit: @riawna
4. Side braid
The simplest tweaks can make all the difference when it comes to how you style you hair. We can already imagine this loose, relaxed side braid topped off with a bobble hat for wintery walks! Credit: @chelsbliss
5. Scarf braid
After seeing all of the fashion bloggers on Instagram wearing hair scarves, we totally understand the hype. Get in on the trend by threading a patterned scarf through your Dutch braid ponytail for a pop of colour. Credit: @victoriamercermakeup
Next read: How to wear a headscarf 4 ways
6. Middle braid
This middle Dutch braid ponytail keeps it sleek and simple with a wrapped ponytail, while making a statement with a smaller Dutch braid running down the centre. Credit: @eboniekewmingatjamphairstudio
Next read: Find out why structured ponytails are our current obsession
Editor's tip: Get your shine serum at the ready because you want your ponytail to be as shiny and polished as possible. The TONI&GUY Shine Gloss Serum smooths down frizz for a neater 'do with plenty of glossy shine.
7. Hair rings
Probably the easiest way to jazz up Dutch braid pigtails, hair rings are a favourite of stars like Ariana Grande and Kim K-W. They'll really make your braids pop and they're a good way to tie in your hair with the rest of your accessories. Credit: @karinatrn
8. Headband braid
Rocking a tousled bob or lob look? This Instagrammer's pretty Dutch braid headband reminds us of Lauren Conrad's braided bangs in The Hills and we want to recreate it immediately. Credit: @rebekahhairstyles
Next read: 17 bobs to try whether you're 17 or 70
9. Half-up crown braid
If you love your long hair and want to make the most of it, opt for a half-up half-down variation like this princess-worthy crown braid.
Whether it's a wedding, prom or even just a fancy date night or anniversary dinner, we can't think of an occasion where this look wouldn't work. Credit: @paulina_allurebeauty
Read next: You can even crown braid on short hair, here's how
10. Braided buns
Space buns are absolutely everywhere, so if you're already a fan you'll love these braided ones, especially with the added bead details. Just be prepared for all of your friends to ask you to do it on them too! Credit: @michaelgrayhair
11. Diagonal braid
Try something different with your braids by going diagonal. It creates an interesting look that no-one will have seen before. Credit: @bohobeauty_bybrooke
12. Curly braid
You don't need to straighten your hair to be able to rock braids. Just look at this curly-haired beauty with her flowing Dutch braid ponytail. See the way she's left the ends of her braid loose to really show off her stunning curls? Credit: @ayla.eulalia
Editor's tip: Want to make braiding your natural curls a breeze? Try using the TONI&GUY Flexible Hold Braid Balm to help you create the perfect braid.
This smoothing balm will help keep flyaways at bay and define your braid's shape, making it pop. Now, who wouldn't want that?
13. Criss cross braids
Showcase your braiding prowess in a whole new way with this quirky criss cross style. Like boxer braids but with more personality, they'll have everyone asking how you did it! Credit: @braidsbyisabel
Read next: The easiest boxer braids tutorial on the internet
14. Dutch braid ponytail
Ponytails aren't just for bad hair days and running-late-for-work mornings. Curly lengths and blonde highlights make this Dutch braid ponytail a winning look, whatever the occasion. Credit: @thenobbygal
15. Double Dutch ponytails
Make a change from regular double Dutch braid pigtails by stopping your braids at the nape of your neck and leaving the rest in ponytails. It's quicker than braiding right the way down and is a less structured take on braids. Credit: @emmua_hair
16. Accent braid
After something quick you can do in a few minutes? A single accent braid is all you need to make people think you've made an effort and it only takes a couple of minutes to do. Credit: @balayage_babe
17. 5 strand Dutch braid
Want something that you know is going to impress? The woven effect of this 5 strand Dutch braid will have compliments flying your way. Credit: @all_to_braids
18. Elegant updo
Do you have a wedding on your social calendar? Or perhaps you're just looking for a pretty way to wear your hair to your next sophisticated soiree? Then this elegant updo is the answer to all your hair prayers! Credit: @haleynaulthair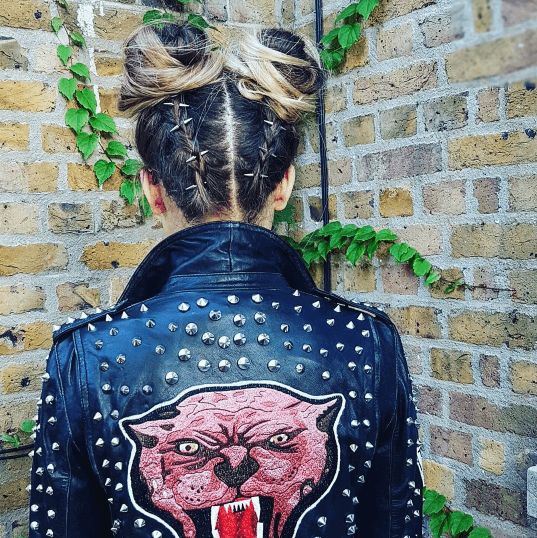 19. Pierced Dutch braids
For all you punk chicks out there wondering how to pull off Dutch braid hairstyles, please turn your attention to this edgy 'do. This studded look is the ideal accompaniment to your signature style, yet still has an air of femininity about it! Credit: @blowoutbeautybar
Prev Article
Next Article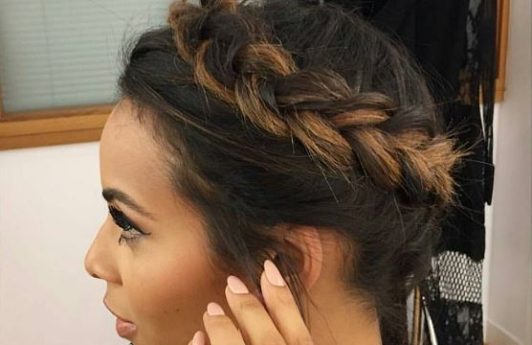 Article
Rochelle Humes rocks a halo braid and it's super cute!
This braid is seriously party-worthy.
See article