Half braided hairstyles we heart: Styles for days when you're feeling indecisive
Half the braid, double the sass factor!
Hair up or hair down? That is the question. But if you're facing the age-old dilemma of not being able to decide whether to tie up your hair or leave it down, we've got just the thing – half braided hairstyles.
Practical in that they let you keep your hair up and out of your face (making them ideal for work or running errands), yet still ultra stylish, giving you a gorgeous, put-together look for any occasion. We're just annoyed we didn't try them sooner!
Half braided hairstyles: The unofficial uniform of indecisive girls everywhere
1. Unicorn braid
Unicorn braids have plenty of celeb style credentials thanks to stars like Gigi Hadid and Iggy Azalea. It's one part edgy, one part glam and as far as festival hair goes, you don't get better than this.
Use a large barrelled curling wand to add in some soft curls through your lengths. This will help tie in the whole look together and really complete the vibe. Credit: @hairbymegcheek
Become an actual unicorn with these mystical Halloween styles!
Editor's tip: Just washed your hair? Quickly blast a bit of the TONI&GUY Matt Texture Dry Shampoo into your roots before you start braiding. This will instantly create more texture and make it easier to create your style.
2. Knot braids
Knot braids, or looped braids as they're also known, are a quirkier braiding style that we're starting to see more and more. And the best part about them? They make for excellent half braided hairstyles.
Less intricate than some more traditional braiding methods but no less impressive, who would've thought tying your hair into knots could actually look so pretty? Credit: @sarahwestie_hair
3. Pull-through braids
Have fine hair? Pull-through braids are so great for giving the illusion of a thicker ponytail, so no-one will ever suspect you don't naturally have thick, luscious locks. Pull-through, half-braided hairstyles are especially great as you get the volume-boosting benefits of the braid while still being able to make the most of your length too (yay!).
Plus, each individual section of the braid looks just like a little inverted love heart and honestly what could be cuter than that? Credit: @beautybymccalll
4. Fishtail braid
From side braided styles to half-up, half-down looks, we just can't seem to get enough of fishtail braids lately.
A more refined, fancier alternative to the traditional 3-strand braid, your friends will be floored by your impressive braiding skills with this one. Credit: @tressesbytress
Endless fishtail braid variations, right this way.
Editor's tip: Love how sleek and shiny this Instagrammer's fishtail style looks? Add a glossy finish to your own hair by running a few drops of the TONI&GUY High Shine Serum Drops through it.
As well as providing that coveted shine, this serum also helps to stop frizz and flyaways in their tracks.
5. Crown braid
Popular with bridesmaids and girls off to prom, crown braids can be dressed up or down – it's all about how you style the rest of your hair.
Want to make it more casj? Keep it low-key with a beachy, tousled texture for a pretty, summery style. Credit: @shannonteyler
6. Mini braids
Already wear half braided hairstyles on the reg but looking for an easy way to make them that bit more special? The devil is in the detail.
This Instagrammer's teeny tiny mini braids give that little something extra and add a touch of bohemian flair to the look. Come date night we'll definitely be whipping this one out to impress! Credit: @hairbyjessica_
Channel your inner Vanessa Hudgens with these boho festival styles.
Editor's tip: To make sure your little braids stay together and don't fall out, apply some of the VO5 Sleek Creation Hairspray to the area before braiding.
This will give the hair more hold and stop any shorter layers from spraying out and becoming messy.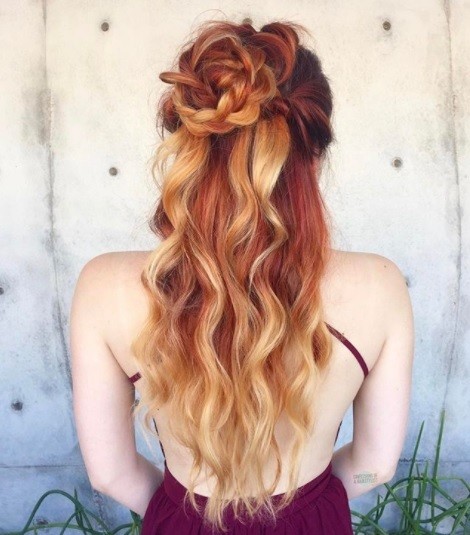 7. Braided flower bun
Half-up buns are a cool girl staple. If you want to take this off-duty style and make it a bit more extra, why not try out a flower braid?
They look just like something straight out of a fairytale and they'll add that extra sass that your hair deserves. How could anyone not love this? Credit: @theconfessionsofahairstylist
Like this? Don't let the floral daydreams end there!
Prev Article
Next Article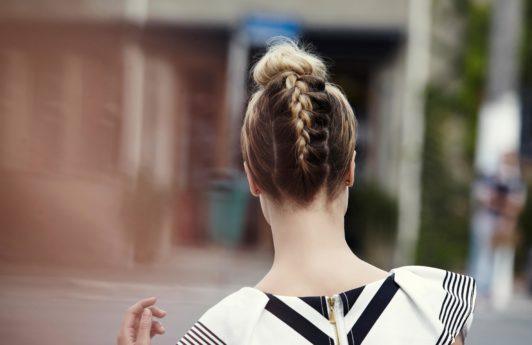 Tutorial
Get an Upside-down French Braid in 5 Easy Steps
It's all 'business in the front, party in the back' with this upside down French braid bun!
See article