18 Fishtail Hairstyles You Need to Try Today
Being total plaiting enthusiasts, we can confirm that we've tried just about every fishtail hairstyle under the sun! You could say this labels us as an authority on how to create fishtail hair – well if the shoe fits…
To prove our credentials and share some plaiting love with you, we've pulled together our favourite fishbone plait hairstyles, guaranteed to elevate just about any hair look or ensemble you'll be rocking this season. But before we get started, what actually is a fishtail braid?
Fish plaits as they are sometimes called, are similar to a basic 3-strand braid, however, you only divide your hair into 2 sections. You then take small chunks from your original sections and weave under (or over) each other until you create the fishtail effect.
Seems pretty straightforward, yes? Read on to explore fishtail hairstyles that you should try out today and level up your plaiting game.
3 Popular Types of Fishtail Braids
Jump ahead to our 3 favourite fishtail hairstyles:
Half-up, half-down fishtail braids
1. Small Fishtail
Often we think of a fishtail braid as a long, full braid, but this lovely 'do shows that you can also just braid a small section of your hair and still achieve striking results. This is one for those who are time-poor, but still want to be hairstyle rich!
Style tip: For added body, we suggest pancaking your braid by gently tugging to separate your plait.
2. Messy Braids
The beauty of braids is that, sometimes, the messier they are the more intricate your hair will look.
This 'do combines various styles of braiding, starting with two fish plaits on either side, which then merge with multiple smaller braids, culminating in one large beautiful, messy braid! Keep things wispy and relaxed for this one.
Editor's tip: Make braiding easy by using the TRESemmé Extra Hold Hairspray to secure your styling.
3. Fishtail Hairstyle with Flowers
This hairstyle is so enchanting yet so easy to pull off! Perfect for festivals, weddings and summer parties, this 'do will have you looking like a fairy princess in no time.
Sweep your locks to one side and start your fishbone plait on the side, rather than in the centre of your head. Add in sprigs of fresh florals or floral hair accessories to complete this magical look. 
4. French Plait + Fishtail Hair Combo
In case you haven't noticed, we're big fans of intermingling different braid styles, so go ahead and let your creative braiding juices run wild! We think that this lovely loose French plait, which transitions into a pretty and neat fishtail, looks oh-so-gorgeous!
Editor's tip: Have you got thin or fine hair that doesn't have enough grip to braid properly? Don't fret: try adding TRESemmé Body & Volume Shampoo to your routine. Its formula is designed to cleanse your hair while boosting its volume from within.
5. Rainbow Fishtail Braid
Sporting rainbow hair? Then it's your duty to show off all those dreamy colours to the world with this stunning look. Get creative with your braids so that you truly showcase your magical locks. Throw on a flower crown for that Coachella vibe!
6. Stacked Braids
Not satisfied with a classic and simple fishtail plait? Then why not show off your braiding skills with multiple intricately woven variations?
With her pastel hue and delicate flower accessories, we think this braided style is another one to add to the festival hair lineup.
7. Adorn Your Fishtail Hair
As if a fishtail hairstyle wasn't pretty enough, add in a stunning hair clip and you'll totally upgrade that look from pretty, to pretty fabulous! We love how this hair slide totally accentuates all that's lovely about fishtail hair. #nailedit. 
8. Fishtail Crown Braid
Perfect for those who love wearing their hair down, yet also want something practical and secure, this ethereal-looking plait adds tonnes of depth and interest to any look.
While this half-up fishtail hairstyle looks great with all hair hues, it looks especially stunning with ombré, balayage, or highlighted hair. Just look at how each coloured strand pops!
9. Half-Up, Half-Down Fishtail Braid
Can't decide between wearing your hair in a pretty updo or leaving it down? Well, now you don't have to! Suitable for straight, wavy or even curly hair, this half-up fishtail hairstyle is by far one of our all-time favourite 'dos! And don't worry about any unexpected photo opportunities, because you'll be looking totally on point from all angles.
10. The Fairytale Worthy 'do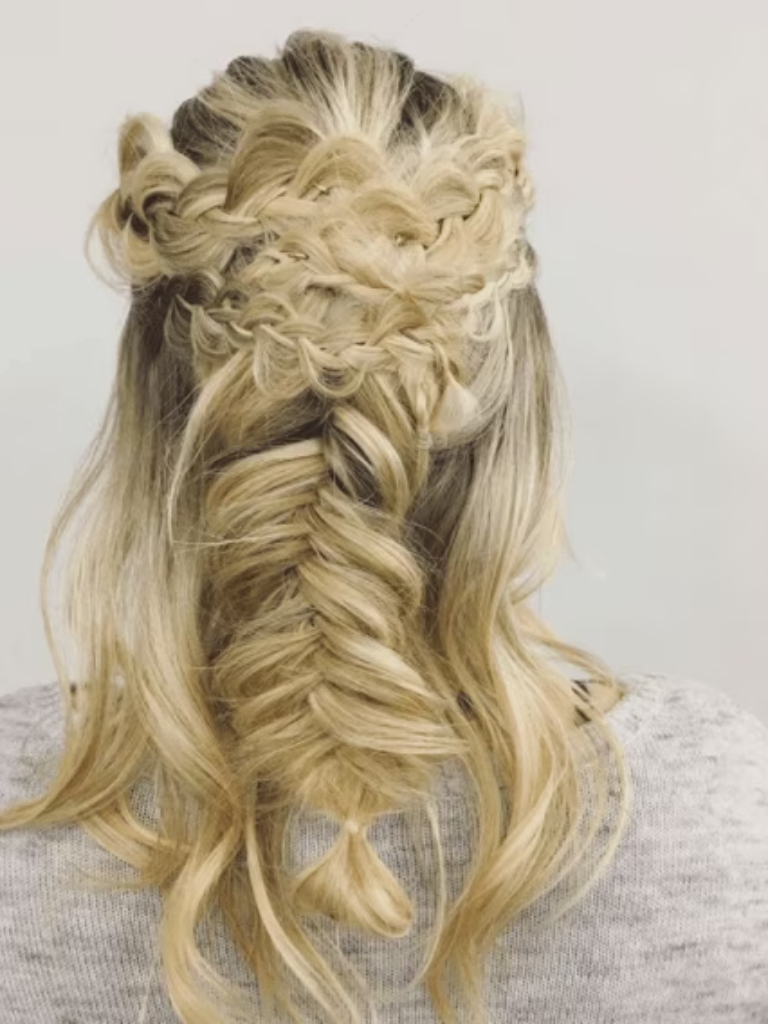 This stunning style is exactly how we envision fairytale princesses wearing their hair! We love the varying sizes of fishtail braids that wrap over one another, creating an almost crown-like effect. Keep the rest of your tresses textured and wavy, for a romantic twist on the look.
11. 2-Strand Fishtail Hair
If you struggle to work with 3 pieces of hair to create a standard fishtail plait, fret not, as there is a simple alternative: the 2-strand fishtail weave.
For sleek and straight strands like the picture, we recommend a few drops of TRESemmé Keratin Smooth Shine Oil after styling.
12. Halo Braid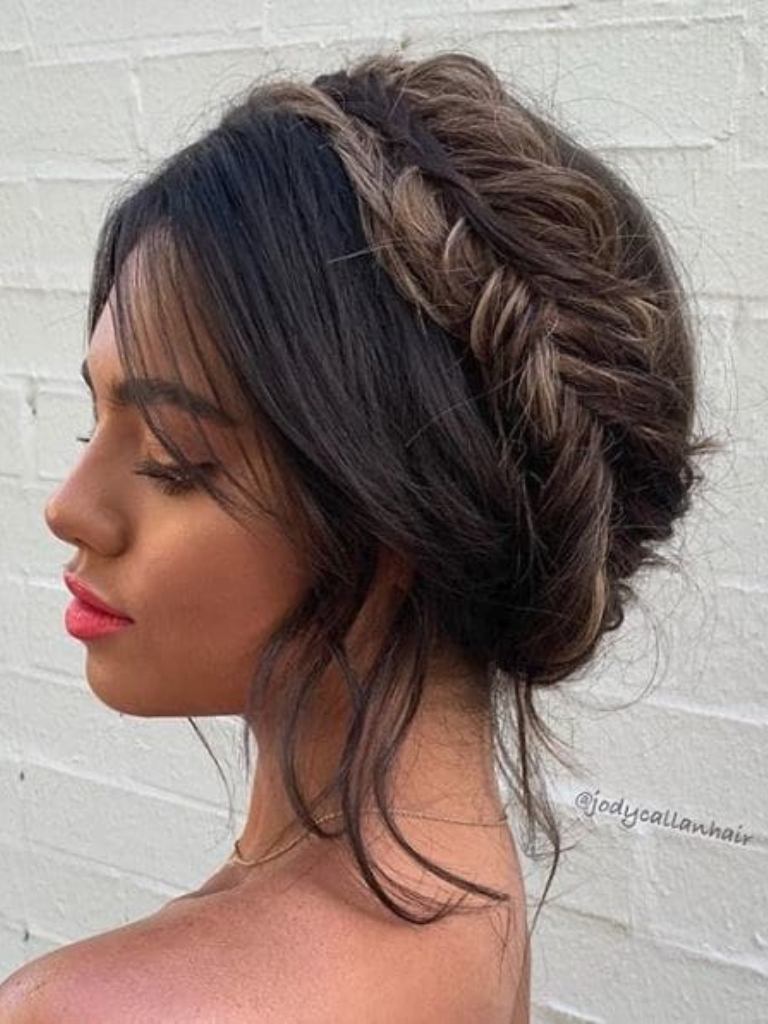 We love the impact a halo braid can make. Everyone will rave about how much they love the style and how difficult it must be to do, but between us, a fishtail halo braid is far easier to create than you might think.
13. Fishtail Braided Side Bun
Want a hairstyle that looks just as good from the back as it does from the front? Then come a little closer and let us tell you exactly what you need: a fishbone plait side bun!
14. Formal fishtail updo
We don't know about you but this fishtail hairstyle is making us dream of summer weddings. The mix of bigger and smaller weaved braids and loose tendrils make this the perfect hairstyle for any bride-to-be.
15. Fishbone Plait Updo
This is an updo with a difference and we can almost guarantee people will be asking whether you did it yourself!
Simply put your hair in a ponytail, braid the length into a fishbone plait, and then wrap your braid over itself, flat against your head. Secure your braid with bobby pins and you're done! So simple, but simply stunning.
16. The undone updo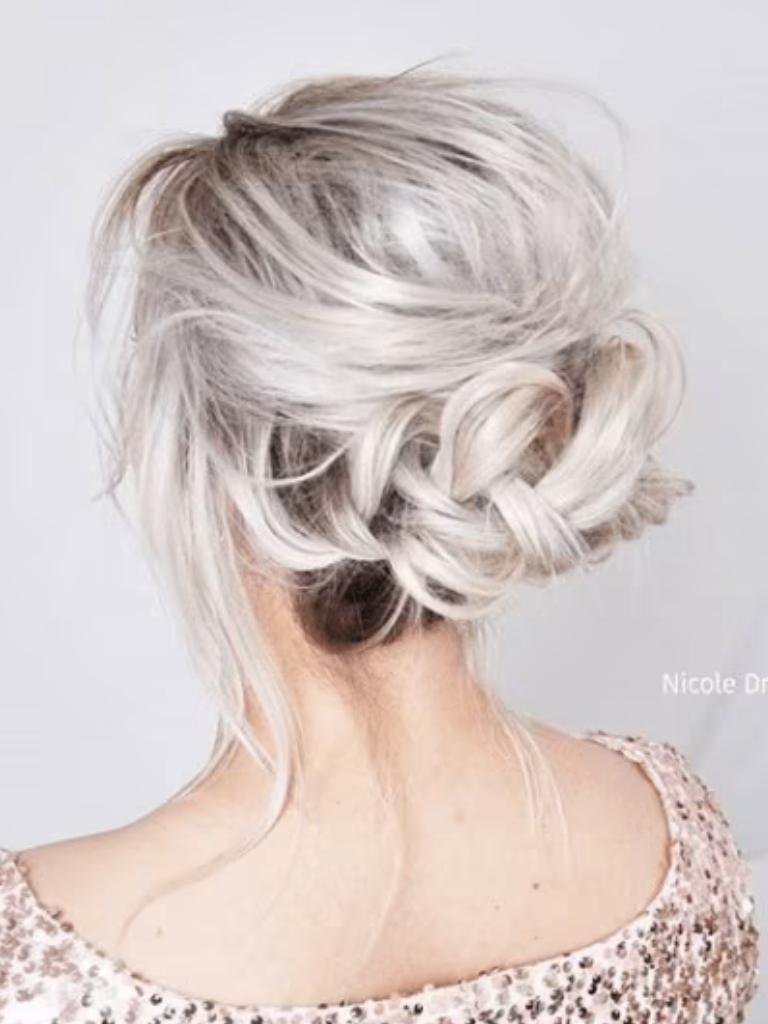 The best thing about a fishtail hairstyle is that even if you create a really loose braid, it will still look super stylish! Take this look for example: pulling the partially woven strands into a relaxed bun really adds a dose of glam.
17. Fishtail accent
Attached to your ponytail but looking for a fresh new way to style it? Enter this fishtail and ponytail combo. The simple accent braid totally transforms this look from drab to fab!
18. The Faux Fishtail
So this sneaky little 'do is masquerading as fishtail hair, and it certainly looks strikingly similar. Rustle up as many hairbands as you can find and secure the top section of your hair with one of the bands.
Split your hair into two sections and loop them until they form a bow. Use another hair band to secure, then repeat all the way down your hair until you have this amazing style.
Prev Article
Next Article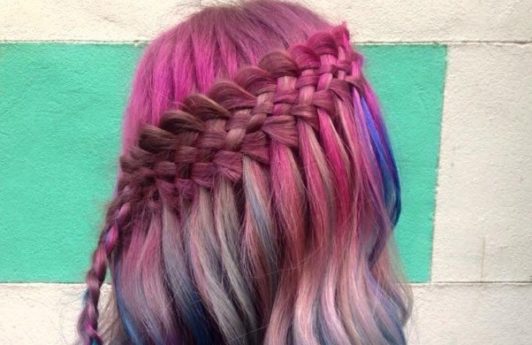 Gallery
Bored of Regular Braids? Try a Waterfall Hairstyle This Season
Update your mane game with a waterfall hairstyle.
See article