Easy braids for medium hair: Gorgeous plaits you can create in minutes
These easy medium hair braids will be a doddle once you know how!
Leona
|
September 28, 2017
We are always on the hunt for quick and easy hairstyles here at All Things Hair HQ; from speedy updos to neat tricks, we leave no stone unturned. So if easy braids for medium hair sound like something you will love, you're in luck.
Whether it's a simple everyday style you're after or a party-perfect hairdo, we scouted Instagram for the best medium hair braids and boy-oh-boy did we find some beauties!
Easy braids for medium hair: Our top picks
Braided bun: Difficulty rating 3/5
While summer may be over, it's not all doom and gloom – party season is fast approaching, meaning we can all start trialling some new fancy hairstyles!
Our favourite for any form of festivity is this low braided bun, which can easily be given a cute and feminine charm with the use of a hair bow. It really is the ultimate party accessory! Credit: @cabellobycarolina
Editor's tip: Seal your updo in place with a spritz of the VO5 Ultimate Hold Hairspray. For long-lasting all day hold that brushes out easily, this hairspray is the crowning glory of our hair kit.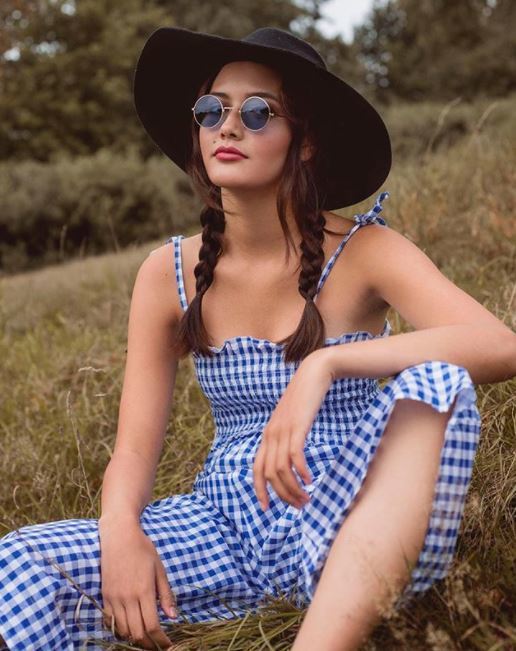 Pigtails: Difficulty rating 2/5
While this image may have brought back memories of your school days, you will be glad to know that pigtails have been given a grown-up refresh. Wear pigtails with a wide-brim hat (or a beret for a French girl twist) and you'll give your look an effortless-chic finish. Credit: @katiejadephotography
Braided top knot: Difficulty rating 3/5
Are you looking for easy braids for medium hair that will still earn you multiple style points? Of course you are! In that case, look no further than this braided top knot.
Start by pulling your top section of hair in a ponytail, before braiding and simply wrapping the finished braid around the base of the ponytail, securing it together with a hair slide. Credit: @cabellobycarolina
Side braid: Difficulty rating 1/5
Do you need those precious extra minutes in bed in the mornings? We can totally relate. Well, you can hit snooze and still be out of the door in time with this easy-to-create side braid. In fact, this 'do is so easy, you can even do it when on the move. Credit: @kayleymelissa
Unicorn braid: Difficulty rating 3/5
From unicorn hair colours to fun unicorn curls, the hair industry can't get enough of the unicorn trend (and nor can we!). While this hairstyle may seem tricky, it is actually far simpler to create than it looks.
Take a section from the front of your hair and simply braid backwards, securing it with a clear elastic at the end. Then gather all your hair (including the braid) into a messy ponytail to finish – yep, it's as easy as that! Credit: @entrenzada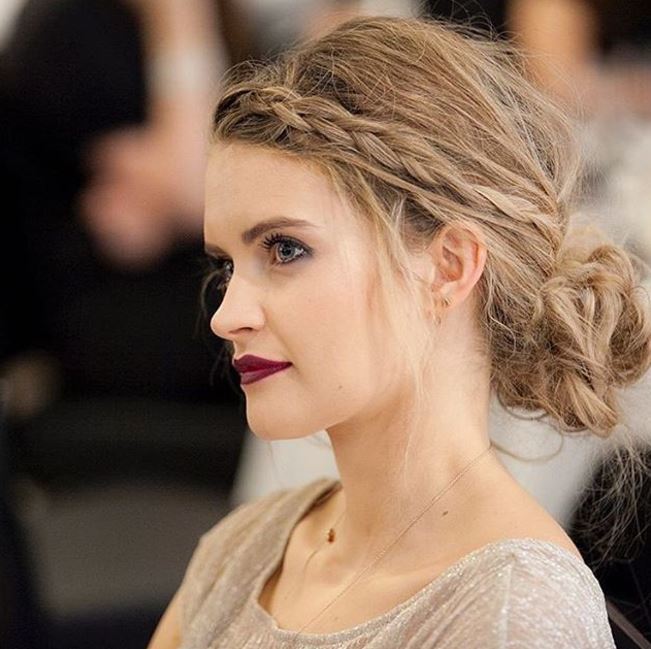 Alternative headband braid: Difficulty rating 2/5
If a headband braid seems too tricky, cheat your way to success with this alternative, instead – go on, we won't tell!
Leave a small section of hair at the front and gather the remaining hair into a messy bun. Then create a traditional 3-strand braid with the loose section and wrap it around the bun, securing with a hair slide of your choice. Credit: @meg.gunn
Editor's tip: For added tousled texture and a light hold without the crunchy feel, we suggest using the TONI&GUY Sea Salt Texturising Spray. A few spritz' and your 'do will be screaming boho charm.
Fishtail braids: Difficulty rating 3/5
Now don't think we've duped you with this one, as fishtail braids are actually pretty easy to create. Not only do fishtail braids look stunning on their own, there are tonnes of ways you can style your hair to show them off.
Not convinced you can create this yourself? Follow our step-by-step guide and you will be a fishtail braiding pro in no time! Credit: @missysueblog
Peek-a-boo braids: Difficulty rating 1/5
This Instagrammer's medium hair braids are giving us serious mane envy. Not only does her purple ombre look amazing, but her peek-a-boo-plait makes the hue pop even more!
Get the look by braiding small sections of hair at random, securing each braid with a clear elastic band. Go the extra mile by adding hair rings, pearls or butterfly accessories. Credit: @hairdyeing
If you can't get enough easy braids for medium hair inspiration, you should skip on over to our Braids page, stat. There you can test your braiding ability with our four-strand braid tutorial or find all the party braids inspiration you could possibly want.
Prev Article
Next Article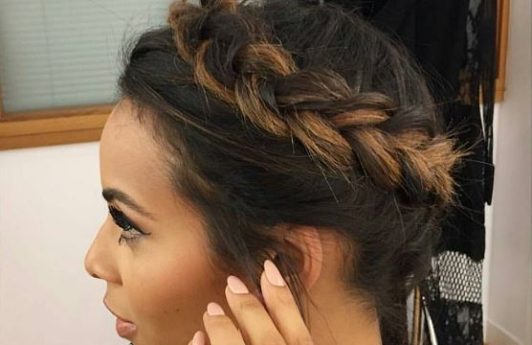 Article
Rochelle Humes rocks a halo braid and it's super cute!
This braid is seriously party-worthy.
See article