Head-turning crochet hairstyles for every occasion
Looking for crochet hairstyles to inspire your next 'do? Then get ready to indulge yourself in these unmissable crochet braid hairstyles from Instagram!
As any naturalista will know, looking for new protective hairstyles isn't the easiest of tasks! But instead of compromising on style this time round, why not try crochet braids to help you up your mane game? Now, if you don't know what these 'dos are, let us tell you…
Crochet hairstyles actually refer to the method of crocheting hair extensions into pre-braided hair. And since most crochet braid styles for black women resembling natural curly hair, it's no wonder they've become a go-to look for so many kinky-haired gals!
Whether you're hunting for short crochet hairstyles to try – or just standard crochet hairstyles for curly hair – we have all the inspo you'll ever need, below. So, if this sounds like your cup of tea, keep on scrolling to discover our round-up of the best looks from Instagram and give your mane a refreshing twist!
Crochet hair styles: Pictures from Instagram we love
Crochet boxer braids
Looking for gym-appropriate crochet braid styles for black women? Then you need to try boxer braids, which happen to look stunning with crocheted hair, and are sure to stay put during your HIIT class! 
Now, you can make your braids as thin or chunky as you wish, but we think they look best when worn jumbo sized! Just ensure you tightly secure them at the ends with hairbands and rest assured that it'll take your look from drab to fab in seconds! Credit: @naijagoddess
Crochet half-up, half down 'do
Looking for crochet hairstyles for curly hair that'll really have heads turning? Then prepare to fall in love with this sophisticated and elegant hairstyle, we spotted on this trendsetter. Credit: @lolaomonaija
Ideal for swanky events and dinner dates alike, this half-up, half-down 'do provides your mane the taming power of an updo with the refinement of a long hairstyle. So, if you're looking for fancy crochet hairstyles that'll will impress your date or friends, you know what to do!
Ringlet crochet curls
Can't decide between all the beautiful crochet hair styles? Pictures of these 'dos are flying here, there and everywhere on social media, making it difficult to choose a look that's right for you (sigh!). But if you really can't make a decision, we think you can't go far wrong with a set of bold ringlet curls!
To really make your mane stand out from the crowd, do as this mega-babe has done and opt for a purple hue for added style points. This fun, flirty and super-chic look is perfect for ladies who want to channel their inner Diana Ross on their next night out! Credit: @chelseaphilias
Crochet hairstyle with low ponytail and flowers
Looking for festival-ready crochet hairstyles? Then it's time to invest in some flower hair accessories and jump on board the boho-chic bandwagon!
But instead of weaving your strands into tight braids, simply scoop your curly tresses into a messy low ponytail and then decorate it with beautiful flowers. Crochet hairstyles for curly hair don't come much easier than this! Credit: @cynthianyongesa
Crochet half-up bun hairstyle
Looking for office-friendly, stylish crochet braid styles for black women? Then this hun (AKA a half-up bun) hairstyle is the ideal option, allowing you to wear your curls down while still keeping them off of your face.
So if you're looking for a round-the-clock look that won't need any touch-ups, make this runway and red carpet favourite 'do your new go-to! Credit: @theweavewhisperer
Short crochet hairstyle
Think short crochet hairstyles don't exist? Then please adjust your gaze to this sultry 'do, which proves that coily, chin-length hairstyles really are a thing and one which looks incredibly stylish! Credit: @unique_dandridge
What makes short crochet styles so great, is that you can let the length do all the talking, giving your look a sassy and fierce finish like no other. 
The pineapple updo
Want to make the most out of your weekend and spend less time worrying about your mane? Whether your binge watching Netflix, brunching with friends or hitting the beach, know that this stylish pineapple updo has got your back. See? Crochet braid hairstyles don't need to be complicated to look good! Credit: @magavilhas
Editor's tips: Tempted to give crochet braids a whizz? Then you'll need to ensure that your faux 'fro looks super moisturised, by using TIGI S-Factor Papaya Leave-In Moisture Spray, to get fully hydrated and beautifully smelling locks!
If these gorgeous crochet hairstyles have you longing for more wonderful braided 'dos to try this season, why not take a look at all the amazing looks on offer on our Braids page? With how-to tutorials and expert advice, you'll soon have the style of your dreams!
Prev Article
Next Article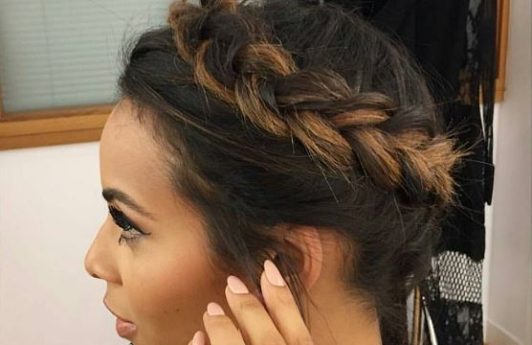 Article
Rochelle Humes rocks a halo braid and it's super cute!
This braid is seriously party-worthy.
See article