24 fresh ways to rock coloured braids
We bet you'll want to try at least one of these coloured braids...
Always wanted to give coloured braids a go, but feel a little uninspired? Well, the good news is that we're here to help change that. We've put together 24 of our favourite colourful braids styles, to inspire you to take the plunge.
Whether it's rainbow box braids or ombre braids you're searching for, our varied selection of looks will make you want to get in on this trend, pronto.
24 coloured braids that will make your hair feel new again
1. Rose gold box braids
Think having box braids means you can't try the hottest colour of the season? This beauty's rose gold coloured braids will seriously make you think again. Credit: @alaidecassiano
2. Pastel pink braids
This pretty half-up, half-down crown braid is exactly what you need to help you flaunt your new pastel pink hue. By teaming this style with beachy waves, you'll be ticking all our hair goal boxes. Credit: @beautylaunchpad
Editor's tip: If you're planning on getting your hair dyed, you'll need to make sure to switch up your usual shampoo and conditioner for ones made for colourful strands.
You can't go wrong with Dove Colour Care Shampoo and Conditioner, as it will help you maintain your hue's vibrancy and keep your mane looking and feeling healthy.
3. Half-up, half-down space buns
This sweet look combines braided half-up space buns with glitter — wear it to a festival or a party, and you'll be sure to stand out.
4. Neon milkmaid braid
Will you become the next neon hair queen? That's something you'll find out — that is, if you decide to go for this fierce neon pink hair colour, complete with a milkmaid braid.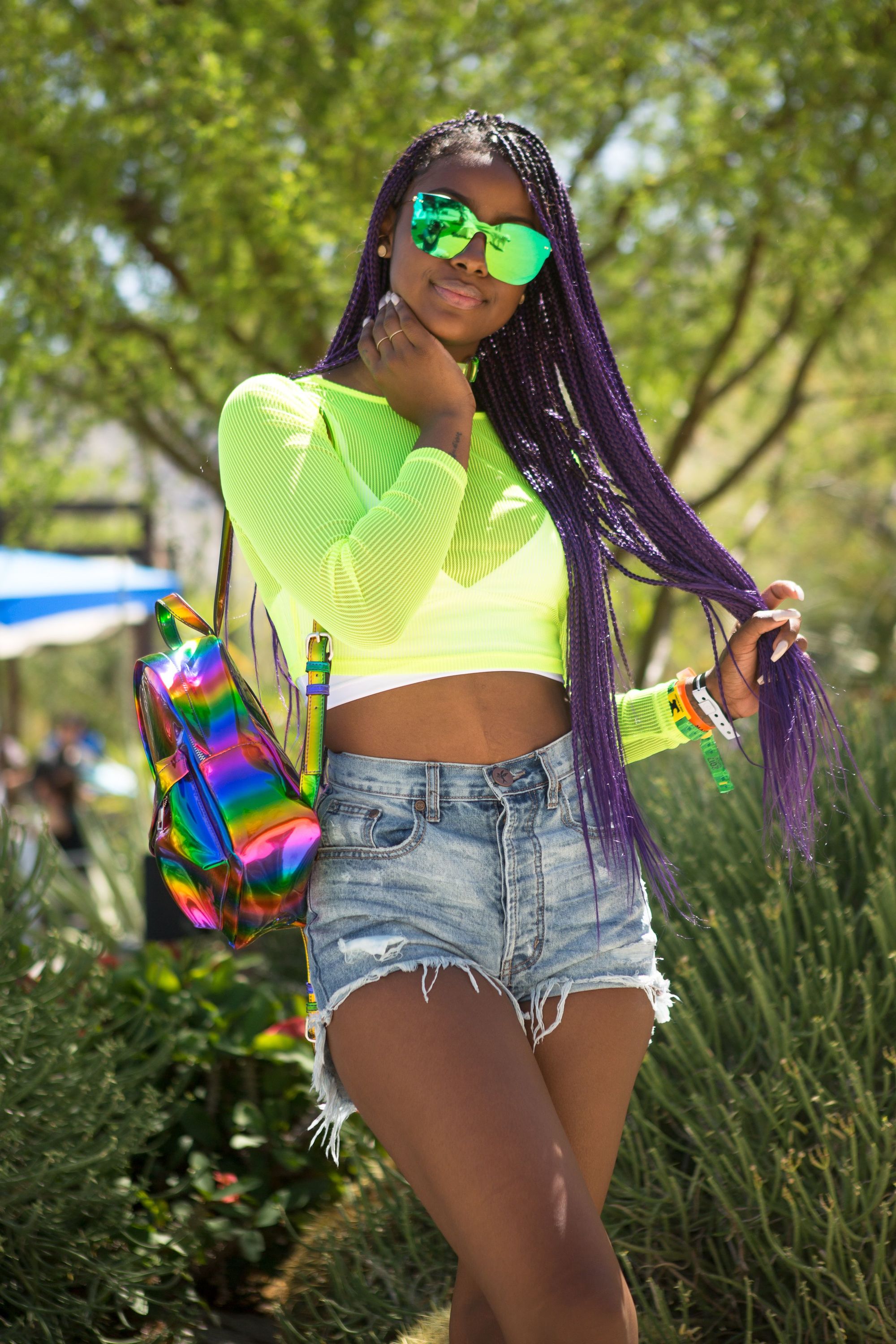 5. Long purple box braids
Love long box braids? Channel your inner Justine Skye by getting them in her signature colour: purple.
6. Tree braids
It's no secret we're huge fans of coloured box braids, but there is a way to make them look even more enchanting. How? By leaving the ends loose for a different look!
Up next: 6 stars who will convince you to try loose tree braids.
7. Lilac space buns
Want to make your space buns look the part for any events you've got coming up? We've got the answer: go lilac and weave these upside down Dutch braids. Credit:@hairromance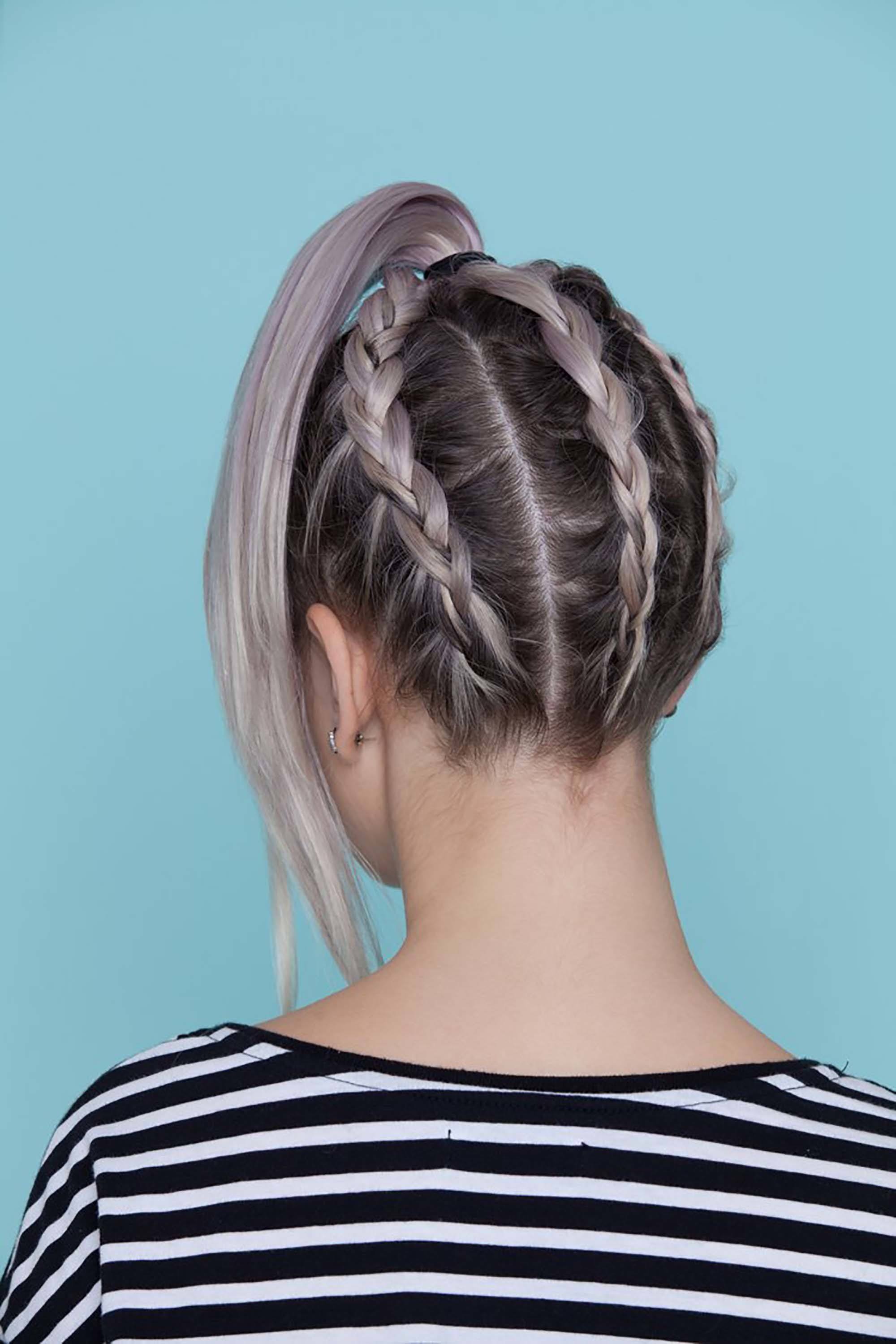 8. French braided ponytail
If you've been bold enough to dye your hair a pastel colour and have regrowth, braiding your hair like this will really showcase your grungy hue.
9. Crown braid
Just ask Ruby Rose — a crown braid will make your short, emerald green tresses pop. Ready to try this elegant style? Learn how to master a crown braid for short hair.
10. Fishtail braid
Coloured braids like this seafoam green fishtail braid, are all you need to help you channel your inner mermaid.
Editor's tip: If you're not pancaking (AKA gently pulling apart each section of your plait to make it look thicker), you're seriously missing out!
To pancake like a pro, you'll need the TONI&GUY Root Lift Sculpting Powder, which gives instant lift, volume and texture. Dust it over your finished braid before pancaking and prepare to be amazed.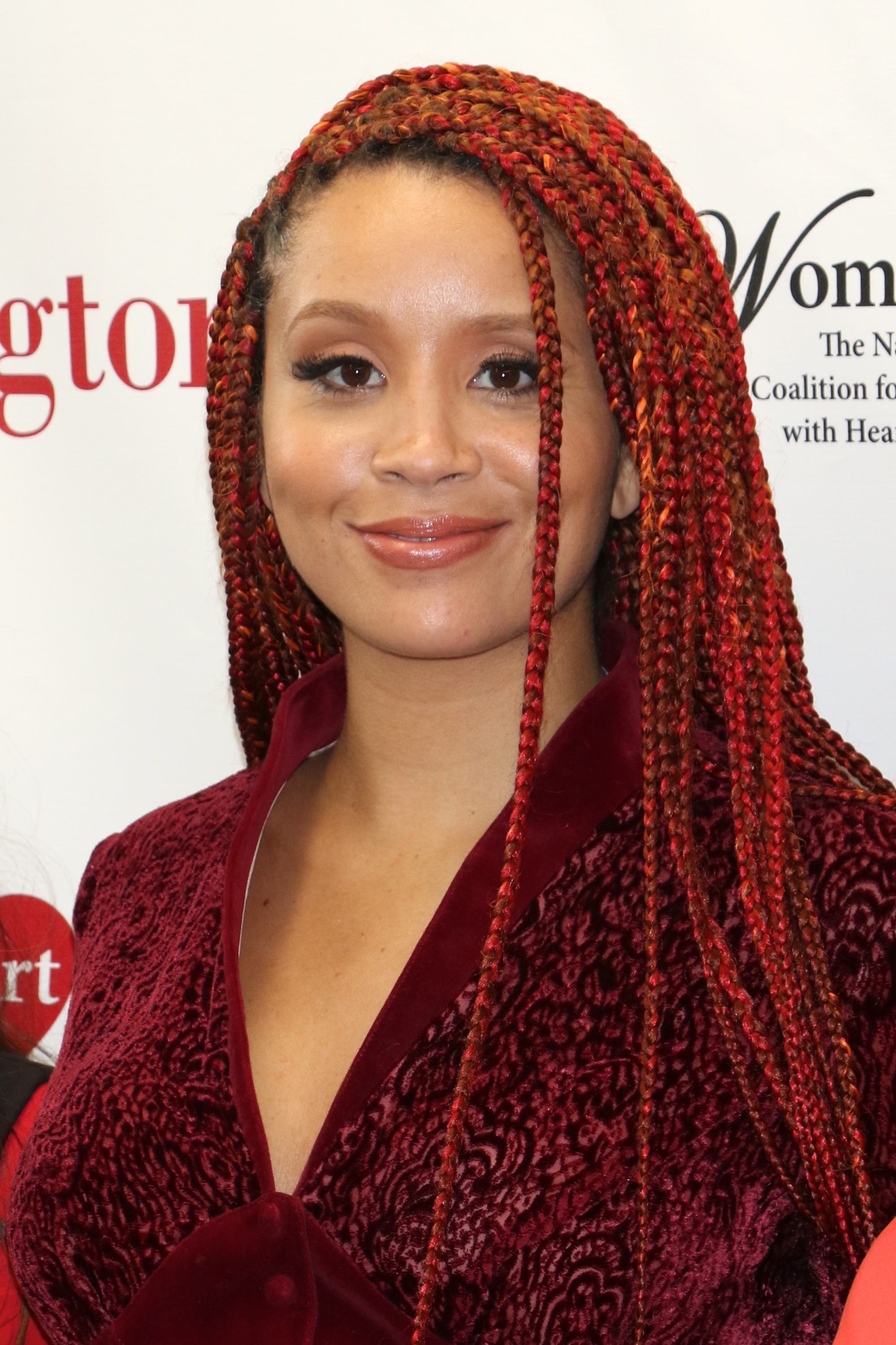 11. Red box braids
If you're not totally sold on purple or green coloured braids, here's a fiery look that'll convince you to join the red hair club.
Up next: 8 red braids to copy.
12. Cinnamon braided bun
What's better than cinnamon swirls? This chic cinnamon braided bun. Turn your go-to cornrows into something extra sweet by fashioning them into this 'do (with or without micro sunglasses). Credit: @magavilhas
13. Blonde box braids
If anyone knows how to make a statement, it's Tiffany Boone. She manages to make a box braids ponytail look super modern and cool with this bright, blonde hue. Are you ready to do the same?
14. Silver fishtail braid
If you're eager to get on the loose plaits bandwagon, you'll want to screenshot this picture.
With this sparkling, silver fishtail braid, you'll be serving off-duty vibes wherever you go. Credit: @emilyrosehannon
15. Grey box braids
Low, side-swept ponytails have become a red carpet favourite, but if you're after a style with a bit more pizzazz, these grey box braids will be right up your alley. Credit: @ayanda_tt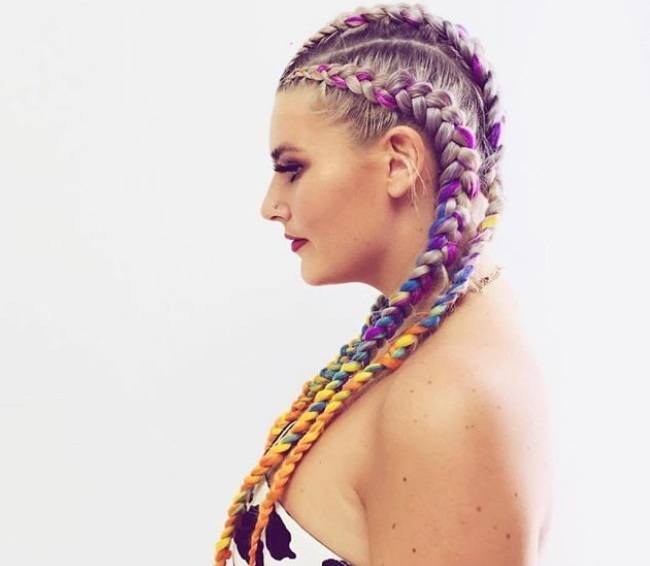 16. Coloured cornrows
For a plaited look that stylishly keeps your hair off your face, try this beauty's sleek, rainbow cornrows. Can you imagine how good they'd look with some flowers? Credit: @theglitterarmy
Editor's tip: To complete your look, spray a generous dose of the VO5 Tame & Shine Spray all over your mane, to help tame flyaways and add shine.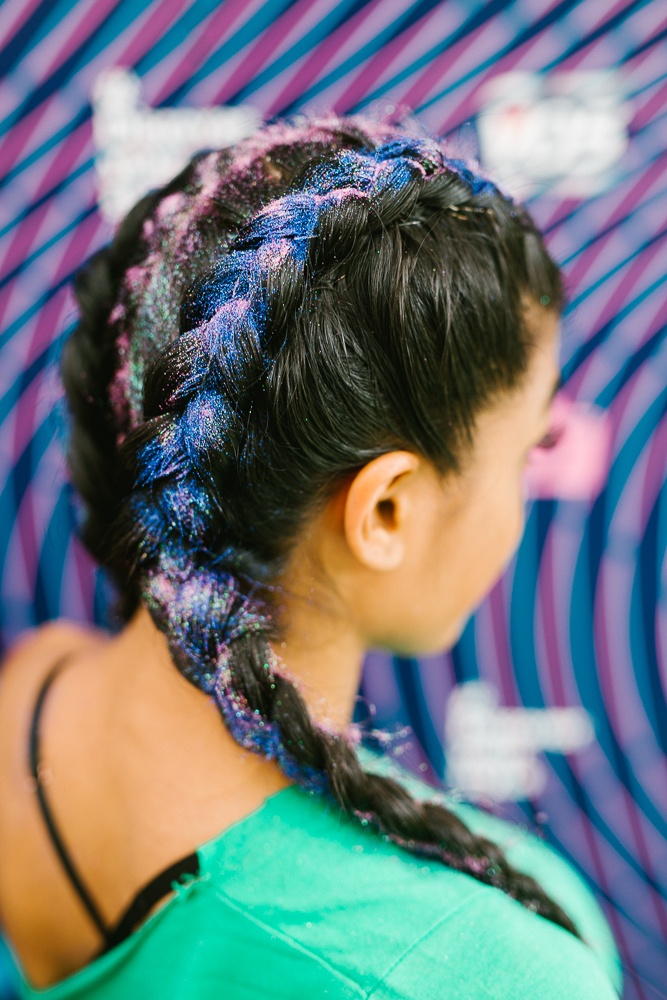 17. Glitter boxer braids
Glitter isn't just for your roots! In fact, you can apply them directly onto your go-to boxer braids to make them feel new again.
With these glittery plaits, you're literally giving yourself a colourful hairdo without any commitment.
Read next: Everything you need to know about hair cosmetics.
18. Rainbow halo
Rainbow hair is pretty statement-making on its own, but when you fashion it into a halo braid, you'll take your strands to the next level. Credit: @chitabeseau
19. Multicoloured box braids
You can even work rainbow tones into your box braids for an edgy, playful look like Rutina Wesley.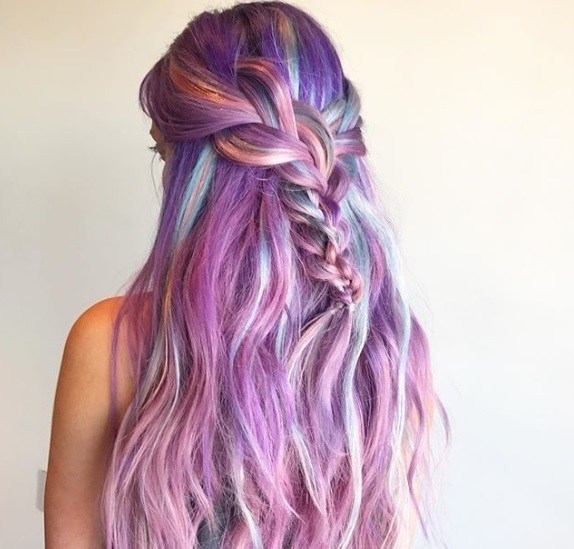 20. Purple dream
Did you know that when you mix shades of purple, pink and baby blue together, you get the coolest hue ever?
And this simple half-up, half-down braid just shows it off brilliantly. Credit: @theconfessionsofahairstylist
21. Honey-coloured box braids
If you don't want to go too wild with the colour of your box braids, subtle honey-coloured box braids are the next best thing.
22. Ombre coloured braids
Have 15 minutes and ombre hair? Try this boho-perfect 'do. This half-up, pull through braid is proof that coloured braids can be subtle and still pack a fashionable punch.
Up next: How to do a simple pull through braid.
23. Blue and black box braids
Why wouldn't you want to put blue with black? We just love this hairstyle which has also managed to work in some platinum braids at the nape. This means the 'secret' braids are only revealed when you are wearing an updo. Smart, eh?
24. Accent box braids
Not sure if you want to rock all box braids with colour? Then this picture is the perfect #hairinspo!
Just choose a handful of braids to work in your poppin' hue to nail the look. This way you get to subtly tap into the trend without rocking all over.
Prev Article
Next Article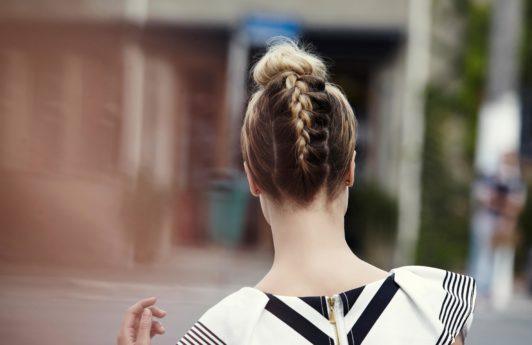 Tutorial
Get an Upside-down French Braid in 5 Easy Steps
It's all 'business in the front, party in the back' with this upside down French braid bun!
See article