Hair how-to: The braided bun tutorial with Diipa Khosla
Why have a basic bun when you could rock a braided bun at the gym? Upgrade your go-to 'do and learn how to make a braided bun now.
You Will Need
Braids in a bun are great for keeping your tresses well out of your way while you hit the gym but is also pretty enough to be worn to a casual outing or formal dinner.
If you've found yourself stuck in a hair rut and are on the hunt for a practical hairstyle that's runway and red carpet approved, let us introduce you to your new best friend: the braided top knot.
You may have seen this beauty gracing the recent Dior catwalk or on the likes of Shay Mitchell, and thought it's too tricky to master. But trust us, it isn't! And, as part of our mission to #BeatHairBoredom with E!, we've enlisted the help of blogger Diipa Khosla to create a quick step-by-step tutorial, so you can learn to nail the braided bun look at home.
So, get ready, because we're going to show you how to make braids with buns look beautiful!
Braids into a bun?
Now, we know what you're thinking: 'braids with bun'? In one hairstyle? It's far too complicated to create at home without a team of professionals!
But your fears are totally unfounded because working braids into a bun is an easy way to add interest to your basic top knot. And did we mention that this braided bun can be achieved in the 5 simple steps?
How to make a braided bun
The foolproof bun
Want a simple hairstyle that'll take you seamlessly from gym to office, and even out to dinner? Then look no further than this foolproof braided bun: a modern, feminine take on the casual top knot.
High in impact, yet super easy to create, it's no wonder this plaited updo has become the go-to hairstyle for many here at the All Things Hair HQ.
How to create the foolproof bun
How to make a braided bun extra special
Keen to know how to make a braided bun extra special? Why not dress up your braided bun with hair accessories? It's a great way to add a glam touch to your 'do. Not to mention, it's super easy! Finally, place your hair rings in a line up your
We love the idea of upgrading your braided bun with simple hair rings. Just place your hair rings in a line up your French or Dutch braid – and there you have it, your beautiful braided bun is party or festival ready!
Now, just because we've come to the end of 'how to do a braided bun' hair how-to, doesn't mean the fun has to stop here! Head over to our Braids page for more easy-to-follow how-tos and hair inspiration to help you beat hair boredom.
You Will Need
Prev Article
Next Article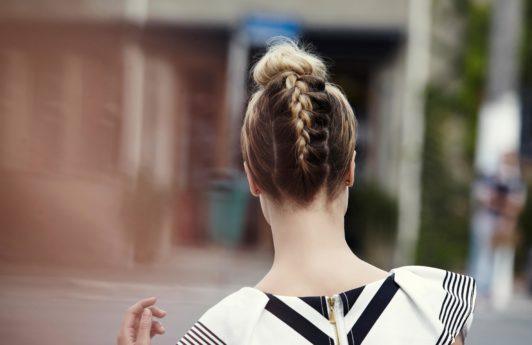 Tutorial
Get an Upside-down French Braid in 5 Easy Steps
It's all 'business in the front, party in the back' with this upside down French braid bun!
See article