30 Irresistible Bronde Hair Looks to Inspire Your Next Colour
With looks from Gigi Hadid, Kaia Gerber & co.
A delightful mix of both blonde and brown hues, bronde hair is a hair colour which incorporates both shades, often through either balayage or highlights. The combination can be tailored to your hair type and individual style preferences, which means anyone can get on board with the trend.
So to help you shake up your mane, we've rounded up 30 of the hottest shades of bronde that'll help you transition seamlessly with the seasons. Better start booking those hair appointments now!
Lily Collins
Looking just as stylish as her Emily in Paris character, Lily Collins switched up her usual rich chestnut brunette for a lighter, sunkissed bronde.
Kylie Jenner
Ever the hair chameleon, Kylie Jenner debuted this reddish bronde look on Instagram and it's all the summer hair colour inspiration we need.
Kaia Gerber
If you've got short hair and fancy sprucing up your style, give bronde a try. Unlike some colouring techniques which require medium–long tresses to fully benefit from the contrasting hues, Kaia Gerber proves that bronde hair can work even on the shortest of bob cuts.
Sofia Vergara
Feeling a little apprehensive about dyeing your brunette locks? Then you need to take a leaf out of Sofia Vergara book, whose flattering yet understated take on bronde balayage hair is the perfect entryway for hair dye newbies.
Editor's tip: Whichever shade of bronde you decide to go for, don't forget to switch up your hair care system for one that's specially designed for coloured hair. Our favourite? The Dove Colour Care Shampoo and Conditioner, as it helps hair look frizz-free, all while helping maintain your hue's vibrancy.
Gigi Hadid
There are several reasons that we love Gigi Hadid's bronde mane. First, it's a more toned-down take on blonde that requires far less maintenance and looks almost as if it could be totally natural. But also, it's a great way to transition your hue from summer into the autumn/winter months without completely ditching the blonde.
Elizabeth Olsen's Long Bronde Hue
As you can see, adding a few bronde highlights through the mid-lengths and ends can totally transform your overall look, without the fear factor of an all-over dye job.
Gisele Bündchen's Beachy Bronde
Brazilian supermodel Gisele has been rocking bronde hair colour for as long as we can remember. Over the years she's experimented with slightly lighter and darker shades, but our favourite has to be this sun-kissed style with face-framing highlights.
Despite the multiple colours in her hair, they all blend seamlessly together for a gorgeously beachy vibe – we'd expect nothing less from the former VS Angel!
Rachel McAdams's Rootsy Bronde
We love the way that Rachel McAdams blended bronde tones add extra depth and dimension to her 'do, helping to brighten her overall appearance.
Rosie Huntington-Whiteley's Babylights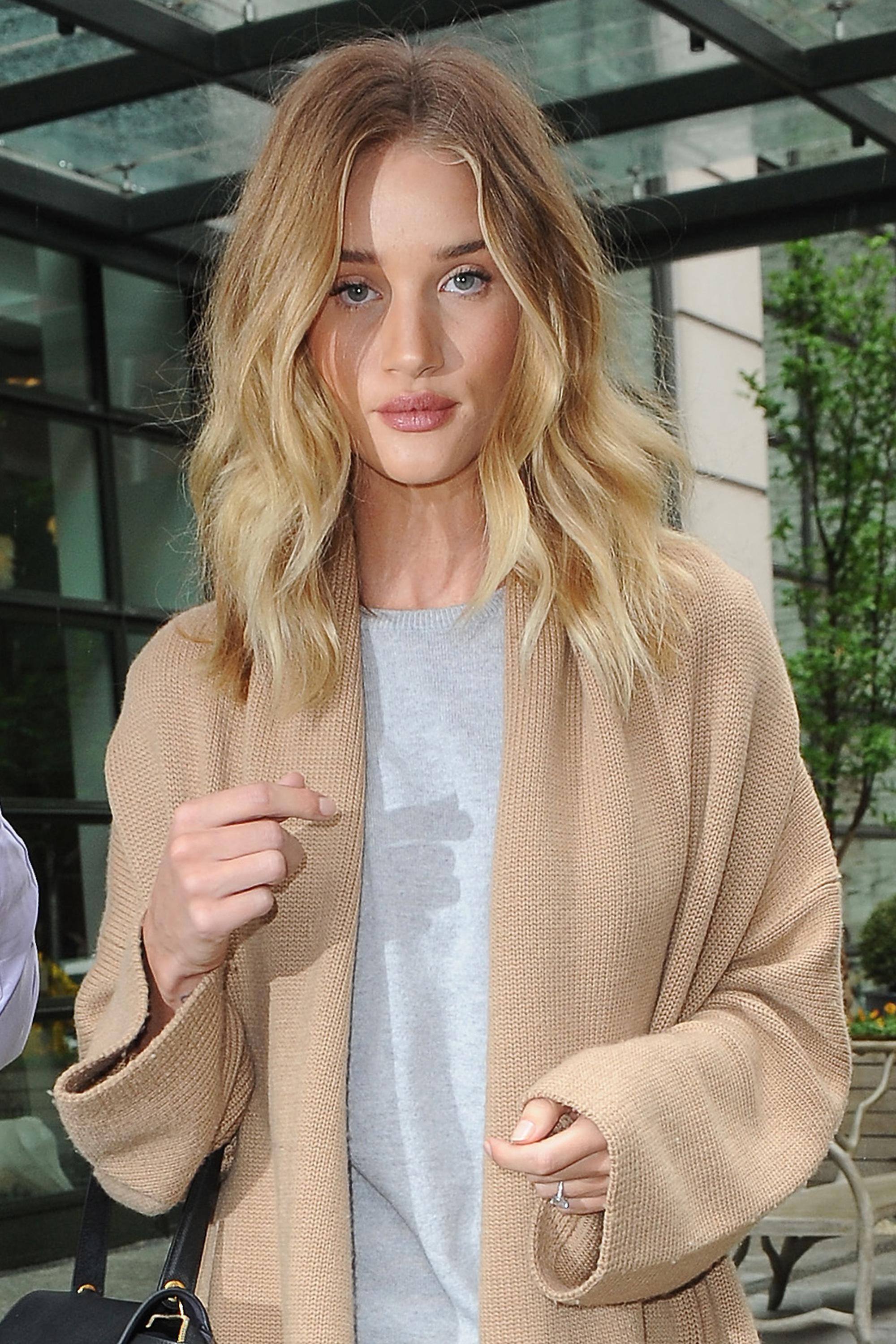 Thinking about going blonde but worried you'll struggle to keep up with the effort (and cost) that comes with maintaining it? Then we recommend avoiding platinum hues and instead of trying a more low-maintenance bronde style, just like Rosie Huntington-Whiteley.
Suki Waterhouse's Bronde Colour Melt
Actress/model Suki Waterhouse is bang on trend with her stunning, warm-toned bronde hair. She's opted for some face-framing golden blonde strands, which look beautiful with her bouncy '70s-esque curls.
Editor's tip: Finding that your colour is looking a little flat? The TRESemmé Colour Shineplex Serum provides coloured hair with a beautifully glossy shine and helps to bring out the vibrancy in your colour. Plus, it'll help to keep frizz and flyaways at bay to keep your style looking perfect all day.
Ashley Benson's Reverse Bronde Ombre
Lucky enough to already have bronde hair? Well, if you're desperate to change up your look, why not give reverse ombre a whirl? Not sure what it is? It works as the name suggests, by reversing the colours used in your ombre look.
As you can see, Ashley Benson's hair gently fades from bronde into a bright, platinum blonde hue, resulting in a subtle look that's full of stylish flair.
Leona Lewis' Toffee Curls
Want to go lighter but worried it'll clash with your skin tone? Well, Leona Lewis' head-turning bronde curly hair will make you think again!
The trick to achieving this look? Keep your roots your natural hair colour and get touches of light brown, with honey-coloured hues strategically placed through your mane. This curl enhancing colour is bound to turn a few heads!
Jennifer Lopez' Sleek Bronde Long Bob
Jennifer Lopez is certainly no stranger to different hair colours, but one of our favourite looks from the icon has to be this glamorous, rich golden-brown lob (AKA long bob). We're sure you'll agree, this sleek hairstyle allows her radiant shade to shine through!
Zendaya's Choppy Bronde Pixie
There is so much to love about Zendaya's pretty, choppy pixie. For a glamorous red carpet event, she opted for this shorter, edgier style that featured a playful mix of dark brown and caramel hues, which helped add an extra dose the feminine charm of this look!
Jourdan Dunn's Brightening Highlights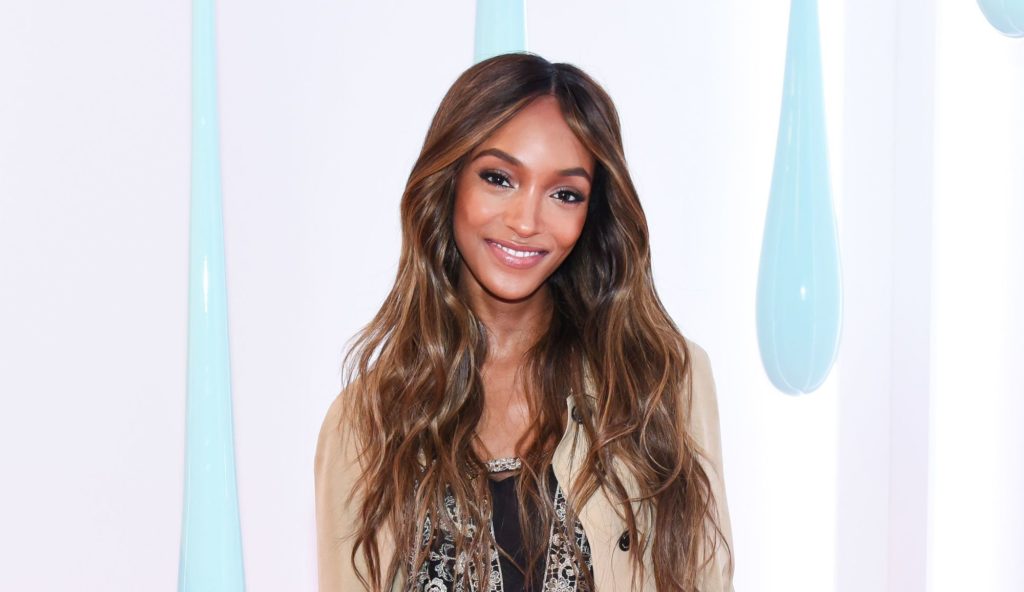 Want to refresh your summer-deprived brown hair? Try getting some bright bronde face-framing highlights added in. It's less drastic than getting an all over dye, but still offers up a big style change. Well, if it's good enough for Jourdan Dunn…
Ciara's Lived-In Dark Bronde
Ciara, you steal our hearts time after time with your amazing style choices – and this dark twist on the bronde hair colour trend has done it again. Just look at that these cool-girl loose waves, which pair perfectly with her sultry, flattering colour!
Laura Vandervoort's Bronde Milkmaid Braid
Trying to imagine what bronde hair would be like in braids? Just take a look at Laura Vandervoot's romantic milkmaid braid. We're sure you'll agree, her dreamy bronde hue makes her hairstyle seriously pop!
Khloe Kardashian's Beach Bronde Curls
Another A-lister who has long been rocking the bronde trend is Khloe Kardashian. Keeping hers ever so slightly nearer the blonde end of the spectrum, Khloe's bronde hair has enviable movement and volume through the lengths, all thanks to her strategically placed highlights.
Cara Delevingne's Ash Bronde Lob
Can't shake off your love for ashy-tinted hair hues? Well, you'll be happy to know that ash bronde hair does exist!
Donning a slightly cooler blonde hue for a more ashen bronde hair effect, Cara Delevingne earned extra style points from us for this gorgeously waved lob-length cut.
Katerina Graham's Butterscotch Bronde Waves
If you're looking for a glamorous way to style your alluring bronde hair hue for a night out, look no further than Katerina Graham's smooth, sultry butterscotch waves. Looks as gorgeous as it sounds, right?
Millie Mackintosh's Bronde Waves
Veering on the slightly browner side of the spectrum, we love how Millie Mackintosh's hair has an illuminated effect, thanks to the warm tones throughout. Take a leaf out of Millie's style book and rock blonder tresses in summer and darker locks in winter.
Lauren Pope's Balayage
Want to go for a colour that looks supernatural, but also exudes glamour? Then go for bronde balayage!
Your stylist will hand paint chunkier highlights on to your locks, which will then lift your natural hair colour. Low maintenance, yet still glam – there's nothing not to love! 
Rita Ora's Highlights
If you have a warm complexion like Rita Ora, rich toffee, caramel and bleach blonde hues will work together to make the perfect bronde hair look. Fine highlights will give your hair plenty of interest and dimension!
Michelle's Red Carpet Look
We love bronde hair for its ability to illuminate the entire face. Keep roots a tad darker than the rest of your mane, and work warm caramel tones into the ends. Go for full-blown glamour with big rollers and plenty of volumes.
Hailey Baldwin's Sweet Updo
This hairstyle is practical, yet elegant. We love a French braid – but throw in a stunning shade of bronde hair colour and you've got a killer look right there!
If you have brown hair, let your natural colour shine through, but lighten things up with some ash coloured highlights.
Chiara Ferragni's Blogger Bronde
As every influencer knows, you have to be one step ahead of the game to lead the way. Which is why you might have already spotted many an Instagram snap of bronde hair. We love this half-up, half-down side braid, that really shows off Chiara's bronde hues in their full glory!
Heidi Klum's Cool Girl Bronde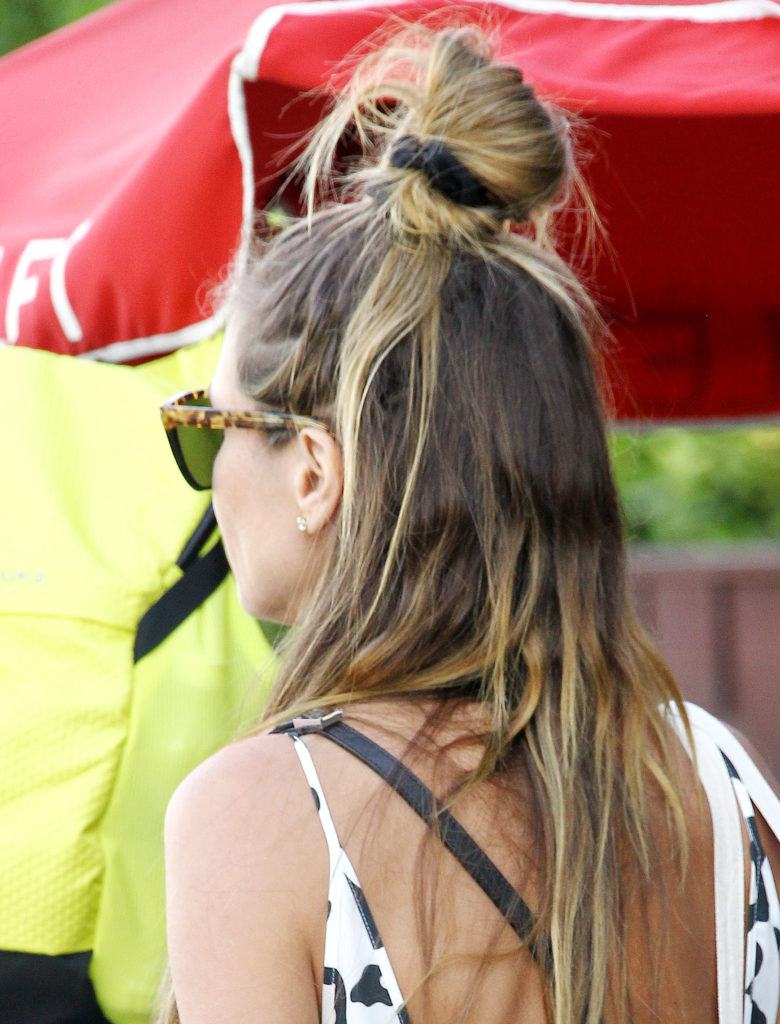 Is it just us, or does Heidi Klum never get it wrong? Like, never?! All we can say is, she's totally killing it with this uber laid back, I-woke-up-like-this hairstyle. Her chic top knot, teamed with flowing bronde locks is the ultimate in cool.
Kate Mara's Smooth Bronde Bun
Bronde hair isn't just reserved for tousled tresses, oh no. This smooth, sleek bun, shows off the bronde hair colour perfectly while creating a polished, chic finish. You'll notice how the roots are darker and the ends are lighter, to create a pretty and subtle hue.
The Bronde Ponytail
As we said before, Heidi never gets it wrong and here she is again rocking an effortlessly glamorous ponytail! Her bronde hair looks chic, while her long tresses display all the pretty tones in her hair. We love that her colour is warm, while her ends are lighter and brighter. Nice work!
The Subtle Transition
The best thing about the bronde hair colour trend is that if you've got brown hair, this is the most natural way to sport lighter tones in your tresses.
We love how there are no harsh lines or stripes in sight. Roots grow in perfectly – so much so, that it's hard to pinpoint where one colour ends and the other begins!
Prev Article
Next Article