9 lush blonde afro styles that'll make you wish you had blonde hair
Time to let your natural strands shine bright!
When you stop and picture a head full of golden blonde strands, many of us would conjure up images of sleek, straight hair, right? Well that's all about to change, because we're here to tell you that blonde afro strands are taking over the beauty scene!
Often overlooked in the hair colour department, naturalistas everywhere are staging a revolt and dyeing their tresses all sorts of incredible hues – but our favourite has to be with the goldilocks girls.
So, to help you on your blonde afro hair journey, we've scrolled through Instagram and found 9 ladies who work the look brilliantly, to inspire your next 'do.
9 blonde afro hair colours that are about to become your new obsession
1.  Golden blonde
We're a sucker for anything gold and that includes this dazzling hair colour, which this mega-babe rocks like a total pro!
When coupled with a gorgeous, bouncy afro, this trendy shade works to highlight your best features and make your curls come to life. Pretty neat, right? Credit: @hereiscee
2. Sun-kissed blonde afro
Keep your afro looking California chic with a sun-kissed hue, that'll make people think you've been away on vacation.
But this isn't just a summer shade, oh no! The warm tints of honey, gold and light caramel in this pretty hue makes your hair perfectly-suited for any season, outfit, or event. Sign us up! Credit: @ownbyfemme
Editor's tip: If you have dyed or chemically straightened hair, you need to make this TRESemmé Platinum Strength Stay leave-in treatment your new BFF! Why? It will give your locks a moisture boost, leave your hair softer-feeling, more manageable and ready to be styled. Neat, right?
3. Buttermilk blonde
If you're looking for a creamy hair colour that's more on the honey-yellow side, let us introduce the shade that's about to become your new BFF: buttermilk blonde!
This subtle, buttery hue will work a charm with natural swirls and spirals, plus it will give you a natural-looking, sunny glow. And honestly, who wouldn't want to look like a glowing goddess? Credit: @drewskie.f
4. Dark blonde afro hair
Want to go lighter but worried it'll clash with your skin tone? Then take inspiration from this Instagrammer's caramel, dark-blonde afro.
The flattering ribbons of dark and light honey, caramel-coloured tones throughout her mane are ultra-flattering and bound to make a splash at your next event! Credit: @hannahfaith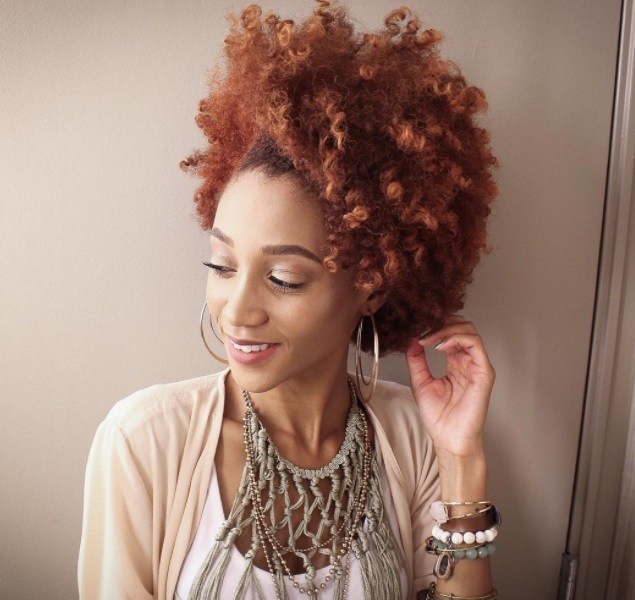 5.  Strawberry blonde
When you mix blonde hues with strawberry-red tones, you get the dreamiest hue ever: strawberry blonde. And when this mega-babe debuted her playful, fruity blonde afro hair colour on Instagram, we just had to stop and stare.
The ribbons of red and bronze running through her mane blend seamlessly, making for subtle yet show-stopping look! Credit: @modelesque_nic
6. Rose gold blonde afro
Still obsessing over pastel colours like peach or blorange? Then give your blonde afro hair a sweeter appeal by getting a gorgeous rose gold colour added in – just like this beauty has done.
This pretty, rose-tinted hue is the perfect colour to rock during summer months and it will give your hair that magical pastel effect you've been dreaming of. Yay! Credit: @mckenza_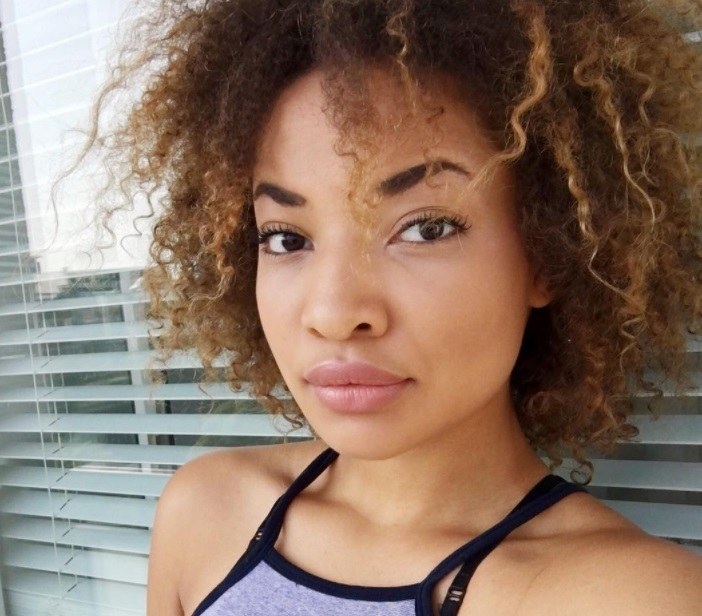 7. Bronde highlights
Worried that bleaching your hair will damage your locks? Instead of going for an all-over dye, opt for more low-maintenance bronde (AKA blonde and brown) highlights.
The trick to achieving this look? Keep your roots your natural hair colour and get touches of light brown and honey-coloured hues placed throughout your mane, and just watch as your curls take the mane stage. Credit: @oliviaxpauline
8. Icy blonde afro hair colour
Okay, so you've already got a blonde teenie weenie afro, but what's next for you? How about giving this icy, greyish-silver blonde hue a go!
This cool-toned, fashion-approved shade isn't for the fainthearted, but will definitely have those around you wondering if you stepped off a catwalk! And honestly, who wouldn't want that? Credit: @lenablu_
9. Multifaceted blonde afro hair
After a blonde afro hair colour that's full of creative flair? Test out the waters of multicoloured hair by adding tones of platinum and gold through your mane, while keeping your roots their natural colour, for an extra edgy effect.
This head-turning hue will add a tonne of movement and dimension to your 'do, while also making your locks look as bright and beautiful as a diamond. Credit: @kassalaholdsclaw
Editor's tip: If you're tempted get a blonde afro hair colour, remember to use a wash and care system specifically formulated for dyed blonde hair. We're currently fawning over the Toni&Guy Illuminate Blonde Shampoo and Conditioner, as it helps hair look frizz-free, all while helping maintain your hue's vibrancy.
Are you ready to get blonde afro hair, or do you want to consider other hues? If so, check out our Hair Colour page! From ocean hair to peachy-perfect hues, you'll be sure to find something to fall in love with.
Prev Article
Next Article
Gallery
Alicia Vikander's mane moments: See the newlywed's prettiest hair highlights
No-one does red carpet beauty quite like Alicia.
See article