10 versatile relaxed hairstyles that'll inspire you to be more playful with your styling routine
Let's get straight to it with these on-trend styles for relaxed hair.
If you've just got your hair chemically relaxed, you're probably wondering what you can do with your new, sleeker strands. Finding cool relaxed hairstyles to try is one of the best things about getting your hair straightened, especially when you're able to try looks that you wouldn't usually be able to pull off.
Click through our gallery to find out some of our favourite hairstyles for relaxed hair and read on for our top tips. It's time to start having fun with your look!
10 hairstyles for relaxed hair that show just how versatile it actually is
1. Seriously sleek
Before we go crazy and start showing you all of the elaborate looks you could try with relaxed hair, let's take it back to basics.
Make the most of your straightened locks by wearing your hair straight and sleek. Not only will straight hair always be in style, it'll also make your hair look longer, so you'll be able to show off all that fabulous length! Credit: @toogroovytexture
Editor's tip: Make sure to look after your hair by using a heat protectant before you go over it with the straighteners. The TRESemmé Keratin Smooth Heat Protection Shine Spray will defend your hair against the heat and also boost shine.
2. Wavy bob
The French girl bob, the Chanel haircut, call it what you like but there's no denying short wavy bobs are one of the hottest looks in hair right now.
Give your own hair the Parisian girl treatment by using a curling wand to add loose waves through your hair before brushing to make them softer and less defined. Credit: @eristheplanet
3. Turn up top knot
If you want to go full-on glam, this slick top knot will do just the trick!
This style will really make your facial features stand out and it's really just a case of tying your hair into a bun. It's no more difficult to do than a regular bun except you should take some extra care to make it a bit neater and more evening appropriate. Credit: @zimasa_caleni
Editor's tip: Neatness is key to this look, so be sure to have a gel, like the VO5 Mega Hold Gel Spray, on standby to slick down any rebellious strands that escape.
You can also finish up your style with an allover spritz just to lock the look in place and provide some extra protection.
4. Statement pixie
Prefer a shorter style? We've got you. Pixie cuts are one of our favourite relaxed hairstyles because they're easy to style and can still be worn in different ways by playing around with texture. Feathered, wet look or even spiked-up, the world is your oyster here! Credit: @_iamandreab_
5. Hollywood curls
Just because your hair is relaxed that doesn't mean you can't still go curly if you feel like it – and honestly, who can resist Hollywood curls?
If you're concerned about using heat on your hair, there are plenty of ways you can create curls without it – think flexi rods and braid outs. So just play around with the different methods until you find the curls you like best! Credit: @karinabaileyrae
Editor's tips: Curled your hair but feel like it's missing that special something? Get that film star finish with a touch of shine spray (the TONI&GUY Finishing Shine Spray is a great one) for dazzlingly, glossy curls.
6. Lush low pony
Into your fitness and need hairstyles for relaxed hair that'll hold up in the gym? Ponytails are the quickest and easiest way to get your hair out of your face while you're working up a sweat.
Plus, by just adding some shine spray or a metallic accessory it can easily take you from day to night. So while it's low key it's actually super versatile! Credit: @mariahnicole_16
7. Undone bun
Instead of your standard messy bun, next time try this low, undone take on the go-to look. It's soft and feminine thanks to the face-framing sections of hair left loose around the face, so it's a great balance between "I woke up like this" and you still put some effort in. Credit: @amymaxine
8. Romantic fishtail braid
Braids are always bound to get the compliments flooding your way and this side-swept fishtail variation is a little more unusual than the regular 3-strand. It looks beautiful but there's a practicality to it, too, which is why we love it so much. Credit: @chonnanatural
9. Vintage updo
Updos take a bit more time and patience to create than some other styles but they're worth the extra effort. This pin-up girl inspired twisted look is absolutely stunning and screams old-school glamour. Credit: @withlove_lisa
10. Headband details
It's easy to get stuck in a rut with your hair but all you really need to reignite your love with your mane is a new accessory!
This twisted headband adds a real boho vibe to this Instagrammer's style, as well as acting as a great concealer for frizzy roots – clever, no? Credit: @p.hairjourney
Prev Article
Next Article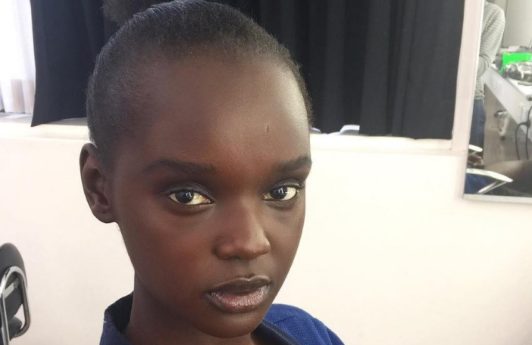 Article
Duckie Thot speaks out about natural hair and the fashion industry
The Australian model makes an important statement.
See article