5 Pretty and professional hairstyles for natural hair
Who said practical couldn't be pretty?
Let's face it, the search for professional hairstyles isn't the easiest of tasks, especially if you have natural hair. And it seems that everyone is having an opinion on how black women should and shouldn't be wearing their hair – well, we think it's time to take charge of your mane and rock it your own way!
With that in mind, the All Things Hair team have trawled through Instagram to find you 5 fab professional hairstyles for natural hair, that don't compromise on an ounce of style. So, what are you waiting for? Click through our gallery above, or scroll down to see which 'dos we're currently crushing on!
Natural hair: 5 Pretty and professional hairstyles from Instagram
TWA
In our eyes, there's not an occasion that the TWA (AKA the teeny weenie afro) isn't perfect for! A wedding? Of course. For a casual brunch? You bet! But that's not all: this cute, cropped and majorly low-maintenance look provides the ideal hair solution for when you need to get ready ASAP. Now you've no excuse to be late ever again! Credit: @wayne_1_
Braided updo
Looking for professional hairstyles that are also protective? Then a beautiful braided updo is perfect, because it ticks both these boxes! And if you're in need some braiding inspo, then take a look at these 5 incredible braided hairstyles that will last all day! Just remember to have your bobby pins close to hand, to help you secure this 'do in place. Credit: @allthingsammamama
Bun
Who said buns are basic? Not us, that's for sure! And this lovely lady (above) shows us just how it's done. Beautiful bun hairstyles are an easy way to keep your natural tresses, dreadlocks or box braids out of your face while you're working, so you can focus on being the boss woman you are! See, practical can be pretty too. Credit: @petie_gold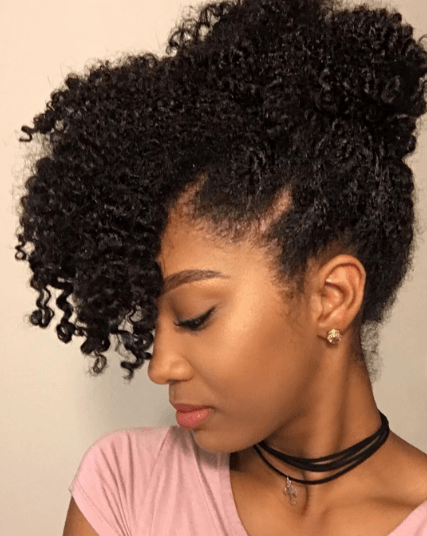 Curly updo
Want an updo that can take you from desk to dinner? Then try drawing inspiration from this curly updo on Instagram and work your curls au naturel – it really is the perfect way to celebrate your natural hair texture in all its glory. To get this look in 5 simple steps, why not give our braided top knot tutorial a go? Trust us, you'll have professional-looking locks in minutes. Credit: @micheledee_
Braided bun
Take your bun game to the next level and upgrade it with the addition of a pretty braid! And if you need some #hairspiration, take a look at @chimeedwards' hairstyle above – we just love the classy unicorn braid and bun combo! Credit: @chimeedwards
Editor's tip: Natural hair often needs a little extra TLC, so before styling your mane, ensure it's moisturised with the LOC, LOCO or LCO method (liquid, oil and cream). For liquid, we love the TIGI S-Factor Papaya Leave-In Moisture Spray (£16.45*), as it will fully hydrate your 'fro and leave your strands smelling absolutely divine! And for oil and cream, try the Dove Advanced Hair Series Pure Care Dry Oil Nourishing Treatment (£6.99*) and the Dove Advanced Hair Series Quench Absolute Crème Serum (£6.99*). 
Looking for more professional hairstyles for natural hair? Then don't forget to check our Black Hairstyles, Braids and Natural Hair Care pages, will you? These pages are just teeming with amazing ideas for your tresses!
*RRPs are Unilever suggested retail prices only, it is at the discretion of the individual retailers to set the actual price.
Prev Article
Next Article
Gallery
On-trend curly weave hairstyles we think are worth double tapping
These curly weave hairstyles are making us want to switch up our manes!
See article