4 Natural hair styles we love from Solange's new video!
So many stunning looks - which one's your favourite?
Today, Solange Knowles released the official music video of her latest song, Don't Touch My Hair. As any natural-haired gal will tell you, this is a rather apt song title (just read our 5 things only naturalistas will understand article if you don't know what we mean)! And while the song's poignant and powerful lyrics will strike a chord with women everywhere, it was actually Solange's amazing natural hair styles that caught our attention most!
So, if you've not seen the video yet, don't fret: you can see the singer and her fabulous 'dos, via our gallery (above) or by scrolling down to discover which of the fierce natural hair styles we loved the most!
Natural hair styles to die for from the Don't Touch My Hair video!
Beach-inspired box braids
We can always count on Solange to be a trendsetter, especially when it comes to natural hair styles. But our hearts almost stopped when the video opened with the sultry starlet rocking box braids, heavily adorned with an array of pretty beads and cute cowrie shells. Okay, granted: if you have short or medium-length hair, this 'do probably isn't the easiest to sleep on, but who cares about that when your hair is looking so on fleek?
Finger waves
Looking for vintage-inspired natural hair styles? Then why not draw inspiration from the 1920s-fueled finger waves that featured in the video? After all, they were a big hit on the autumn/winter 2016 catwalks, so expect everyone to be rocking them at parties, weddings and even retro-themed Halloween festivities this season.
Just remember to keep your finger waves subtle, and make sure you have a lot of bobby pins on hand to help hold the hairstyle in place all night long.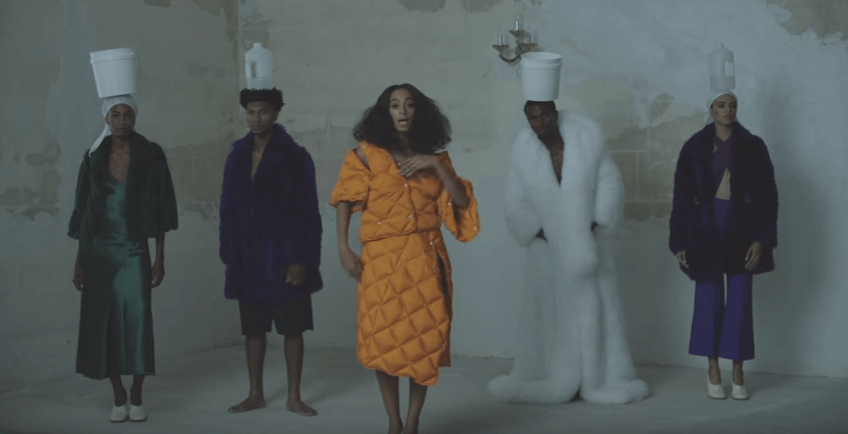 Au naturel
When in doubt, get your 'fro out! This is definitely an adage that the All Things Hair team lives by, and it seems that Queen Bey's little sis agrees with us, too (and why wouldn't she?)! This au naturel look is a signature of hers and we just love how she embraces her natural hair texture, harmoniously styling in this season's cool, collarbone-skimming, medium-length hair.
Sculptural braids
In true #blackgirlmagic style, Solange shows off all the wonders of black hair with this braided hairstyle. This 'do tows the line between traditional afro locks and futuristic styling, boasting a halo of sculptural braids that look as if they have a life of their own. Come on, who needs hair accessories when you can just mould your braids, right?
Editor's tip: Planning to recreate one of our favourite natural hair styles from the Don't Touch My Hair video? Then don't forget to prep your afro hair with the LOC, LOCO or LCO method (which stand for liquid, oil and cream). The Tresemmé Botanique Nourish & Replenish Hydrating Mist (£5.50*) works a treat for your liquid section, while the Dove Advanced hair Series Pure Care Dry Oil Nourishing Treatment (£6.99*) and the Dove Advanced Hair Series Quench Absolute Crème Serum (£6.99*) are great for or the hair oil and cream sections.
If you're looking for more natural hair styles, then don't forget to check our Black Hairstyles, Braids and Natural Hair Care pages, will you? These styling hubs are just bursting with amazing ideas for your beautiful natural tresses!
*RRPs are Unilever suggested retail prices only, it is at the discretion of the individual retailers to set the actual price.
Prev Article
Next Article
Gallery
The ultimate guide to tree braids: From cornrows to weaves
Not sure what tree braids are? Looking for tree braid pictures? Here are the stars who've rocked the trend brilliantly, plus what you need to know about the look!
See article