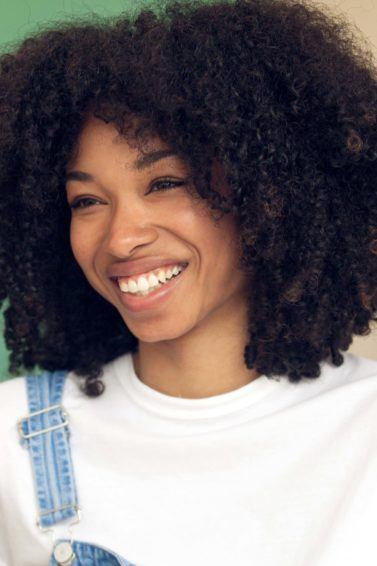 Natural black hair: Everything you need to know
Learn all about natural black hair!
It can be a little confusing when the term 'natural black hair' is mentioned. But what you need to know is that, when people use it, they're referring to the natural texture of black locks. Which means hair that hasn't been chemically altered with straightening products and/or techniques, like relaxers, texturisers or perms. Often, when searching the Internet, you can also come across words like 'naturalista' or 'transitioning'. 'Naturalistas' are women who celebrate their natural hair, and 'transitioning' refers to the transition from chemically straightened hair, back to their natural texture.
Want to find out more? Keep reading…
All you need to know about natural black hair
The common misconceptions about natural black hair
There's a common misconception that natural black hair doesn't grow as fast as other hair types, and this is one myth that the All Things Hair team would like to dispel. But where does this false idea come from? Most of the time, it's because black hair has tight curls, coils or kinks, and looks relatively short. This effect, known as 'shrinkage', plays a large part in the deceptive short appearance of natural black hair. But believe it or not, if it was straightened, it would actually be quite long (some hair types are known to shrink up to 75%!).
Another contributing factor to the myth is the fact that natural black hair is quite fragile and prone to breakage. Unfortunately, hair growth and breakage often happen at the same rate, which makes longer tresses relatively invisible to the eye! Handling your mane with extra TLC, moisturising and keeping it in protective hairstyles can help with retaining and maintaining healthy-looking tresses and visible length.
Breakage basics
Now we've established that natural black hair is fragile, let's learn why it's the case. To understand why this hair type is prone to breakage, we first have to focus on the form of the strands. The 'S' or 'Z' shape of black hair makes it difficult for its natural oils to be evenly distributed down the hair shaft, meaning that natural tresses are more prone to dryness and brittleness – and as you know, when hair is brittle, it can easily break and frizz.
Before you start panicking, there are ways to aid the hydration of natural black hair. One of them is to use conditioning, pre-shampoo treatments, which are great for retaining moisture during the washing process. Not to mention, using a shampoo and conditioner specifically designed for dry and/or curly hair can really make all the difference! The Dove Advanced Hair Series Absolute Quench Shampoo and Conditioner, for example, targets dry, coarse and curly locks and is infused with buriti oil, meaning that the formula helps with manageability and smoothness.
How can you keep your natural black hair moisturised?
Moisturising hair oils, leave-in conditioners, restorative hair serums and treatments can be effective for hydrating and keeping natural black hair soft and supple. But over-handling is another culprit of natural hair breakage, which is why protective styling is important to help guard your hair from over-manipulation and other factors. So, try and find hairstyles that keep your ends safely tucked in and that require very little manipulation.
Feeling inspired to start/continue your natural black hair journey? Then learn more about this hair type by reading our natural hair tips article and our afro haircare dictionary!
Prev Article
Next Article
Article
12 Easy Ways to Get Healthy Hair at Home
12 tried and true tips for achieving healthy hair.
See article