People are freaking out about these flower hairstyles for afro hair (and you will, too!)
If you haven't seen these flower hairstyles for afro hair yet, you're seriously missing out!
Are you looking for a new way to wear your natural hair this spring? Then you need to take some serious style notes for the naturalistas we found rocking beautiful flower hairstyles for afro hair because they've got spring vibes written all over them!
The trend was started by Instagram star Kiera Please, and it's all about getting playful with flowers (be they real or fake) and placing them in your natural mane. And guess what? The result isn't just perfect for festivals or casual events, it can work a treat for formal affairs, too…
Flower hairstyles for afro hair: 7 ways to rock natural hair + flowers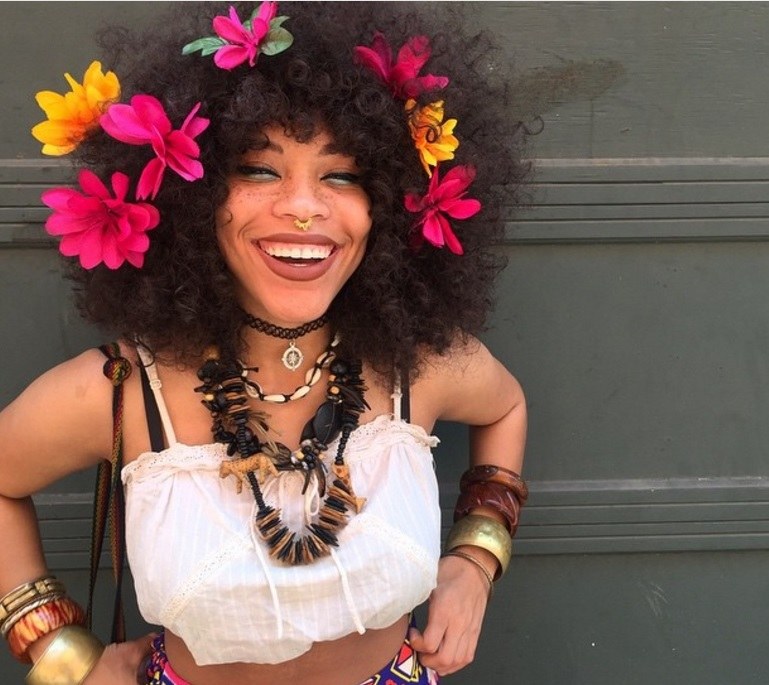 1. Fluffed out natural hair with flowers
Some days, curls just have to be shown off! The best way to do it? By dotting around a few of your favourites flowers into your natural mane, like this beauty has done.
In order to get flowers in natural hair right you'll need to use a wide teeth comb to fluff out your curls — the fluffier the better! Then, place your flowers around and get ready to take on the day, in style. Credit: @kieraplease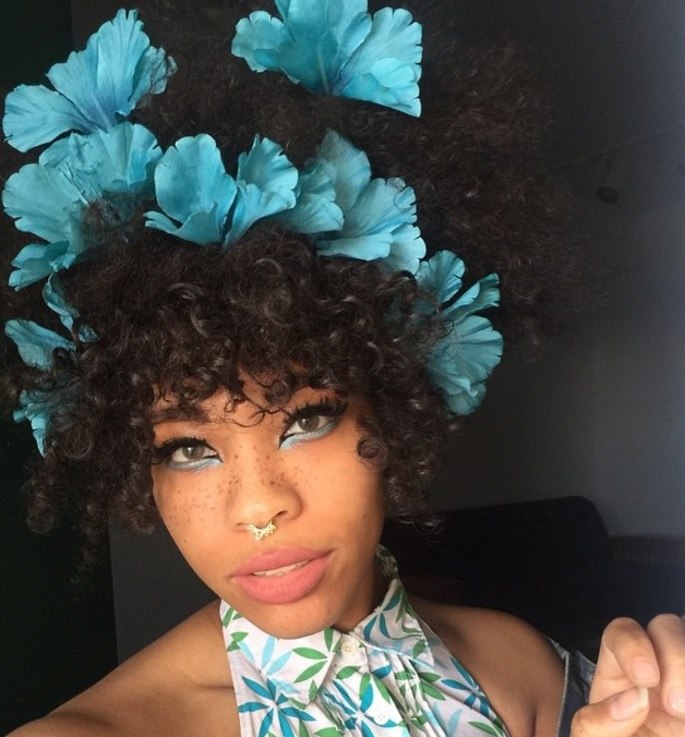 2. Natural floral updo
As well as accessorising her natural hair with flowers, Kiera works them into her updos, too.
For example, these breathtaking blue flowers have been peppered into her pineapple updo, effortlessly matching her flower arrangement to her blue eyeliner. Credit: @kieraplease
Editor's tip: Want to pull off natural hair + flowers? Then you'll need to ensure that your afro looks super moisturised with the help of a leave-in conditioning mist, like the TRESemmé Botanique Nourish & Replenish Hydrating Mist.
Enriched with coconut milk and aloe vera, this light-weight conditioning mist is great for detangling and hydrating your natural hair. But the best thing? It'll leave your curls smelling heavenly!
3. Flowers in natural hair +low ponytail
Swirly locks always look adorable when fashioned into a natural low ponytail, and this cute example is certainly no exception. Strategically pairing flowers with this otherwise simple hairstyle will really take your mane to the next level, so what are you waiting for? Credit: @roxiejanehunt
4. Floral space buns
When it comes to flower hairstyles for afro hair, you really can't go wrong with '90s-perfect raver buns, like the ones we spotted this curly-haired queen rocking.
With these sweet space buns in your life, your spring/summer activities (be it Afropunk or an outdoor wedding) will be no match for your budge-proof, blooming mane! Aren't flowers in natural hair super fun?Credit: @deja_letrice
5. Floral headband with twisted afro pigtails
Ensure things are neat and tidy with these twisted natural pigtails that stylishly keep hair out the way and under control, all while evoking spring vibes with a floral headband. Credit: @joyah
Editor's tip: Low manipulation hairstyles, like this one, look their best when nourished, so make sure you've got an oil at hand, like the Dove Advanced Hair Series Pure Care Dry Oil Nourishing Treatment.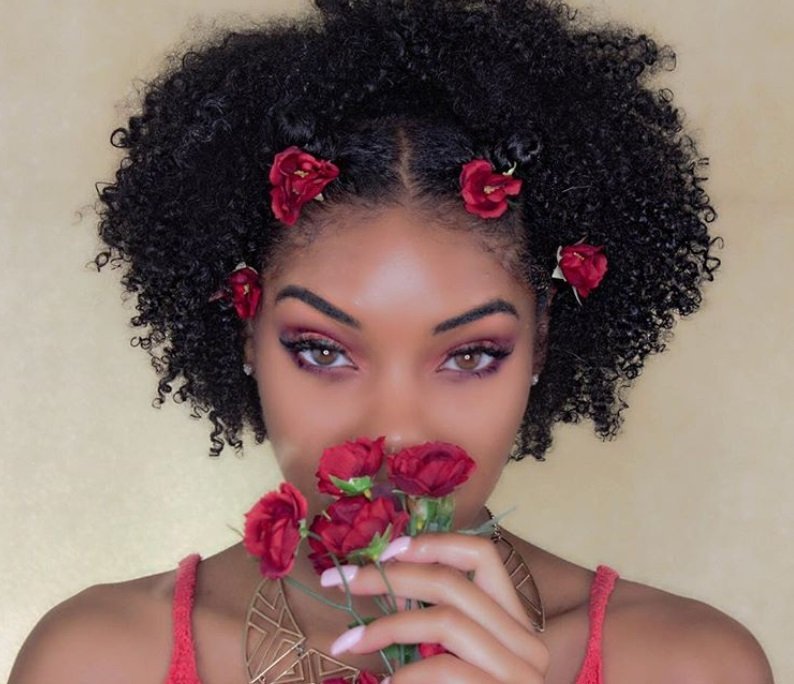 6. Half-up bantu knots with flowers
Nothing pops against chocolate brown hair quite like red flowers in natural hair! So, when we saw this beauty rocking her natural hair with flowers and half-up bantu knots, we couldn't help but fall in love! Credit: @brialarine
7. Short natural hair with flowers
While you might think flower hairstyles for afro hair won't work on short 'dos, this beauty is here to show you how cool short natural hair with flowers can be.
Here she gives her TWA a spring upgrade by placing some white roses and smaller purple blooms in her mane, for an ultra-romantic effect. Ooh la la! Credit: @curlbox
Prev Article
Next Article
Gallery
Black hairstyles with fringes: Instagram's best
Your one-stop shop for black hairstyles and bangs!
See article