8 Best Long Bangs Hairstyles We've Ever Seen
Full, piecey or Bardot, will you be trying the long bangs trend this season?
Big things are happening in the world of fringes right now. On one hand, we've got stars like Bella Thorne flying the flag for short, edgy micro bangs; while on the other end of the spectrum, long bangs are also really starting to take off in a big way.
With Camila Cabello and Taylor Hill both fans of the style, we're seeing a variety of different ways to channel the look. That being said, these long fringe bangs all have one major plus point in common – they look totally effortless!
1. Camila Cabello's grown-out bangs
Make like Camila Cabello with long bangs for long hair and let your fringe grow out that little bit extra for eyebrow-skimming bangs. Half of her heart may be in Havana-na-na-na, but we've fallen wholeheartedly for her signature style!
Here's why you'll be seeing long layered hair with bangs everywhere this year.
2. Hailey Baldwin's Farrah Fawcett fringe
Hailey Baldwin's feathered long fringe bangs adds an undeniably retro feel to her big, beautiful waves. Keeping her fringe straight against her curled locks, the layered bangs are the mane event here.
Editor's tip: To copy Hailey's look, scrunch a handful of mousse (such as the TONI&GUY Volume Plumping Mousse) through your hair while damp. Then blowdry and it'll help set your curls for an ultra voluminous look.
3. J Lo's split bangs
Bardot bangs, parted bangs, split bangs, whatever you want to call them, they're everywhere right now!
Got a long face? Curl your bangs away from the face, as this will balance out your features by adding body and width at the sides.
4. Lily James' full fringe
With all of these trendy new fringe styles floating around it's easy to overlook the most classic fringe of all! Take it back to basics like Lily James with a chic full fringe and you can rest assured that it won't ever date or go out of season.
5. Rita Ora's sweeping side fringe
Clinging on to your long fringe? A trim isn't the only option, you could try combing your bangs over to one side for a side-swept look. Take Rita Ora's full and sweeping style for example: it's soft and feminine, and adds a girly touch to her top knot.
Seriously sassy ways to wear side bangs!
6. Taylor Hill's wavy look
Don't have naturally straight hair? It's 2018, people, we're all about being inclusive and long fringe bangs can work with all hair types – so if your hair's got a natural wave to it, all the better. After all: if Taylor Hill says it works, it works, okay?!
Girls who are killing the wave game RN.
7. Zendaya's natural hair with bangs
You can always count on Zendaya to provide us with natural hair inspiration and she's given us all the advice we need on what to do with long bangs on curly hair. Keep them soft for a look that fits seamlessly into the rest of your hair, giving an effortlessly natural finish.
8. Nina Dobrev's piecey bangs
Stop stressing about your fringe going gappy girls, because turns out we're all about the intentional piecey-ness these days. However long your hair, it adds that IDC vibe that we all aspire to.
Editor's tip: Gappy we want, greasy we don't. To save yourself having to rewash your whole hair, you can use the TONI&GUY Instant Refresh Dry Shampoo to revive your fringe between hair washing days.
Prev Article
Next Article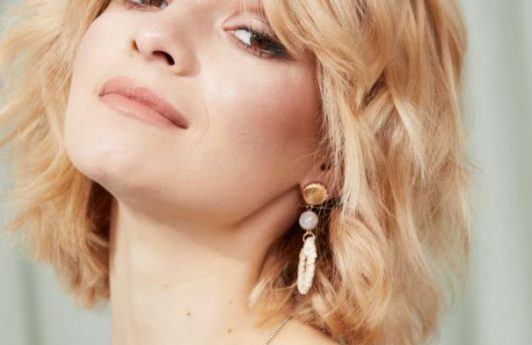 Look Battle
Bobs vs. Bangs
Feeling a bit confused by the different hair terminology? We understand. In a world where there are new styles being created every day, it can get a bit overwhelming. But fret not, as we're here to help clear the air and educate you on the must-know hair terms. Today's lesson: bobs vs. bangs. Bob Hairstyles […]
See article