What Is Balayage? A Complete Guide to the Different Types of Balayage
Thinking about getting balayage? Here are all the things you need to know, from the differences between balayage and traditional highlights to how to care for your balayage hair. Of course, all the best balayage hair colour inspiration awaits you below.
What is Balayage?
Balayage (pronounced bah-lay-ahge) is a hair colouring technique in which colour is applied freehand to create natural-looking highlights that give a sun-lit effect around the face and at the tips. Said to have originated in Paris in the 1970s, today it's still one of the most-coveted hair looks around, with Rosie Huntington-Whiteley, Shay Mitchell and Jessica Alba all firm fans.
Balayage vs. Ombre – What's the Difference?
It's easy to get balayage and ombre confused but there are a few noticeable distinctions between them. Ombre is a graduated hair colour look that fades from dark at the roots to lighter at the tips. The most visible difference is that ombre is applied horizontally rather than vertically (as with balayage), with two distinct tones which are blended mid-way up the hair to give a soft transition from one colour to the other.
Generally, ombre is more of an obvious finish, whereas balayage has a more natural effect. However, you can also have balayage ombre, which is a combination of the two styles together.
Balayage vs. Highlights – What's the Difference?
Traditional highlights are applied using foils from as close to the root as possible. With balayage, the colour is applied in selected strands on the top layers of the hair rather than all over. Balayage regrowth is softer and less noticeable, making it a more low-maintenance alternative to classic highlights.
What Does Balayage Hair Look like Before and After?
As with any hair colouring process, balayage can result in some dryness, especially if you're going significantly lighter. So, be sure to take care of your balayage hair at home by using nourishing products which put some of that moisture back into your hair to keep your colour looking its best. Credit: @hairstylist_sarabea
Editor's tip: In addition to your regular conditioner, we recommend caring for your balayage hair by treating it to an intensive deep conditioning treatment at least once a week. The TRESemmé Revitalise Colour Shampoo is ideal for colour treated hair types as it nourishes hair while making your colour look more vibrant for up to 12 weeks.
How Long Does It Take to Get Balayage Hair?
The process of getting balayage varies in length but takes on average between 2-4 hours. Different colourists have their own methods but generally the process will follow the following steps:
Consultation – You'll start with a consultation, in which you discuss with your colourist what you want, show them any reference pictures you've got and talk about what's possible on your hair.
Application – Your colourist will then section your hair and apply the colour with a brush or their hands. They may use foil or cotton wool to keep certain sections separate.
Developing time – The hair colour is left on to develop, which can take around 30-40 minutes.
Rinse –  Once the colour has developed, it will be washed out, shampooed and assessed by your colourist.
Toner – Depending on the colour you're trying to achieve, you may then need a toner to be applied to achieve your perfect shade.
Blow dry – Finally, your hair will be blow-dried and styled to your chosen finish.
Can You Do Balayage at Home?
You may have seen that there are some at-home balayage kits out there on the market but we'd suggest that balayage is best left to the professionals. The benefits of having a professional applying your colour is that they'll be able to tell you what's achievable on your hair and they'll know which tones and where best to apply the colour to flatter your face and colouring. Credit: @meltedbymish
How Much Does Balayage Cost in the UK?
The price of balayage can vary a lot depending on where you live, the level of your colourist and your desired look but you can expect to pay anywhere between £70-£250. Most salons offer a free consultation beforehand, so you can inquire about the exact costs involved before you commit.
What Are the Best Balayage Hair Colours?
While it's true that blonde balayage is one of the most popular types of balayage, the balayage highlighting technique also works beautifully on brunettes, red, black and even more trendy hair colours, like rose gold and purple. See some of our favourite balayage hair colours, here.
Blonde
If you want to go blonder but still want it to look as natural as possible, balayage is the ideal solution. And best of all, you won't have to worry about the regrowth coming through.For silky hair like in the picture, we love SheaMoisture Miracle Hair Styler Leave-In Treatment.
Credit: @friseursalon_astridhansen
Brown/Brunette
Working in some lighter tones a couple of shades lighter than your natural colour will add fresh dimension to brunette locks. Credit: @jaybalaybabe
Dark Hair/Black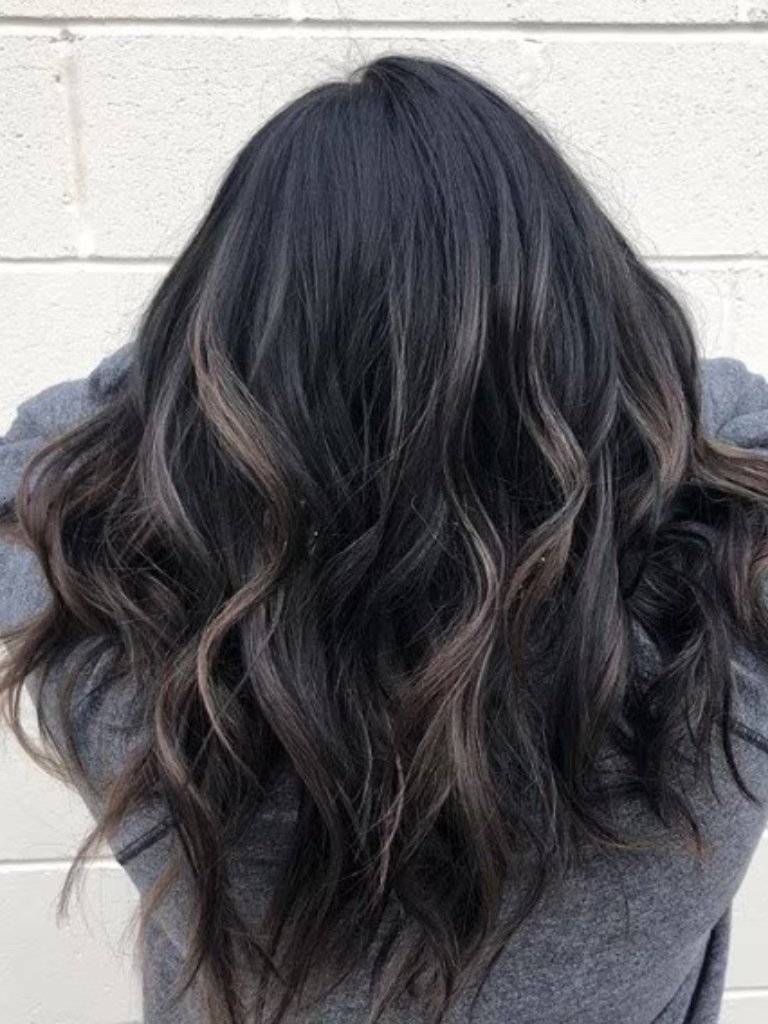 Dark brown and black hair can have a tendency to look flat and one-dimensional and balayage is a flattering way to lift the colour without changing your look too drastically. Credit: @styled.by_sarah
Caramel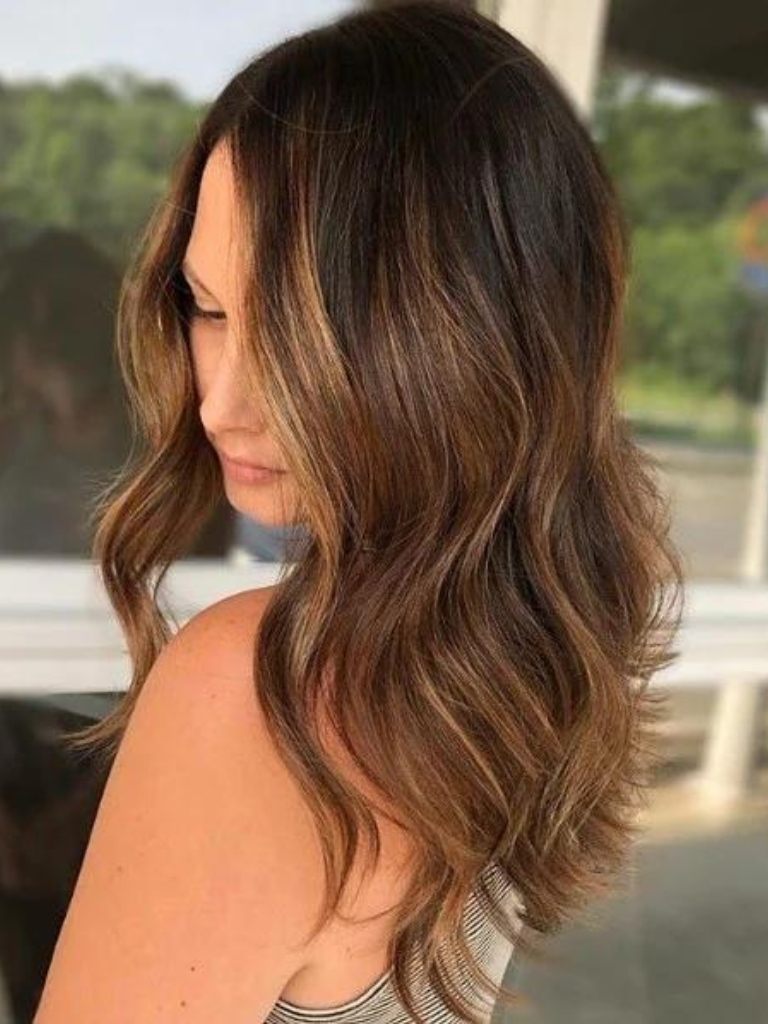 Blending chocolate and lighter golden tones, this dreamy caramel balayage gives a rich warmth to the look.  Credit: @jessicascotthair
Ash Blonde
Ash blonde – with its mix of cool blonde and silver grey tones – always looks amazing. Credit: @sharon.nguyen.hair
Brown Blonde
The perfect middle ground between blonde and brunette, bronde balayage is the ultimate look for beachy, cali-girl vibes. Credit: @unity_salon
Copper
Copper hair is having a moment right now and we love the way this balayage flows into a striking, vibrant copper at the ends. Credit: @hydrahairsalon
Dark Brown
Fall in love with your colour again by enriching dark brunette with multi-dimensional strands of colour. Credit: @hairbyamybee
Red
Maintaining bright colours like this vivid red requires a lot of upkeep, but blending your roots through with balayage means you can go longer between salon appointments. Credit: @beautybyahmari
Dark Blonde
Rather than simply dyeing over blonde hair with a darker shade, a dark blonde balayage like this will add depth to faux and natural blondes alike. Credit: @juliewalberg
Rose Gold
Making it your mission to be more experimental with colour? Let this Instagram-approved rose gold balayage inspire your next look. Credit: @greathairbysarah
Pink
Take your love for pink hair to the next level with a candyfloss pink balayage, perfect for festival season. Credit: @lexybowmancolorist
Purple
If you want to rock a brighter colour but naturally have quite dark hair, this purple balayage with a dark root smudge could be just what you need. Credit: @blendedbybridget
Auburn
Auburn balayage gives brunette base colours a warm, autumnal feel. Credit: @craft_and_mane
Ash Brown
A smoky ash brown balayage gives a unique effect that'll keep your brunette looking on trend. Credit: @rialda_ombrefrisor
Beige Blonde
This beautiful sandy shade may be called beige – but one look and you'll see that it's anything but! Credit: @baidoeshair
Baby Blonde
Ultra-light blondes like this one instantly give a scandi, cool-girl look that we just love. Credit: @tangiblehairdressing
Black-to-Blonde
By painting lighter babylights closer to the roots, your colourist will be able to soften the contrast between your base colour and the colour at the ends, resulting in a smooth graduation of colour. Credit: @bobbypinsetc
Honey
Looking for a way to warm up your complexion? Opt for honey blonde balayage to add a rich, golden dimension to brunettes. Credit: @rebeccamayhair
Light Brown
Ashy but understated, this cool-toned light brown is a wearable but updated take on brunette for this season. Credit: @yougotyourhairdonebyhannah
Mahogany
Looking to transition your brunette into the colder months? Winter shades don't get better than this mahogany blend. Credit: @mariadangelohair
Pearl Blonde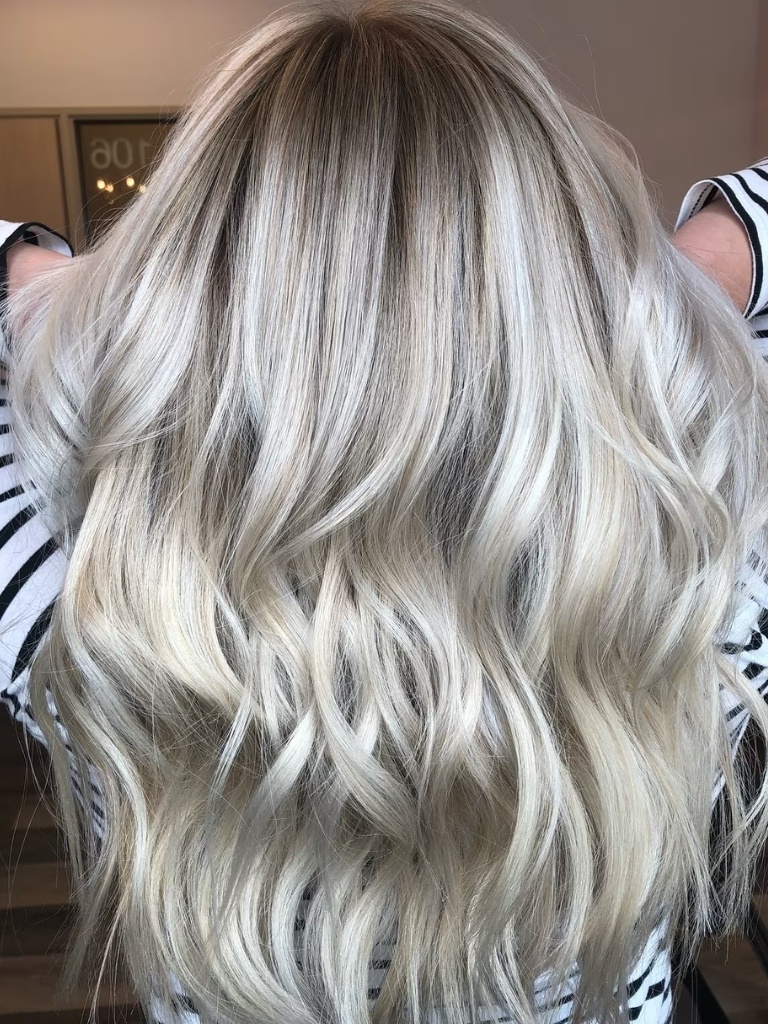 For blonde hair that dazzles, look no further than this shimmering pearlescent hue. Credit: @vanityboutiquesalon
Redhead
Natural (and not-so-natural) redheads, take note. Whether you're more of a dark auburn or a strawberry blonde, try adding some natural-looking copper highlights for a subtle sunkissed effect. Credit: @hairbyjennifields
What Are the Different Types of Balayage?
Balayage isn't just suitable for one type or length of hair, it's versatile in that it can flatter whether you've got a bob or flowing locks, straight or textured tresses.
Want the proof? Here are some of the most common balayage looks to try, for all hair types.
Bob
The easiest way to add excitement to your bob cut? Placing balayage highlights through your hair, focusing on the ends and through the front, will add detail and interest to the look. Credit: @sophielizabethfox
Short
Low-maintenance style doesn't come simpler than this chic short hair and blonde balayage combo. Credit: @hairbybrittanydonalyn
Straight
While waves and curls are great for showing off the different tones in your balayage, sleek, straight balayage hair can look just as stunning. Credit: @hairwizardofoz
With Extensions
Balayage is a great way to blend extensions into your natural hair for a more seamless look. Credit: @bykelliiicox
Lob
Consider focusing your highlights more around your face and eye line to really open up your face and flatter your features. Credit: @denizprocksch
Long
If your long hair is your crowning glory, one way to stop long hair looking flat or weighed down is to blend balayage through the lengths to give it more shape and body. Credit: @hair.chels
Subtle
Balayage is perfect for those who have never dyed their hair before. We recommend keeping it subtle at first, starting with just a few lighter strands and then you can easily build up the colour. Credit: @kybalayagepdx
Curly
The balayage technique works on any hair texture – including natural hair, making curls pop and giving them a more defined look. Credit: @sayriajade
Medium
Give your medium length hair a fresh update for the new season by adding natural balayage highlights. Credit: @brushedandbalayaged
With Fringe
Fringes are seeing a revival, which is good news for balayage obsessives as they pair perfectly with highlights to create a retro-inspired look. Credit: @balayagebybrek
Reverse
Rather than lightening the hair, reverse balayage involves applying a root smudge to darken the roots to give an overall darker shade while keeping the ends light and bright. Credit: @sailorbexx_hair
More Types of Balayage to Check Out:
Prev Article
Next Article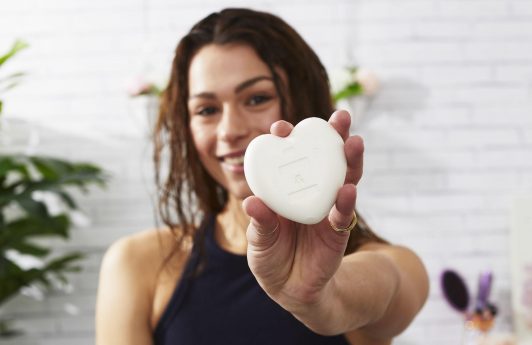 Tutorial
How to Use a Shampoo Bar: Your Step-By-Step Guide
Thinking of transitioning from bottled shampoo to using a shampoo bar? Here's everything you need to know to make the switch.
See article