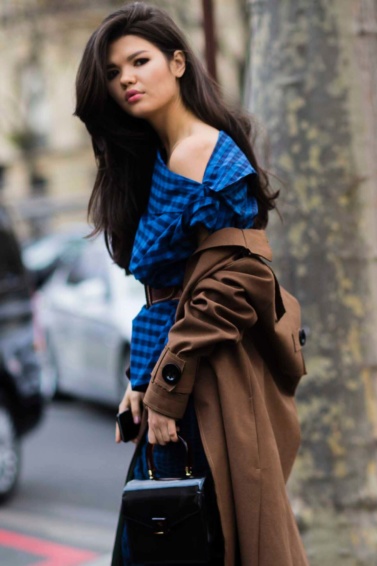 These are the products (and techniques) you need to recreate salon-worthy blow out hair
Skip the salon. These tips, tricks and products will give you expensive-looking blow out hair in a flash...
Does anything add a spring in your step like getting your hair professionally blow-dried? Like a magic revolving door, you step into the salon with limp locks and leave with a gorgeous, bouncy mane. Want to recreate the look at home? All you need for the perfect blowout hair is the right tools, products and a little bit of expert-approved know-how.
Luckily, the All Things Hair team is on hand to help you discover the best tips, tricks products for achieving salon-worthy blowout hair. Whether you favour a more Moss or Middleton approach to your blowdry, our essential guide will help you master the look.
How to make your blow out hair last longer
1. Double shampoo
The bottom line is the cleaner your hair, the longer a blow out will last. It's not about doubling your shampoo dose, but about shampooing twice. This will leave your hair squeaky clean: the perfect base for a long-lasting blowdry.
2. Go easy on conditioner
Whether you're prepping for a blow out or not, the general rule with conditioner is to use it sparingly and preferably only on the lengths and ends. But if you really want that blow out hair to last, it's especially important to make sure you or your stylist avoids too much contact with the crown. This will help prevent a fast build-up of oil at the roots, meaning you won't have to reach for the dry shampoo so soon.
3. Use products sparingly for the first two days
Yep, that includes your session at the salon, too. While styling products are great for enhancing or holding your 'do, too much product will weigh your hair down. So stick to the essentials: a good serum to help add shine, and a fine mist of hairspray to finish, should be all you need to keep your blowdry fresher for longer.
4. Use cool air to help set the style
A blast of cool air will aid in setting the style. This should be common practice for most stylists, but if you've never considered it when doing a DIY blow out at home, it's definitely worth adding it to your routine to help maintain the look for longer.
5. Beware of your biggest enemy: moisture
Our rainy climate is the worst culprit in ruining blow out hair, and sadly, an umbrella is simply not enough to keep out the moisture. Try wrapping a silk scarf around your head when you're exposed. The same goes when showering, but beware that plastic shower caps can trap moisture, so a terry cloth-lined option is better if you can get your hands on one.
6. Make dry shampoo your best friend
By the third day, your roots are likely to need a bit of lifting and freshening. This is where dry shampoo comes in. The perfect tool for masking any oil build-up, dry shampoo can also be used prior to engaging in any physical activity and before sleeping, as it will help absorb sweat and grease before the hair even has a chance to.
7. Sleep smart
A silk or satin pillowcase is definitely worth the investment if you're a blowdry buff. The texture of cotton is rougher on hair and can cause it to crease easily, reducing the lifespan of your blow out. Another trick is to tie it up in a loose bun, and try keeping the temperature of your bedroom relatively cool to avoid too much sweating in the night.
8. Learn how to put life back into blow out hair
By the fourth or fifth day, your blow out is likely to be on its last legs and you'll need to give it a bit of a boost. A good, dry shine spray that won't deposit too much silicone on your hair (weighing it down) is ideal for combating dullness, most likely caused by repeated use of dry shampoo. Alternatively, use a dry conditioner in conjunction with big curlers to help get that bounce back, just for that last stretch.
Editor's picks: The best products for blowout hair
The Mousse: TRESemmé Volume and Lift Mousse
Start your style off on the right foot by applying the TRESemmé Volume and Lift Mousse to wet hair. This essential step helps you create OTT volume, from the roots up. Lifting the hair without leaving it crunchy or stiff, this product will leave your tresses with a full-bodied foundation for a bouncy blowout.
The Spray: VO5 Volume Blow-dry Spray
Create body, add immense volume and help to protect your hair from the heat from your blow-dryer by applying some of the VO5 Volume Blow-Dry Spray to towel-dried hair. Creating more bounce with less static and flyaways, this product is essential in the fight against frizz. Don't worry if you have thin, fine hair: it's also super lightweight, so it won't add any unnecessary heaviness to the hair. Leaving you with a more voluminous finish.
The Mist: TONI&GUY Heat Protection Mist
It's important to remember that before using a heated styling tool on the hair, you should use a protective product first. The TONI&GUY Heat Protection Mist protects hair against heat damage from regular blow-drying and styling 230°C. Leaving your strands soft and smooth, it's the secret to a gorgeously glossy finish. Spray it evenly over damp, towel-dried hair and gently comb through before you blowdry.
Editor's Tip: Try blow-drying your hair upside down for extra volume and lift at the roots.
The Powder: VO5 Instant Volume Powder
When it comes to an at-home blowout: the bigger the hair, the better it looks. For extra body-building, apply the VO5 Instant Volume Powder to dry roots and rub it in gently using your fingers. This step adds a noticeable texture to the hair as well as giving it grip. Perfect if you're thinking of adding curls or a braided style to your blowout.
The Finishing Touch: VO5 Tame & Shine Spray
Blowout hair: meet your new best friend. A final finishing touch to your perfect at-home blowout hair comes in the form of the VO5 Tame & Shine Spray. As it's ultra-light it won't weigh down all your hard work creating high-impact volume, while leaving it with a non-sticky finish. The final line of defence against flyaway and frizz, it will leave you with a salon-worthy blowout, every time.
Prev Article
Next Article
Article
Hair wand vs. curling iron: What's the difference & which one should you be using?
Feeling curl confused? Find out the difference between a hair wand vs curling iron here & discover the types looks they can help you to create.
See article