How to know which hair straighteners to buy
Take the guesswork out of shopping straighteners.
When it comes to deciding which hair straighteners to buy, it's fair to say that it can be hard to manoeuvre the minefield of different types and brands – each providing products with a number of different features and specifications. We should know – the uncertainty of which hair straighteners to buy for your hair type is enough to drive a person mad. So, to save you from defeat, we've created a helpful guide outlining what you should keep in mind when choosing a pair that will suit all your hair requirements. Take a look, below.
How to know which hair straighteners to buy: A guide
Titanium or ceramic plates
When you're choosing hair straighteners, make sure you check that they either have titanium or ceramic plates. This is because these plates will distribute heat more evenly, helping to reduce the likelihood of burning your hair! Of course, when you are using any heated styling tool, we'd always recommend that you use a heat protection spray prior to styling, as this will help to protect your tresses from becoming dry and damaged.
However, not all straighteners are strictly bad for your mane. In fact, many do have some added benefits that you might find surprising. When looking for straighteners, you might want to consider buying one that comes complete with an Ionic feature, as negative ions help to create a smooth finish by closing the cuticle layer. This type of hair straightener helps to seal in moisture, tame frizz and even protect your hair from heat damage.
Which plate size do I need?
Thanks to advances in hair styling technology, there's now more choice than ever when it comes to investing in a high-performance hair straightener. And the type of hair straightener you'll need depends on both your hair type and length. For example, if you have long, thick hair, we'd recommend using a hair straightener with a larger plate. However, if you want to create waves or curls, or you have short, thin hair, we'd recommend using one with a smaller-sized plate.
Temperature control
When it comes to picking the right hair straighteners for your needs, it's important that you check the temperature control of the model you're buying. This is because if you have thin, damaged or short hair that has been chemically treated, you'll want to opt for hair straighteners that you can use on a low temperature. Where as, if you have thick or long hair, you may well find that a hair straightener that's capable of operating at a higher temperature works better for manipulating your hair type.
Infrared heat
This is another feature that you might want to bear in mind when it comes to choosing the right hair straightener for your needs. Infrared hair straighteners are renowned for causing less heat damage to the hair's surface. This is because they're designed to heat your hair from the inside out, distributing heat evenly and allowing you to achieve effective results quickly.
Flash quick heating
If you're a time-poor lady and are always in a rush to prepare for the day ahead, then make sure you look out for this nifty little feature, as it will allow you to reap the benefits of a regular heated styling tool, just without having to wait for it to reach its optimum temperature! So, you can rest a little more easy knowing that you've got a few extra minutes in the morning!
And there you have it, our simple guide to help you find which hair straightener to buy. And if you're a self-professed hair styling rookie, then don't forget to check out our Hair Products page – you'll find some amazing tips and tricks, as well as expert advice from the All Things hair editors!
Prev Article
Next Article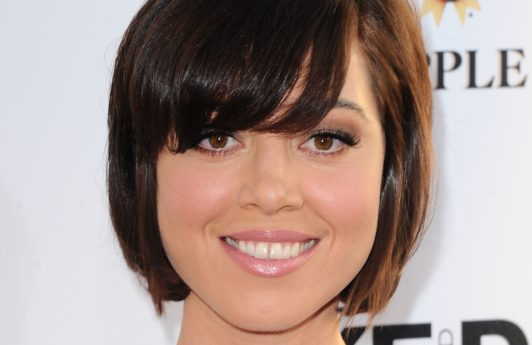 Article
Aubrey Plaza just debuted a new ginger hairstyle – and we love it!
She's said goodbye to her dark locks...
See article